Premier: Site Navigation - Dashboard
Premier Dashboard (landing page)
My Premier dashboard gives you the ability to manage different activities based on individual preference. The layout of the Premier Dashboard is based on individual profiles so users can personalize their workspace according to individual roles or business needs. Any changes made to the Dashboard will remain when a user returns to the page at a later date.
Premier Dashboard landing page overview
This section will give you an overview of the key features within the My Premier Dashboard landing page.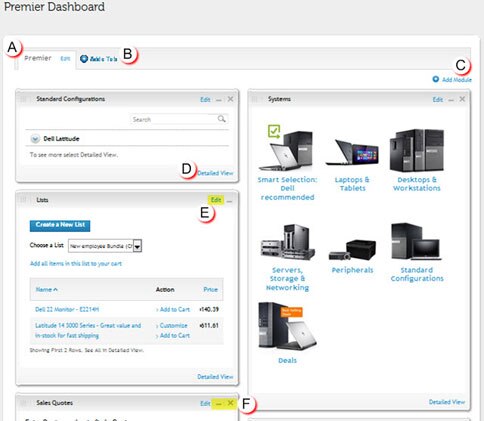 A. "Workspace" is a personal area within the My Premier Dashboard allowing users the ability to manage different activities through the use of featured gadgets. Since the dashboard is based on your individual profile, any changes made to your Dashboard will only appear on your page and be saved for the next time you sign in.
B. "Add a tab" allows users the ability to add and name up to five different workspaces. For example, users could have one workspace named "My Workspace" to feature their Standard Configurations and E-Quotes whereas a "Reports" workspace may have different Reports and Order Status.
C. "Add Module" opens up a Library allowing you to select different features to add to your personal workspace. Gadget features allow you the flexibility to have a customized view based on your individual preferences.
D. "Detailed View" allows users the ability to expand that module to full screen to view more details for that particular featured module.
E. "Edit" allows users the ability to rename modules, refresh the page, or view additional "help" topics on Premier.
F. "+/-" symbol allows users the ability to expand/collapse a featured module; clicking on the "X" removes the module completely from the page.
---
Adding a Workspace and Modules

1. Adding a Workspace
A. To add a Workspace, click on "Add a Tab"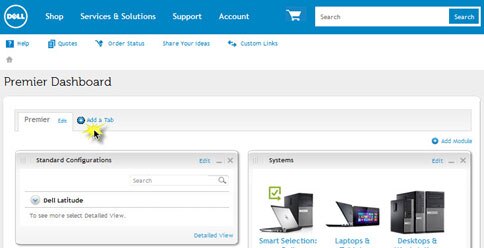 B. When the "Add a Tab" screen appears, enter your New Tab Name and click "Save"

C. The newly named Workspace will be shown as an added tab (see example below).
Workspace tabs can be added, removed or renamed. This way you can organize the page to make it work for you.

2. Adding a Module
Modules are an essential part of your Premier experience. They are intended to help you accomplish your tasks more easily offering you a quick snapshot view into your products and information.
A. To add a module to your Premier Dashboard, select "Add Module."


B. A library of available module opens. From this list you can choose one or multiple modules to add to your workspace.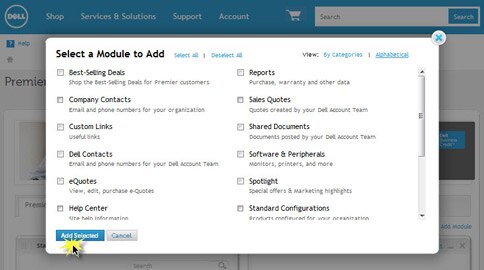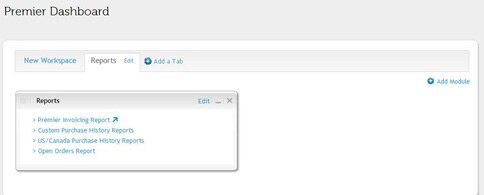 Note that you can move a module to any place on the page by hovering over the title bar and dragging it to the location of your choice.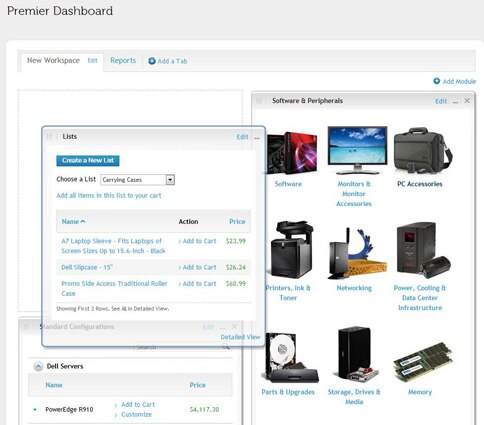 3. Module Library Offerings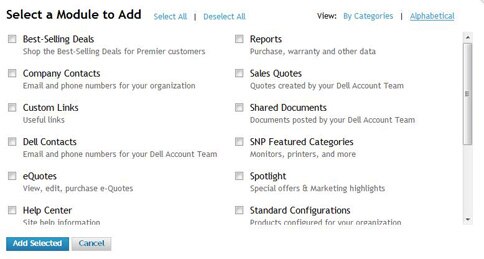 Different modules available are:
Best Selling Deals:

Shop the Best-Selling Deals for Premier Customers

Company Contacts:

View Email and Phone numbers for your organization.

Custom Links:

Access your useful links.

Dell Contacts:

View Email and Phone numbers for your Dell Account Team.

eQuotes:

View, edit and Purchase eQuotes

Help Center:

Site Help information

Info-Center:

Get Latest news & messages from Dell.

Lists Details:

View the favorite items that you've added to your lists

Order Status:

Find and track your orders.

Reports:

Access Reports for Purchase, Warranty and other data

Sales Quotes:

View Quotes created by your Account Team

Shared Documents:

View documents posted by your Dell Account Team

Software & Peripherals:

View and purchase monitors, printers and more

Spotlight:

view special offers and Marketing highlights

Standard Configurations:

View and purchase products configured for your organization.

System Categories:

View and purchase Dell systems catalogue.

Toolbox:

Find parts for your Dell selectors
---
If you have questions or need assistance.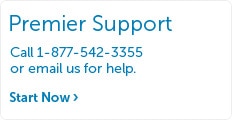 Quick Tips content is self-published by the Dell Support Professionals who resolve issues daily. In order to achieve a speedy publication, Quick Tips may represent only partial solutions or work-arounds that are still in development or pending further proof of successfully resolving an issue. As such Quick Tips have not been reviewed, validated or approved by Dell and should be used with appropriate caution. Dell shall not be liable for any loss, including but not limited to loss of data, loss of profit or loss of revenue, which customers may incur by following any procedure or advice set out in the Quick Tips.
Identificación del artículo: HOW10867
Última fecha de modificación: 03/23/2017 08:25 AM