Payment Types
Premier gives the customers the ability to process an order using a payment type that fits your companies purchasing style. There are a number of payment types supported within Premier which can be enabled/disabled by your Dell Account Team. Below is a list of Payment Types that are currently supported and available on Premier.
Available Payment Types:
Not all payment types are available to all customers. Please discuss any missing payment option with your Dell Account Team to see if that payment option is available to you via Premier.
---
Purchase Order

A purchase order (PO) is a commercial document and first official offer issued by a buyer to a seller, indicating types, quantities, and agreed prices for products or services. Acceptance of a purchase order by a seller forms a contract between the buyer and seller, so no contract exists until the purchase order is accepted. It is used to control the purchasing of products and services from external suppliers.

Customer does not pay Dell at the time of the purchase, the customer agrees to make their payment in 30, 45, or 60 days depending on the terms of the account.
If a line of credit has not already been established, your order will be delayed until your organization is qualified for terms purchasing.
---
Floor Planning

A Third Party Financer will pay for the purchase on behalf of the customer. At the time when the order is placed, Dell does not receive any payment. Dell will bill your assigned/predetermined financial institution for your purchase. Dell gives 30 days for the Third Party to pay and the customer will pay the Third Party.
If a third party financer has not been established by your organization, your order will be delayed. Please discuss setting up Floor Planning with your Dell Account Team.
---
Leasing

A lease is a contractual arrangement calling for the lessee (user) to pay the lessor (owner) for use of an asset. The customer agrees to lease the equipment from Dell Financial Services (DFS), DFS retains ownership of the equipment but the customer takes possession.

At the end of the lease, the customer has some available options depending on the type of lease:
Return the equipment

Continue monthly payments (renewal payments) and keep the equipment

Buy the equipment at Fair Market Value (FMV)
Please discuss all leasing options with your Dell Account Team.
---
Dell Business Credit

Dell Business Credit (DBC) is a revolving line of credit that can be used by businesses. It is similar to the Dell Preferred Account used by Dell consumer customers, but designed for business users. Dell Business Credit is offered by Dell Financial Services (DFS).

More information about Dell Business Credit click on the link below.

https://www.dell.com/learn/us/en/04/dell-business-credit

Return to top of page

---
Credit Card

A credit card is a payment card issued to users as a system of payment. It allows the cardholder to pay for goods and services based on the holder's promise to pay for them. The issuer of the card creates a revolving account and grants a line of credit to the cardholder, from which the user can borrow money for payment to a merchant or as a cash advance.

The four major credit cards are:
Visa

Mastercard

American Express

Discover
Credit Card purchases made on the Premier Page can also offer a couple more features:

Credit Card – Call Me
When this option is enabled on your Premier Page your credit card purchase will be placed on hold until one of our agents from Order Processing can reach you directly to finish up the order process.

Allow Multiple Credit Cards to be used
When this option is enabled on your Premier Page, you will be able to use up to three (3) different credit cards for your purchase.

Dell will obtain immediate authorization from your card issuer to reserve funds for your purchase. However, your card will not be charged until your order has shipped.
---

If you have questions or need assistance.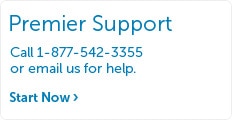 ---
Quick Tips content is self-published by the Dell Support Professionals who resolve issues daily. In order to achieve a speedy publication, Quick Tips may represent only partial solutions or work-arounds that are still in development or pending further proof of successfully resolving an issue. As such Quick Tips have not been reviewed, validated or approved by Dell and should be used with appropriate caution. Dell shall not be liable for any loss, including but not limited to loss of data, loss of profit or loss of revenue, which customers may incur by following any procedure or advice set out in the Quick Tips.