Smart Value PowerEdge R6415 Server Basic
Hög densitet för skalbara arbetsbelastningar
Kompakt, skalbar 1U-rackserver med en effektiv design för en sockel för låg total ägandekostnad. Perfekt för kompakt virtualisering och skalbar mjukvarudefinierad lagring.
Kostnadsfri frakt!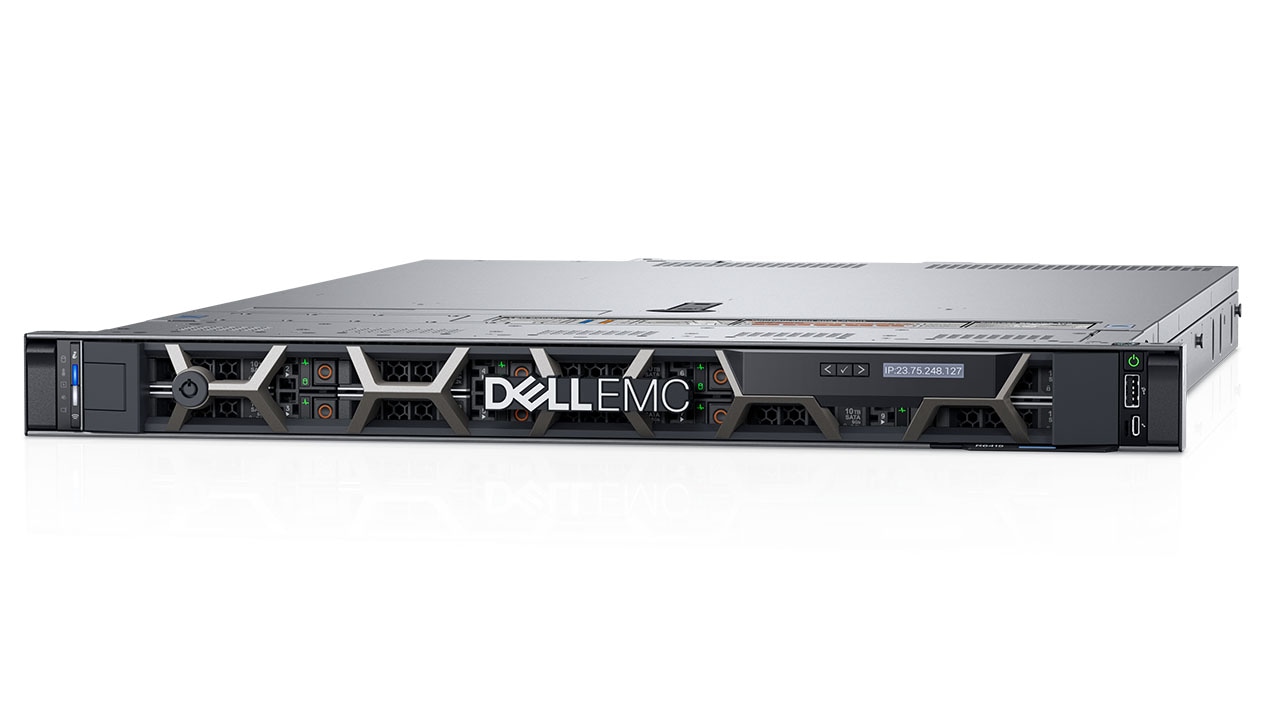 Video: Rackservern PowerEdge R6415 1:24
Tekniska specifikationer och anpassningar Smart Value PowerEdge R6415 Server Basic
Processor Thermal Configuration
Memory Configuration Type
Memory DIMM Type and Speed
Boot Optimized Storage Cards
Additional Virtual Machines for MS2016
Virtualization software and Support
BIOS and Advanced System Configuration Settings
Advanced System Configurations
Embedded Systems Management
NVMe and PCIe Storage Adapters
ISDM and VFlash Card Reader
iDRAC Systems Management Options
Dell Services:Extended Service
Dell Services: GCP/OEM PM
Diagnosis On-Site Service - OSD
Driftsättningstjänster

Dell Services : Solution Services
Ingår också i detta system
Följande alternativ och standardval ingår i din beställning.
Enterprise Order - EMEA
Kostnadsfri frakt!
Smart Value PowerEdge R6415 Server Basic
Exklusive moms, kostnadsfri leverans
Supportpriserna beror på kostnaderna för maskinvara och operativsystem
Skickas inom 41–43 arbetsdagar
Beställningskod per641501_vsp
Egenskaper

Datoranvändning med hög densitet för skalbara arbetsbelastningar
Ge datoranvändning med hög densitet till ditt datacenter med PowerEdge R6415. Denna effektiva rackserver med en sockel är särskilt optimerad för virtualisering och skalbar mjukvarudefinierad lagring. Dra nytta av omfattande lagring med hög prestanda med upp till 10 NVMe-enheter. Med AMD EPYC™-processorn i företagsklass tillhandahåller R6415 upp till 32 kärnor per processor samtidigt som den reducerar flaskhalsar med upp till 2 TB minne och 128 PCIe-band.
Perfekta arbetsbelastningar:
Mjukvarudefinierad lagring med hög densitet
Virtualisering

Driv omvandling med Dell EMC PowerEdge-servrar
En omvandling av datacentret börjar med moderna plattformar som enkelt kan skalas och är optimerade för programprestanda. PowerEdge R6415 bygger på en skalbar systemarkitektur och erbjuder de valmöjligheter och den flexibilitet som behövs för att enkelt uppfylla prestandabehoven.
Förenkla driftsättningen och skala enkelt från tre till fler än 1 000 noder för mjukvarudefinierad lagring med Dell EMC Ready Node för ScaleIO
Maximera lagringsprestandan med upp till 10 NVMe SSD-hårddiskar
Skala bearbetningsresurser med AMD EPYC-mikroprocessorn som levererar upp till 128 PCIe-band för hög bandbredd och korta svarstider

Automatisera produktiviteten med intelligent och inbäddad hantering
Intelligent automatisering med Dell EMC OpenManage gör att du kan ägna mindre tid åt rutinmässigt underhåll och istället fokusera på verksamhetskritiska prioriteringar.
Maximera drifttiden och reducera IT-arbete för att lösa problem med upp till 72 %* med ProSupport Plus och SupportAssist
Dra nytta av befintliga hanteringskonsoler med enkla integreringar för VMware® vSphere®, Microsoft® System Center och Nagios®
Öka produktiviteten med agentfria Dell EMC iDRAC9 som ger automatiserad hantering
Förenkla driftsättningen med nästa generations OpenManage-konsol och serverprofiler för att konfigurera och förbereda servrar snabbt och skalbart

Stärk ditt datacenter med omfattande skydd
En heltäckande, cybertålig arkitektur där säkerhet bäddats in i varje server för att skydda dina data.
Skydda serverkonfigurationen och den fasta programvaran mot skadliga ändringar med den nya funktionen för konfigurationslåsning
Använd systemradering av lokal lagring så att data förblir konfidentiella när du ger servrar nya användningsområden eller kasserar dem
Automatisera uppdateringar som kontrollerar filberoenden och korrekt uppdateringssekvens innan du driftsätter dem oberoende av operativsystemet/hypervisorn
Ta kontroll över dina konsoler för fast programvara med inbäddad autentisering som endast tillåter körning av korrekt utformade uppdateringar
Drivrutiner, handböcker och support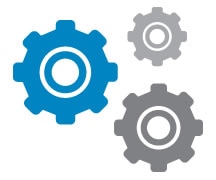 Dells support
Dells produktsupport hjälper dig med allt från drivrutiner till diagnostiska verktyg och ersättningsdelar!