Smart Value Power Edge R6515 Server Basic
Prestanda med dubbla socklar i en 1U-rackutformning med en sockel
Dell EMC PowerEdge R6515 är en 1U-server med en sockel som utformats för att hantera arbetsbelastningar som virtualisering, HCI och OpenStack-förberedd arkitektur.
Omedelbar Besparing! Spara upp till 38%
Smart Value Power Edge R6515 Server Basic
Processor Thermal Configuration
Memory Configuration Type
Memory DIMM Type and Speed
Boot Optimized Storage Cards
RAID/Internal Storage Controllers
Hard Drives for 2nd RAID Container
Hard Drives (PCIe SSD/Flex Bay)
BIOS and Advanced System Configuration Settings
Advanced System Configurations
Embedded Systems Management
Ethernet Mezzanine Adapters
Additional Network Adapters
NVMe and PCIe Storage Adapters
GPU/FPGA/Acceleration Cards
Optics and Cables for Network Adapters
Dell Services: Extended Service
Dell Services: HPC Support Services
Dell Services: Data Protection
Dell Services: On-site Diagnosis Service
Dell Services: Deployment Services
Additional Deployment Services
Dell SDS Residency Service
Anti Theft Device & Asset Tagging
Dell Services: GCP/OEM PM
Custom Delivery Logistics
Configuration Services Asset Report
Additional Shipping Box Labels
Systems Management Software
Configuration Services – Custom (Quoting Only)
Ingår också i detta system
Följande alternativ och standardval ingår i din beställning.
Enterprise Order - EMEA
Omedelbar Besparing! Spara upp till 38%
Exklusive moms, kostnadsfri leverans
Support och tjänster beror på val av hårdvara och operativsystem
Skickas inom 3–5 arbetsdagar
Beställningskod per651501a
Egenskaper

Leverera banbrytande prestanda, innovation och densitet
En omvandling av datacentret börjar med moderna plattformar som enkelt kan skalas och är optimerade för programprestanda. PowerEdge R6515 bygger på en skalbar systemarkitektur och erbjuder de valmöjligheter och den flexibilitet som behövs för att enkelt uppfylla prestandabehoven. Specifikationer av hög nivå:
100 %* fler processorkärnor och snabbare dataöverföringshastigheter med PCIe Gen 4
20 %* högre minnesprestanda för skalbara miljöer
Förbättrad total ägandekostnad med VM-densitet och förbättringar av SQL-prestanda
Hög parallellitet för låg latens på ROBO och Dense Azure Stack HCI
Network Functions Virtualization (NFV)

Öka effektiviteten och accelerera driften
Dell EMC OpenManage™-systemhanteringsportfölj levererar en effektiv och heltäckande lösning för PowerEdge-servrar genom skräddarsydda, automatiserade och upprepningsbara processer.
Automatisera hanteringen av serverns livscykel med skript via iDRAC Restful API med Redfish.
Förenkla och centralisera hantering av en till många servrar med OpenManage Enterprise-konsolen.
Använd OpenManages mobilapp och PowerEdge Quick Sync 2 för att enkelt hantera servrar med hjälp av en telefon eller surfplatta.
Lös problem och minska IT-arbetet med upp till 72 % med hjälp av automatiserad, proaktiv och prediktiv teknik från ProSupport Plus och SupportAssist.*

Förstärk ditt datacenter med integrerad säkerhet
Alla PowerEdge-servrar är utformade med cybermotståndskraftig arkitektur som integrerar en stark säkerhet i varje fas i livscykeln, från design till avveckling.
Förbättra säkerheten med plattformsaktivering av AMD Secure Memory Encryption (SME) och säker krypterad virtualisering (SEV).
Hantera dina arbetsbelastningar på en säker plattform som är förankrad med kryptografiskt betrodd uppstart och silicon root of trust.
Underhåll säkerheten för serverns fasta programvara med digitalt signerade paket för fast programvara.
Identifiera och åtgärda obehöriga eller skadliga förändring med driftdetektering och låsning av systemet.
Du kan snabbt och säkert radera alla data från lagringsmedier, inklusive hårddiskar, SSD-hårddiskar och systemminne med systemradering.
Dell EMC erbjuder heltäckande tjänster
Det är av yttersta vikt att optimera IT-livscykeln. Vi har experttjänster
*
för alla faser av livscykeln som sparar dig tid och resurser, minskar arbetsbördan och förbättrar IT-upplevelsen.

Konsulttjänster
Konsulttjänsterna erbjuder vägledning som hjälper dig att expandera, optimera och omvandla din IT-miljö utefter din egen takt och budget. Vi har ett stort antal certifierade konsulter och tekniker som backas upp av team inom programhantering, vilka kan bidra med omfattande teknisk expertis. Vi ger dig tryggheten att veta att ditt projekt kommer utföras korrekt och i tid.

Support
Få friheten att fokusera på omvandlingen av ditt företag med den supportexpertis och de insikter som Dell EMC är känt för över hela världen. Välj rätt support beroende på kriticiteten hos specifika system med tillgängliga, automatiska och förutsägbara analyser, samarbetsassistans från tredje part och en kontaktperson för tekniktjänster.

Distribution
Med ProDeploy Enterprise Suite får du ut mer av din teknik från första dagen. Residency-tjänsten ger löpande övergångshjälp för snabbare implementering. Du kan lita på att våra experter tar hand om distributioner, från installationer av grundläggande maskinvara till planering, konfiguration och avancerad integrering, så att du kan uppnå dina affärsmål, idag och imorgon.

Utbildning
Utbildningstjänsterna erbjuder en omfattande uppsättning tjänster för utbildning med en mängd olika leveranssätt att välja bland, exempelvis lärarledd utbildning, utbildning i form av självstudier på webben och virtuell lärarledd utbildning. Med omfattande och flexibla utbildningsprogram gör vi det enkelt för dig att se till att din personal har de kunskaper de behöver för att hantera och använda din nya teknik till sin fulla potential.


Drivrutiner, handböcker och support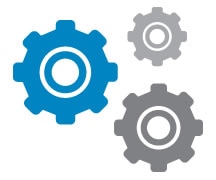 Dells support
Dells produktsupport hjälper dig med allt från drivrutiner till diagnostiska verktyg och ersättningsdelar!