Powerful converged network management
Easily discover, configure, monitor and manage your networking devices with OpenManage Network Manager.
OpenManage Network Manager
PowerConnect
Converged network management made easy
Featuring an intuitive web-based interface, support for the Dell family of network switches and multi-vendor support, OpenManage™ Network Manager makes it easier than ever to manage your converged network infrastructure with:

One-to-many functionality to automate configuration management
Easy monitoring and diagnoses of networking health and performance
Ability to deploy firmware, backup and restore configurations across many switches and routers
Affordable subscription-based model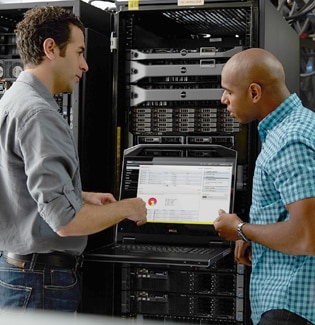 Key benefits
Automates the discovery of IPv4 and IPv6 network devices and addresses and provides detailed information on their connectivity, including the ability to draw physical and logical topology maps.
Easily configure and manage groups of network devices; configuration changes and firmware deployments can be made to multiple devices in one operation, and many network operations can be scheduled for pre-determined times.
Network administrator can monitor health and performance of their network, create dashboards to capture important events and trends, and display them over time.
Helps reduce TCO by proactively monitoring for network problems, automating common configuration actions and enabling easy firmware deployment.
Pay as you grow by only purchasing the licenses you need now and stacking new licenses you purchase in the future.
Ensure you're supported with automated hardware warranty and support expiration alerts and reports.
Streamline troubleshooting with Dell SupportAssist automation. Ensure your Dell Networking switches are communicating with Dell support to reduce troubleshooting steps and speed up resolution time.
View the Datacenter by integrating with Dell OpenManage Essentials to view server and networking information in one place.
Key features
Multi-platform support with installations for Windows, Linux, and VMware virtual appliance
Multi-vendor management for devices from Dell plus key vendors like Cisco, Juniper, HP, Arista, Extreme and Brocade
Compliance auditing and remediation that pinpoints and corrects configuration issues to stay compliant
Comprehensive and flexible reporting capabilities for inventory, firmware, interfaces, ports and more
Traffic flow analysis reports that allow sFlow data export to .csv
Multi tenancy with support for multiple client organizations from a single instance
One-to-many device configuration management and templates for backup, restore and deployment of switches
Advanced scheduling schedules key tasks, such as backup and configuration changes
Support for Dell and multi-vendor networking products
Including but not limited to the following Dell Networking and select third-party switches:
Dell Networking C-Series, N-Series, S-Series, X-Series and Z-Series switches
Dell Networking M-Series, FN-Series, and VRTX Modular Networking I/O Modules
Dell Networking, 8100, 8000, 7000, 6000, 5000 and 3000 series devices
Dell Networking W-Series wireless controllers, access points and instant access points
SonicWALL SuperMassive, E-Class NSA, TZ and NSA Series
Dell Unity Storage Array
Select Cisco, HP, Juniper, Brocade, Ruckus, Aerohive, Arista, Aruba, Extreme, Cumulus, Enterasys, 3COM, SonicWALL, Vyatta, F5, VMware and other devices
Additional Dell Networking and third-party device support included via regular updates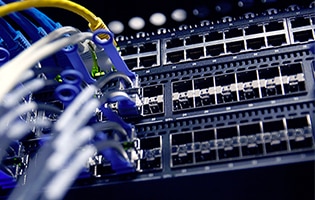 A free 30 day trial of OpenManage Network Manager for 25 devices is available to customers interested in evaluating OMNM. OMNM is available for purchase online for customers ready to manage their networking infrastructure from a single centralized location.

One, three or five-year subscriptions are available in separate license packs for environments ranging from 25 devices to unlimited-devices
Navigate network complexity with Dell EMC Services
Our global team of network experts understands the complexities of IT ecosystems, including multi-vendor environments. We have the skillset and experience to not only quickly resolve performance issues but also transform your network to meet the demands of your business.
Consulting
Dell EMC network consultants provide expert guidance to help you optimize and transform the network environment for the demands of today's multi-cloud infrastructures. Our deep infrastructure and application expertise combined with sophisticated network analysis toolsets address a wide range of network technology and process challenges.
Deployment
Leverage the Dell EMC ProDeploy Enterprise Suite to get your network installed and configured. Our experts can free your IT staff to focus on your core business, minimize downtime and give you the confidence that the job will be done right, the first time.
Support
Gain access to ProSupport technical experts who can assist with your most complex networking challenges. The Dell EMC ProSupport Enterprise Suite provides networking support around the clock and around the globe, helping your team maintain a high level of productivity.
Education
Dell EMC offers flexible training programs so your staff can build the right skills to successfully manage and utilize your network to its full potential. Through our personalized approach, your staff gets the exact training they need to improve productivity and adoption, decrease downtime, and reduce end-user support calls.