Simple, small-business file storage built on enterprise hardware
PowerVault NX200 tower features four hot-swappable SATA hard drives with up to 8TB of total NAS capacity, an Intel CPU and 2GB memory for sustained high performance with low power consumption.
Sorry, this item is not available anymore for purchase online. Please see our recommended replacement product.
PowerVault NX200 Network Attached Storage
PowerVault
SMB- Dell/EMC Storage

Dell ProSupport – Faster, more reliable support services designed to address the technology challenges you face today. This new support portfolio is focused on your needs, time demands and budgets.

Need professional support services that take care of both you and your employees' IT needs 7x24? Choose Dell ProSupport to get access to a certified technician in two minutes or less.

Got an IT staff? Choose Dell ProSupport for IT and get tech-to-tech support with Fast-Track Dispatch, along with 7x24 access to Dell-certified technicians.



Dell ProSupport Service Model
Dell ProSupport
Dell ProSupport for IT
Designed for organizations with limited or no dedicated IT staff.

Includes:


7x24 direct break-fix hardware support for your employees
"How-to" support on popular software applications such as Norton AntiVirus, Microsoft Office, Microsoft Small Business Server, Intuit QuickBooks, Adobe Photoshop and Adobe Acrobat.
Access to a certified technician in two minutes or less

Designed to provide tech-to-tech support for IT Professionals, Database Administrators and internal Service Desks or helpdesks.

Includes:


7x24 Direct access to Dell Expert Centers
Fast-track dispatch for Dell-certified technicians
Escalation management through Dell's Global Command Centers

Next, Dell ProSupport Options align to the way you use technology – rapidly responding to your needs, protecting your investment, your productivity and your sensitive data, and providing enhanced proactive support services to reduce the risk and complexity of managing your infrastructure.
 
SPEED OF RESPONSE
PROTECTION
PROACTIVE
Mission Critical* – Perfect for server and storage environments where avoiding unplanned downtime and reducing recovery time through priority response are a must. The package includes priority 4-hour onsite* service or optional 2-hour response with 6-hour hardware repair, Dell's proven Critical Situation process, and emergency dispatch.
Data Management and Protection


Keep Your Hard Drive* helps you retain control of sensitive data
Certified Data Destruction wipes your hard drive clean and destroys data



Proactive Maintenance – Maximizes the availability and stability of your infrastructure proactively. The package includes a detailed system assessment and implementation of driver or firmware updates and upgrades for your server or storage systems.

Remote Advisory Options – Provides telephone and Internet access to technical expertise for specialized applications and solutions such as Microsoft Exchange, Virtualization, virus remediation and more.

EDT Installation
Enhanced installation and configuration with Dell professional project management and documentation. A project manager will be acting as the single-point-of-contact for the entire installation project from pre-site audit to co-ordination of the installation and delivery of post-project documentation.


Comprehensive Training

Get the skills you need to keep pace in today's competitive IT environment with comprehensive training and certification courses. Dell offers a vast array of instructor-led classes and online training courses in a range of topics from server maintenance to in-depth technical overview of specific systems.

Learn more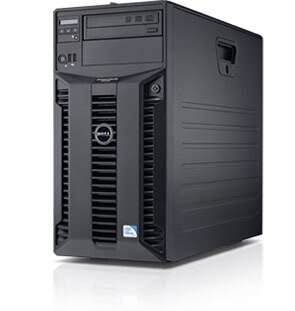 The performance and protection your business deserves
When it comes to networked file storage, your small business needs a true business solution — not a repurposed home-network product. With the PowerVault™ NX200, you get the reliability, security and consolidation benefits of an enterprise-class file-storage system — minus the enterprise complexity.

Share files fast with high-speed Intel® processor, 2 GB of system memory and dual Gigabit network ports.
Experience high reliability, thanks to enterprise-grade hard drives that support high mean time between failure (MTBF).
Quickly recover data after an unexpected event or crash using optional Linear Tape-open (LTO) tape or RD1000 backup systems.
Enjoy the reliability and availability benefits of a specialized RAID controller and high-quality system components.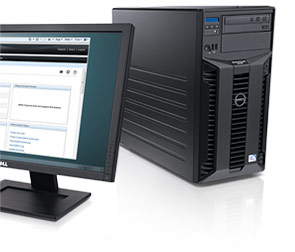 Do-it-yourself file consolidation
You have better things to do than stress out about your file storage. The PowerVault NX200 is so simple you can order it, set it up and run it yourself. No headaches and no IT necessary.

The NX200 is preconfigured for easy online ordering. You can have yours on its way to your office in just a few clicks.
With the automated installation wizard, you can have your NX200 out of the box and up and running before your first meeting of the day.
Proven, familiar software helps you quickly master system configuration and management tasks. Windows® Storage Server 2008 is a premier OS for small-business storage consolidation with unparalleled support. If you can use Windows, you can configure your Windows-powered NX200.