Highly Integrated Director-Class Switches
Get the scalability and integration HPC deployments need. Increase computing density, reliability, and lower power consumption and costs.
H-Series Director-Class Switches based on Intel® Omni-Path Architecture
Force10
Intel® Omni-Path Fabric provides high-performance and availability at reduced cost
Dell H-Series Director-Class Switches offer a maximum of 768 ports, in 32-port increments, each providing 100Gbps performance and scales up to 19.2 terabytes per second (TB/s) of aggregate bandwidth. Intel OPA switches provide integrated support for high availability with advanced features such as power, fabric, and management module redundancy, component-level diagnostics and alarming, and out of band management.

Innovative features take fabric resilience and availability to new heights without sacrificing performance. Packet Integrity Protection (PIP), for example, provides high packet reliability with latency-free error checking and link-level recovery. Dynamic Lane Scaling (DLS) maintains 75 percent of link bandwidth if a physical lane fails, so HPC workloads can complete gracefully to keep deadlines on track.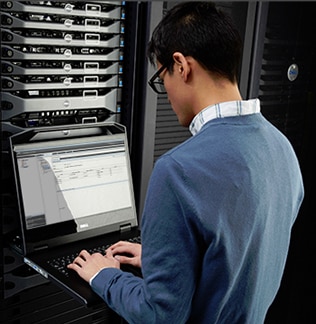 Deterministic latency
H-Series switches help minimize negative performance impacts of large Maximum Transfer Units (MTUs) on small messages and help maintain consistent latency for interprocess communication (IPC), such as Message Passing Interface (MPI) messages, when large messages-typically storage are being simultaneously transmitted in the fabric. This will allow the switch to bypass lower priority large packets to allow higher priority small packets, creating a low and more predictable latency throughout the fabric.

To help reduce latency, error detection and correction enhancements include zero load for detection. If a correction is required, packets are retransmitted from the last link, not from the sending node.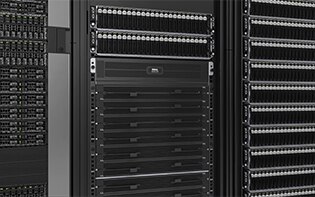 Key benefits
Provides improved fabric scalability, reduced latency, increased density, and reduced cost and power. These switches can dramatically lower fabric acquisition costs, while simultaneously reducing space and power requirements.
Software management tools for ease of installation and managing small to very large complex fabrics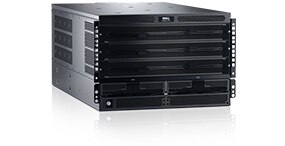 Dell Networking H9106-OPF Switch
6-modular slot director class switch in 7U modular form-factor
Fits in standard 19" rack
6 leaf modules
3 spine modules
3 power supplies included (fourth is optional)
180-240 VAC power supplies only (no DC option)
1 management module standard (second is optional)
3 of 3 fans included, N+1 redundancy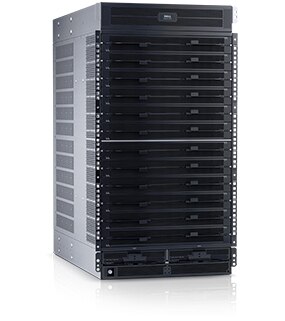 Dell Networking H9124-OPF Switch
24-modular slot director class switch in 20U (+1U support tray) modular form-factor
Fits in standard 19" rack
24 leaf modules
12 spine modules
7 power supplies included (others optional)
180-240 VAC power supplies only (no DC option)
1 management module standard (second is optional)
9 of 9 fans included, N+1 redundancy
Navigate network complexity with Dell EMC Services
Our global team of network experts understands the complexities of IT ecosystems, including multi-vendor environments. We have the skillset and experience to not only quickly resolve performance issues but also transform your network to meet the demands of your business.
Consulting
Dell EMC network consultants provide expert guidance to help you optimize and transform the network environment for the demands of today's multi-cloud infrastructures. Our deep infrastructure and application expertise combined with sophisticated network analysis toolsets address a wide range of network technology and process challenges.
Deployment
Leverage the Dell EMC ProDeploy Enterprise Suite to get your network installed and configured. Our experts can free your IT staff to focus on your core business, minimize downtime and give you the confidence that the job will be done right, the first time.
Support
Gain access to ProSupport technical experts who can assist with your most complex networking challenges. The Dell EMC ProSupport Enterprise Suite provides networking support around the clock and around the globe, helping your team maintain a high level of productivity.
Education
Dell EMC offers flexible training programs so your staff can build the right skills to successfully manage and utilize your network to its full potential. Through our personalized approach, your staff gets the exact training they need to improve productivity and adoption, decrease downtime, and reduce end-user support calls.