Take control of challenging professional applications with the Dell Precision™ T3600, delivering performance, reliability and scalability.
Sorry, this item is not available anymore for purchase online. Please see our recommended replacement product.
Dell Precision T3600 Workstation
Precision
Experience the evolution of productivity.
Power through resource-intensive tasks with the advanced design of the Dell Precision™ T3600 Workstation.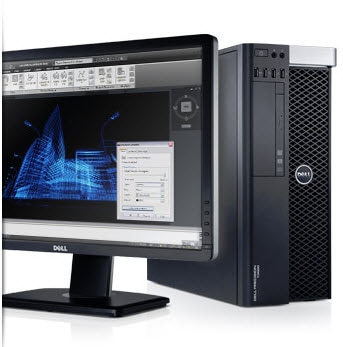 Harness Workstation performance
Take charge of your workload with powerful 3rd Generation Intel® Core™ processors and up to 64GB* of memory, up to four hard drives and an integrated SATA/SAS controller.
Find Out More

Designed to fit your work environment
The Dell Precision T3600 features a totally redesigned chassis, enabling you to perform service and modifications with greater ease than ever before.
Find Out More

Built to work for you
Your most important Workstation-class applications will run smoothly thanks to ISV certification available with the Dell Precision T3600.
Find Out More
Make hard work look easy
Save your valuable time and resources by taking advantage of the flexibility and reliability of Dell Precision™ Workstations.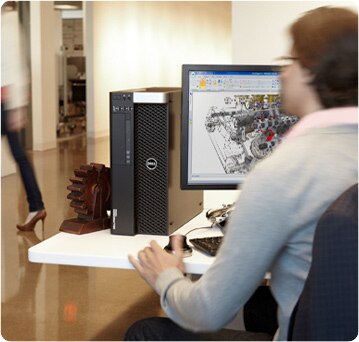 Memory you can count on
Mitigate risk and help prevent work stoppages with Dell's exclusive Reliable Memory Technology*.
Find Out More  

Pure graphics power
A variety of professional-grade NVIDIA® and AMD® graphics options, including powerful NVIDIA Maximus® technology, help you get the most out of your Workstation.
Find Out More

Reduce environmental impact
Help save energy and reduce environmental impact with EPEAT® registered and ENERGY STAR® qualified configurations available with the Dell Precision™ T3600.
Find Out More
Complete your Dell Precision T3600 Workstation experience
Your Dell Precision T3600 Workstation is just the start. When you buy from Dell, you can get much more than just a Workstation. You can customize an experience that's just right for you.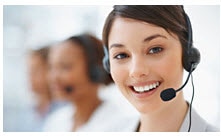 Your complete IT solution
Enjoy a suite of dedicated IT support 24/7. Dell ProSupport™ helps minimize downtime with phone, online or onsite support.Options for Dell Next Business Day Onsite Service after Remote Diagnosis for onsite repairs.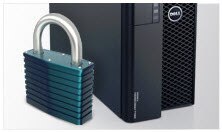 Protect assets with hardware encryption
Help protect sensitive data by opting for simple and easy-to-use security solutions. Encrypt data across your networks and external media with Dell Data Protection | Encryption.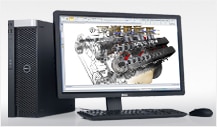 Accessories*
Dell.com has the accessories you need to complete your Dell Precision experience, including professional 3D mice and Dell UltraSharp™ monitors featuring PremierColor technology. Find it all here!
Processor
Intel® XEON_8 (E5-2665)
Intel® Xeon®6-Core (E5-1660, E5-1650)
Intel® Xeon® Quad Core (E5-1620, E5-1607, E5-1603)
Operating System
Windows® 7 Professional 32 bit (English)
Windows® 7 Professional 64 bit (English)
Windows® 7 Ultimate 32 bit (English)
Windows® 7 Ultimate 64 bit (English)
DOS Factory Installed (English)
Red Hat Enterprise Linux WS 6 with 1 year standard support from Red Hat
Red Hat Enterprise Linux WS 6 with 3 years standard support from Red Hat
Video Card
Support for two PCI Express® x16 Gen 2 or Gen 3 graphics cards up to 300W (total for graphics)*:

High End 3D
NVIDIA® Quadro® 6000
NVIDIA Quadro K5000
NVIDIA Quadro 5000*

Mid-range 3D
AMD FirePro™ W5000
NVIDIA Quadro K4000
NVIDIA Quadro 4000
NVIDIA Quadro K2000
NVIDIA Quadro 2000

Entry 3D
AMD FirePro V4900
NVIDIA Quadro K600
NVIDIA Quadro 600

Professional 2D (not ISV certified)
AMD FirePro 2270
NVIDIA Quadro® NVS 510
NVIDIA Quadro® NVS 310
NVIDIA Quadro® NVS 300

* Supports NVIDIA SLI® 

 

GPU

NVIDIA Tesla® K20C GPGPU - Supports Nvidia Maximus™ technology
The Dell Precision T3600 has a four channel memory bus architecture. Dell recommends that all four memory channels be populated with DIMMS for maximum memory performance. Please note, RDIMM ECC and NECC memory cannot be mixed. Maximum memory speed is tied to processor. 1600MHz and 1333MHz memory will run at a reduced speed of 1066MHz when paired with the Intel® Xeon E5-1603 or Intel® Xeon E5-1607 processors.

Up to 64GB* DDR3 SDRAM at 1600Mhz - 4 DIMMS
Up to 8GB* DDR3 SDRAM at 1333Mhz - 4 DIMMS
Sound Card
Audio Controller
Integrated Realtek ALC269Q High Definition Audio

Chassis
Dimensions: (HxWxD) 16.30" x 6.79" x 18.54"; 414mm x 172.6mm x 471mm
Bays: Two internal 3.5" hard drive bays; one external 5.25" bay; one external slimline optical bay
Slots (all full length): Two PCIe x16 Gen 3; one PCIe x16 Gen 3 wired x4; one PCIe x4 Gen 2; one PCIe x1 Gen 2; One PCI 32bit/33MHz

I/O Ports

Front
3 - USB 2.0
1 - USB 3.0
1 - Microphone
1 - Headphone

Internal
3 - USB 2.0
2 - SATA 6.0Gb/s

Rear
5 - USB 2.0
1 - USB 3.0
2 - PS2
1 - Serial
1 - RJ45
1 - 1394a (optional)
Power
Power Supply (externally accessible, toolless, 80 Plus® Gold Certified, 90% efficient): 635W OR 425W
Deployment services
Our end-to-end deployment services are designed to simplify and accelerate the customization and utilization of your new systems. Dell Deployment Services include everything from order consolidation to coordination of deployment resources.

Client migration and deployment
Dell Managed Deployment services are for customers who need a comprehensive, end -to-end deployment solution. Managed deployments are useful within complex logistical environments, which require a single point of contact.

Installation services
Dell provides streamlined standard installation services so you can easily choose the specific package that quickly gets new systems into the workspace and old systems out.

Microsoft Windows Vista Assessment and Dell Deployment
Dell can help you assess your PC deployment process and recommend ways in which you can improve efficiency, reduce complexity and maximize the return on your IT investment.

Asset Recovery Services offers safe and environmentally appropriate disposal solutions for outdated or end-of-life IT assets. This service includes transportation, flexible logistics, equipment processing, detailed data security and environmental reports at an affordable price.


Dell offers comprehensive training services, which include hardware and software training, as well as PC skills and professional development classes. Our flexible approach allows you to tailor classes to the needs and busy schedules of your employees with instructor-led classrooms or virtual courses, and even self-directed online options. Dell training can help improve system reliability, maximize productivity, and reduce end-user requests and downtime.