Erase borders, starting with the display.
The XPS 13 isn't just the smallest 13-inch laptop on the planet, it also has the world's first virtually borderless infinityEdge display.
Bu ürün şu anda sağlanmamaktadır. Lütfen aşağıda bunun yerini alması için önerdiğimiz sisteme bakın.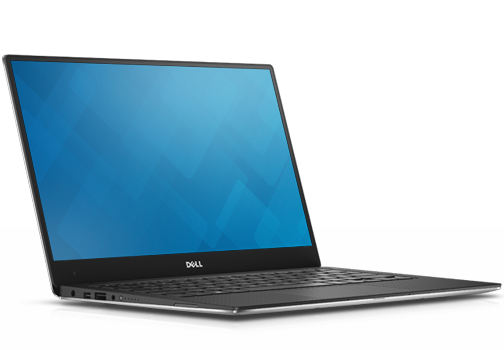 XPS 13 Developer Edition laptop
XPS
Operating system

Preloaded with Ubuntu 14.04 LTS.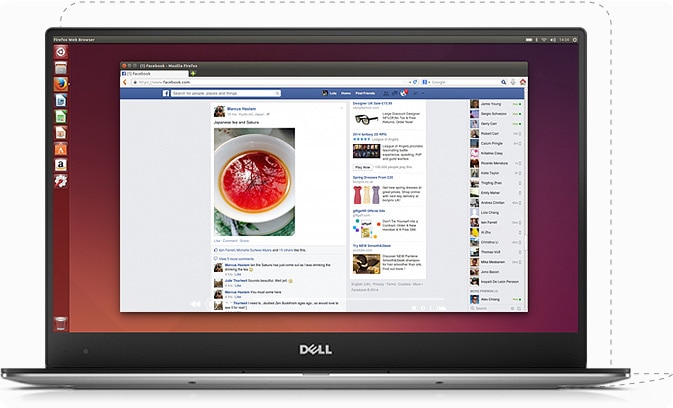 Dünyanın ilk sonsuz özellikli en küçük 13 inç ekran
Büyük ekran, küçük dizüstü bilgisayar: Neredeyse çerçevesiz sonsuz ekran, 13 inç boyutundaki ekranı 11 inç dizüstü bilgisayar boyutunda sunar. Apple® MacBook Air karşılaştırıldığında XPS 13 aynı ekran boyutuna sahipken %23 daha ufaktır.

Etkileyici ekran boyutu: Bu yenilikçi tasarımla ince çerçeve çok daha fazla ekran alanı sağlar. Üç taraflı, neredeyse çerçevesiz sonsuz ekran 5,2 mm kalınlığında çok ufak bir çerçeveye sahiptir: Bu, bir dizüstü bilgisayardaki en ince çerçevedir. Toplam ekran alanının %2'sinden daha az olan ince çerçeve ile seveceğiniz çok daha fazla ekrana sahip olursunuz.

İnce yapı: XPS 13 sadece küçük değildir, ideal bir taşınabilir aygıt olması için aynı zamanda inanılmaz derecede ince bir yapıya da sahiptir. Sadece 9–15 mm kalınlığı ve 2,6 pound (1,18 kg) ağırlığı ile hareket halindeyken çantanıza atarak yanınızda taşımanız çok kolaydır.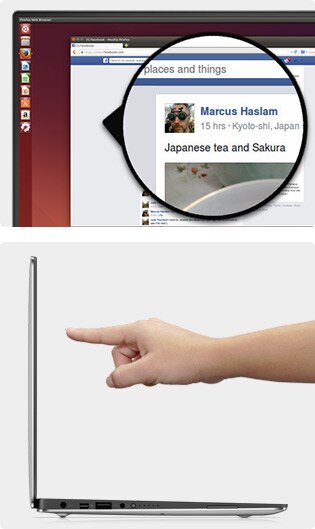 Stunning view
Stunning UltraSharp™ QHD+ resolution (3200x1800): Choose the option that gives you 5.7 million pixels (276 ppi) for the ultimate screen performance with precise clarity and eye-popping details. There are over 2.5 times as many pixels as FHD, 5 times as many as HD and 4.4 times as many as the MacBook Air 13 (or other products with HD+ displays). It's also available with a Full HD non-touch display (1920x1080).

Easy to share: See content clearly from almost any angle with an IGZO2 IPS panel, providing a wide viewing angle of up to 170°. Enjoy the vibrant screen together with your friends.

Brighten your day: The screen is brilliant enough to watch movies in sunlight without missing the details. At 400-nit, it's up to 100% brighter than a typical panel (200-nit) for a great view even outside. With a high color gamut of 72% and a high contrast ratio of 1000:1, more colors are represented so you can see the brightest brights and the darkest darks.

Touch friendly: The optional touch display lets you interact with your technology (phone, tablet and laptop) the same way. Enjoy your apps and OS at your fingertips.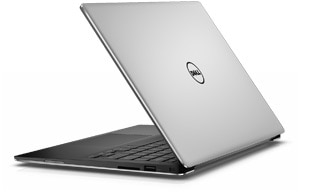 Small size. Big performance.
Start faster: Enjoy the speed, clarity and improved graphics with Intel® Core™ processors.

Speedy start up: The XPS 13 boots and resumes* in seconds thanks to a standard solid state drive.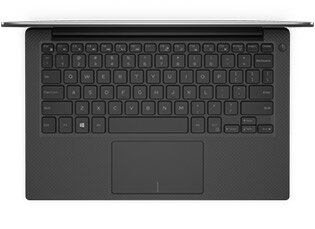 Improved usability
Pinch, zoom and click with precision
The improved precision touch pad works quickly and fluidly like a touch screen with no more jumping or floating cursors.

See what you've been missing
This standard backlit keyboard lights up your keys and your ideas. No need to squint in low-light or no-light rooms while typing.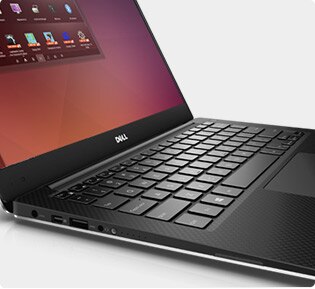 Premium materials for a stunning design and durability
Tough stuff: Machined aluminum construction means the XPS 13 is precision-cut from a single block of aluminum for a sturdy, durable chassis.

Cool under pressure: XPS products use carbon fiber that is similar to what is used for some of the world's high performance cars and racing bikes for a stellar combination of lightweight and strength. The palm rest is strong and thin like aluminum, but lighter and cooler to the touch.

Resists life's "oops" moments: The Corning® Gorilla® Glass NBT™ QHD+ display is up to 10 times more scratch resistant than soda lime glass, so it helps prevent scuffs caused by handling, cleaning or wiping.*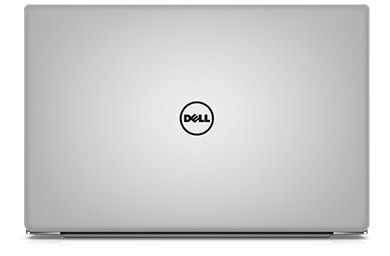 Greenest XPS laptop ever
Smarter materials: Built with the environment in mind, the XPS 13 is free of concerning materials like lead, mercury and some phthalates. The greenest XPS laptop ever, it's also EPEAT® Gold registered* and BFR/PVC-free.*

Recycle-friendly: The rapidly renewable bamboo trays are 100% recyclable, so you won't worry about your environmental footprint. And an impressive 90% of the laptop's parts can be easily recycled or reused.
Pre-loaded and pre-tested with all available drivers
Save time: Dell has already verified and preinstalled all drivers for you so there is no need to spend time finding the right driver for your laptop.

Save money: Get exactly what you want. This laptop comes with Ubuntu 14.04 LTS, the popular Linux distribution, backed by Dell ProSupport, so you won't deal with the hassle and extra cost of another OS that you won't use.

4th Gen: Over the last two years, the Dell™ XPS™ 13 laptop, Developer Edition keeps getting better. Initially started as an open-ended exploratory project to identify what developers demand, improvements are made based on developers' input.
XPS 13'ünüz için temel aksesuarlar
Hareket halindeyken enerjinizin bitmemesini, bağlı kalmanızı ve korunmanızı sağlayan aksesuarlarla XPS 13'ünüzün taşınabilirliğini geliştirin. Mobil aksesuarlar videosunu izleyin.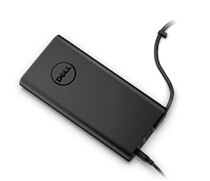 Dell Power Companion – 12,000 mAh
Power and charge your XPS 13 along with your phone and tablet while you are on the go with the Dell Power Companion.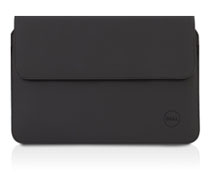 Dell Premier Sleeve (S)
Protecting your XPS 13 on the go is easy with a sleek, custom-fitted sleeve to use alone or inside a case. Features are specifically designed for Dell accessories.

XPS 13'ünüz için temel iş aksesuarları
Ofiste verimliliği artırabilecek üstün iş aksesuarları ile XPS 13'ünüzün performansını en üst seviyeye çıkarın. Temel iş aksesuarları videosunu izleyin.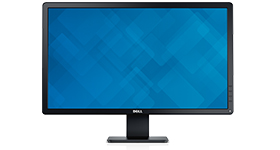 Dell UltraSharp 32 Ultra HD Monitor – UP3214Q
Get four times the resolution of Full HD and view a new level of clarity and detail with the Dell UltraSharp 32 Ultra HD Monitor featuring Ultra HD 4K resolution.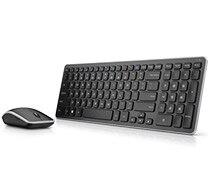 Dell Wireless Keyboard & Mouse – KM714
Expand your productivity and keep your desk clutter-free with this combo that includes LED precision tracking and a number pad.

İşlemci
5th Generation Intel® Core™ i3-5010U processor (3M Cache, up to 2.1 GHz)
5th Generation Intel® Core™ i5-5200U processor (3M Cache, up to 2.7 GHz)
5th Generation Intel® Core™ i7-5500U processor (4M Cache, up to 3.0 GHz)
Ekran
13.3-inch UltraSharp™ QHD+ (3200 x 1800) infinity touch display, ETE Corning® Gorilla® Glass NBT™
13.3-inch FHD (1920 x 1080) infinity display, anti-glare
400-nits, 1000:1 contrast ratio, 72% color gamut, 170° wide viewing angle - 85° / 85° /85° / 85°
Capacitive touchscreen option – 10-finger touch support
8GB Dual Channel DDR3L-RS SDRAM at 1600 MHz (On Board)
Sabit Disk
128GB, 256GB or 512GB SSD drive options
Bağlantı Noktaları
USB 3.0 w/Powershare (2)
Mini DisplayPort (1)
Headset jack (1)
Noblelock (1)
3-in-1 Card Reader (SD, SDHC, SDXC)
Boyutlar
Height: 9-15mm (0.33-0.6") x Width: 304mm (11.98") x Depth: 200mm (7.88")
Weight: 2.6lbs (1.18kg); 2.8lbs (1.26kg)with touch*
Kamera
Widescreen HD (720p) webcam with dual array digital microphones
Ses ve Hoparlörler
Stereo speakers
1W x 2 = 2W total
Kasa
Exterior Chassis Materials
CNC machined aluminum
Edge-to-edge Corning® Gorilla® Glass NBT™ on QHD+
Carbon fiber composite palm rest with soft touch paint

Keyboard
Full size, backlit chiclet keyboard; 1.3mm travel

Touchpad
Precision touchpad, seamless glass integrated button
Kablosuz
Dell Wireless 1560 802.11ac + Bluetooth 4.0 [2.4&5 GHz, 2x2]