Potencia que se hace sentir
Lo sentimos, pero ya no es posible adquirir este artículo en el sitio web. Por favor vea nuestro producto de reemplazo recomendado.
Potencia impresionante. Capacidades Turbo boost. Diseñado para que tome el control. La nueva Dell Studio XPS™ 9000 es la computadora de escritorio multimedia emblemática de Dell.
Combina la potencia de los procesadores Intel® Core™ i7 Extreme de seis núcleos y la rápida memoria DDR3 de tres canales
Gran capacidad de ampliación hasta 24GB de memoria y 4.5TB de almacenamiento
Diseño elegante con funciones inteligentes y detalles audaces
Windows® 7 Professional Original de 32 Bits
Help and for your Studio XPS 9000
Studio XPS 9000 Computadora de escritorio
Studio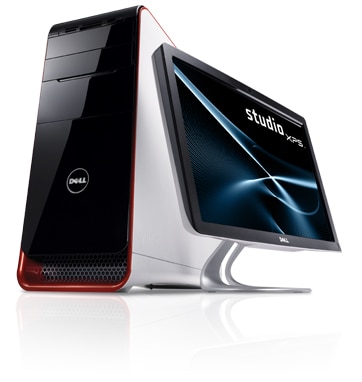 A Statement of Power
Breakthrough performance. Bold design. Immense expandability. The level of performance alone will blow you away as you engage in some of the most demanding entertainment and digital content. Your needs are also surpassed with a design that provides the highest level of expandability Dell Studio™ desktops have to offer. All of this is showcased in a bold, angled design trimmed with brilliant crimson orange accents that command your attention.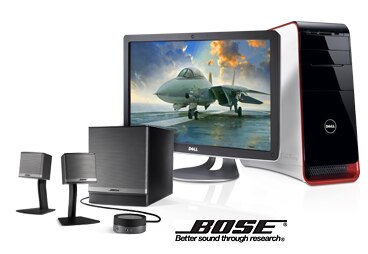 A New Level of Entertainment

Cutting-Edge Graphics
Bring your screen to life with a high-performance ATI Radeon™ and NVIDIA® GeForce® graphics cards.* Experience stunning realism on the Studio XPS's first graphics card with 1.8 GB memory. Whether you're a digital content creator or a gamer, you'll be blown away by the cutting-edge graphics that are setting a new standard for visual computing.

Cinematic Experience
With an optional Blu-ray Disc™ drive and integrated 7.1 audio, the theater comes to you. Expand your screen by connecting to an external monitor or TV using the HDMI port. Then, sit back and relax — the Dell Studio XPS 9000 has a built-in infrared receiver so you can control your media center with a remote control.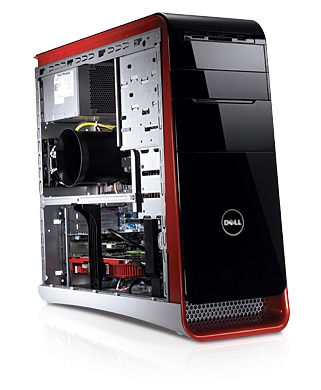 Immense Expandability
When you decide to grow, the Studio XPS 9000 desktop grows with you. With six DIMM slots — for up to 24 GB of available memory — and three hard drive bays for up to 4.5 TB* of storage, the Studio XPS 9000 provides the highest level of expandability that Dell Studio desktops have to offer. A 475-watt power supply supports performance-class graphics and high-end processors with power to spare. If that isn't enough, additional bays and slots allow for future expansion.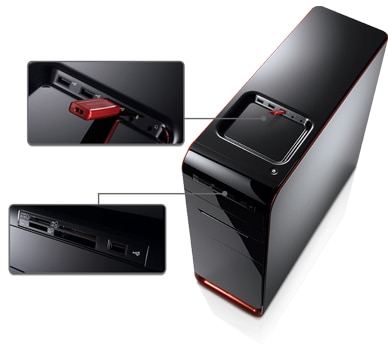 Bold Design
The Dell Studio XPS 9000 desktop was designed with you in mind. Its angled stature provides easy access from above while its recessed media tray offers 3 convenient USB ports for your portable devices. With its back handle and front scoop, lifting and maneuvering the Dell Studio XPS 9000 can be done with ease. Toolless entry helps make upgrades virtually effortless. And it doesn't stop there. The bold look of the Dell Studio XPS 9000 desktop is tailored in Pure White and Translucent Black with Brilliant Crimson Orange accents.
Enjoy First-Class Support
Exemplary service is standard with XPS products. Dell XPS technicians pass rigorous XPS product-specific training, and support calls are normally answered in 2 minutes or less.

You can also count on the latest virus and spyware protection, 1 year of 2GB Dell DataSafe™ Online backup, and 24x7 phone and online support. In short, the ownership experience is just like the machine itself — top-of-the-line.