易於安裝及管理的 Dell™ UPS,適合資料中心的 2700W-10kW 機架負載,協助您獲得最周全的保護,不受常見的電源問題影響。
請致電戴爾查詢最新價格
很抱歉,本商品不再提供線上購買。請參閱我們建議的替代產品。
Dell 線上機架式 UPS
Dell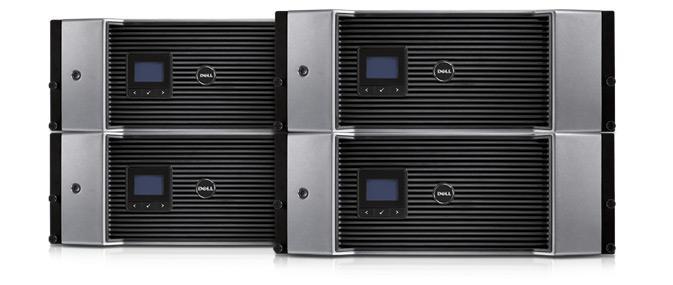 易於選擇、安裝及負擔
Dell UPS 系統具備精確的電源額定值、免工具安裝,以及協助支援能源效率的設計,是您環境的理想選擇。Dell UPS 結合領先的電源調節技術,以及網路支援、環境監控及虛擬化整合,提供全方位的 IT 解決方案。
客製化電源規模
Dell UPS 系統以功率 (W) 為單位決定配置及規模,讓您選擇符合自己環境實際耗電量的 UPS。
精簡安裝程序
Dell ReadyRails 無工具掛載套件,可於 10 秒內於機架安裝,無需使用工具,讓您迅速開始運作。
效率最高可達 97%
選擇耗電量較低、散熱較少,以及可降低冷卻成本的 UPS,享有高度的能源效率。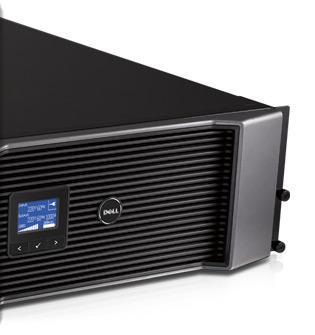 與您的 Dell 設備緊密整合
Dell UPS 可於電源中斷時保護資料,並可與現有的 Dell 網路及伺服器基礎設施輕鬆整合。

相符的設計風格
採用大膽俐落的設計方式,與 Dell 伺服器的外觀相符。
裝置配備大型顯示器
配備可讓您輕鬆變更控制設定的大型背光液晶控制面板,提供與 Dell 伺服器相同的色碼系統。
區域適用的插槽
客製化插槽及背板可確保相容於您所在區域的電源規範。
長效電池
提供外接電池模組 (EBM)*,最高可運作 19 分鐘。
輕鬆選擇
前往 www.dellups.com 使用配置器,依據需求選擇適當 UPS
任何環境都可輕鬆管理
利用免費軟體及各種控制選項,監控耗電量、電源事件、可用的電池運作時間、警示狀況及更多其他資訊。

多重 UPS 管理主控台 (MUMC) 軟體
使用單一介面監控及設定網路上的多個 UPS 系統。
UPS 本機節點管理員 (ULNM) 軟體
使用簡易的線上介面,自訂單一 UPS 環境中裝置的關閉方式。
虛擬化整合
與虛擬化伺服器環境整合,包括 VMware®、Microsoft®、Citrix®、OpenSource 及 Red Hat® 的熱門平台。
External Battery Module

Dell uninterruptible power supplies (UPS) provide battery backup power to ride through brief outages or to allow enough time for graceful shutdown of connected servers. This backup runtime can be extended with the use of optional External Battery Modules (EBMs). For example, an EBM extends battery runtime from 5 minutes to 11 minutes for a 4200W UPS, to 14 minutes for a 3750W UPS, and to 19 minutes for a 1920W, 2700W or 5600W UPS, assuming a 100 percent loaded UPS.*

Network Management Card

The Dell Network Management Card (NMC) hot plugs into the Dell UPS, connecting it to the IT network. For users with an SNMP-based infrastructure management system, the NMC also provides SNMP traps of power alarms and events.

UPS user settings can be made either through the NMC web interface (accessed through a web browser with the NMC IP address) or through the Dell UPS management software. Changes made in either location will be synchronized with the other to avoid conflicts.

The network management card provides additional functionality over USB:

Full support for virtualized IT infrastructures
Ability to send SMTP email alerts directly from the NMC without relying on UPS management software
SNMP network alerts (supporting the RFC-1628 industry standard Management Information Bases (MIBs))
Ability to schedule power up and power down of the UPS and associated server equipment
Simplified ability to manage multiple UPS installations, including supervision across WAN (for example, for satellite offices)
The NMC is a prerequisite for virtualized IT infrastructures because of the native limitations of USB and hypervisors.

Environmental Monitoring Probe

The optional Dell Environmental Monitoring Probe (EMP) enables you to remotely monitor the temperature, humidity and status of two contact devices through a standard web browser, providing a wide range of environmental and rack-level monitoring capabilities. These status readings can create user alerts and invoke graceful server shutdown at predetermined threshold limits.

Threshold settings and actions based on these thresholds can be set either in the Dell UPS management software or through the UPS NMC interface. Variables are reported directly into the UPS software and (optionally) across the network as SNMP traps.

The EMP is hot installable and can be positioned anywhere within a 19" rack or any flat surface in the IT environment. The EMP can be used with any Dell UPS equipped with a Dell NMC. A maximum of one (1) EMP can be connected to each Dell UPS.

Power Cable Kits

Power cable kits simplify installation for hardwired UPS models by converting them into input (mains) power cable units that can be placed in proximity to an appropriate power source and moved to a new location without the services of an electrician. Cable kits are available for most hardwired UPS models, and must be installed by qualified personnel.

Metered and Managed PDUs

Combined with Dell Power Distribution Units (PDUs), Dell UPS hardware enables you to deploy a Dell power protection and distribution scheme for a flexible, effective power strategy. Dell UPS hardware provides supervision of Dell metered and managed PDUs connected to a network via the on-board network port. Dell UPS MUMC software can discover and monitor Dell PDUs connected to the network. The UPS and PDUs can then transmit SNMP data via Ethernet to the OpenManage™ Power Center, which aggregates and displays that information.
Dell's power management software incorporates the traditional graceful server shutdown operations with enhanced support for large and distributed IT network infrastructures, as well as deeply integrated support for virtualized and private cloud systems.

Dell Multi-UPS Management Console (MUMC) software is designed to manage multiple UPS with attached server installations from a centralized client location. MUMC also directly manages virtualized systems, often without the need for an agent to be installed on the local hypervisor. This software can reduce the complexity and time required to manage system shutdown profiles and UPS settings across a network. Where virtualization is used, the MUMC can eliminate the need for command line programming and complex hypervisor integration with a simple and unique interaction with hypervisor management systems.

A complete set of capabilities is provided with MUMC. These include:

The ability to monitor and manage multiple power and environmental devices from any internet browser or vCenter dashboard
A user-definable tree structure enabling grouping, access and management of multiple devices across multiple locations
The option to view groups or similar devices and all alerts from a single interface
Auto discovery, providing fast installation by automatically detecting devices on the network
A power device asset management that tracks moves, additions and changes of equipment
Visible SNMP devices and individual web interfaces that are accessible for editing and configuration
Multiple password-protected access levels and support to provide secure communications
Dell UPS Local Node Manager (ULNM) software provides graceful, automatic shutdown of servers during prolonged power disruptions, helping to prevent data loss and save work in progress. For virtualized systems without a central hypervisor management interface such as VMware's vCenter, the ULNM will also act as a shutdown agent for the individual hypervisors.

Dell ULNM:

Helps avoid data loss by automatically shutting down computers and virtual machines/servers powered by a Dell UPS during an extended power outage
Allows access through an easy-to-use interface from any PC with a web browser
Acquires UPS information through local or network communication and can be easily deployed on many computers
Can be remotely managed, configured and updated with the Dell Multi UPS Management software
Communicates with the protected device directly (by USB) or through the Network Management Card
The Dell UPS software supports virtualized server environments.
Integration with popular virtualization platforms from VMware®, Microsoft®, Citrix®, OpenSource and Red Hat® to manage power to a virtualized environment
Seamless integration with VMware® vCenter dashboard, support for remote shutdown of servers in clusters and the ability to shut down VMs in VMware® high-availability clusters
Ability to trigger vCenter vMotion™ and SCVMM Live Migration™ applications to transparently move virtual machines from a server affected by a power interruption to a nonaffected server on the network, helping to maintain data integrity with no downtime
XenCenter™ plugin
Support for Metered and Managed Dell PDUs
Support for multiple redundant UPS powering the same devices
Support for Dell unique metrics (peak headroom, peak consumption)
Support for Dell Environmental Monitoring Probe (EMP) to monitor temperature, humidity and the status of two dry contacts
Improved diagnostics and reporting tools
Improved translated documentation