Enterprise-class, cost-effective iSCSI SAN with SAS performance
Organisations seeking a virtualized SAN that balances cost and capacity with strong performance for databases, virtual servers and e-mail.
請致電戴爾查詢最新價格
很抱歉,本商品不再提供線上購買。請參閱我們建議的替代產品。
EqualLogic PS6000x 儲存
EqualLogic
作業環境條件
溫度範圍:攝氏 5 至 35 度/華氏 41 至 95 度
儲存溫度:攝氏 -20 至 60 度/華氏 -22 至 140 度
海拔高度:-70 至 3,048 公尺 (作業)/-305 至 12,192 公尺 (非作業)
相對濕度:20% 至 80% (無冷凝,作業)/5% 至 95% (無冷凝,非作業)
衝擊:5 克,10 毫秒,半正弦 (作業)/30 克,10 毫秒,半正弦 (非作業)
震動:隨機,5-500Hz 時為 .21 grms (作業)/隨機,2-200Hz 時為 1.04 grms (非作業)
聲音:作業聲功率:< 5.8 db LpA @ 20°C
空氣品質:空氣污染程度 G2 或更低,依據 ISA-S71.04-1985 定義
電源
AC 電壓:100 至 240 VAC ±10% 單相
頻率:47 至 63 Hz
功率因數:0.98 (最小值)
耗電量:520 VA,540 峰值 VA (作業最大值)
散熱:每小時 1,740 BTU (最大值)
電源:兩個 440W DC 電源
管理
SAN HeadQuarters 多重群組效能與事件監控工具
SNMP、Telnet、SSH、HTTP、Web (SSL)、主機指令檔
序列埠主控台
支援多重管理員
可設定獨立的管理網路
機箱
高度:13 公分/5.12 吋/3 EIA 單位
寬度:48.26 公分/19.0 吋/相容於 1EC 機架
深度:55.1 公分/21.7 吋
重量:36 公斤/79.6 磅 (最大組態)
穩定性
可熱交換的備援控制器、電源/冷卻風扇及磁碟
個別磁碟機插槽電源控制
技術特點
磁碟區
最多 1,024 個

快照
單一磁碟區 512 個/總數最高 10,000 個

存取 PS 系列群組的主機
每個集區最高 1,024/每個群組最高 4,096

主機通訊協定
任何符合產業標準的 iSCSI 啟動器

支援的作業系統

Windows® 2000 Server
Windows Server® 2003
Windows Server® 2008,含 Hyper-V
Microsoft® Windows Server® 2008 R2,含 Hyper-V
VMware® ESX Server 3 / 3.5 / 4 / ESXi 3.5 / 4 / 4.1
Citrix® XenServer
Red Hat® Enterprise Linux®
SUSE® Linux Enterprise
Linux
Sun™ Solaris
UNIX®
IBM® AIX
HP-UX®
Mac OS® X
Novell® Netware® 支援

RAID
自動 RAID 5、RAID 6、RAID 10 及 RAID 50

GbE 網路介面
每個控制器四 (4) 個銅線連接埠

TCP 網路支援
支援 IPv4、IPv6 核心,包括 JITC

擴充選項
可在線上與相同 SAN 群組中的其他 EqualLogic PS 系列陣列結合
機櫃監控系統
自動儲存及使用備份組態
智慧功能
故障區塊自動更換
由自動狀態磁碟監控系統 (ADMS) 監控磁碟機上的資料狀況
Dell EqualLogic PS6000X
Dell EqualLogic™ PS6000X is a virtualized Internet SCSI (iSCSI) SAN that combines intelligence and automation with fault tolerance to provide simplified administration, rapid deployment, seamless scalability, and enterprise performance and reliability. With 10,000 rpm SAS disk drives, the PS6000X array provides a balance of performance and capacity, with 9.6 TB* of storage capacity.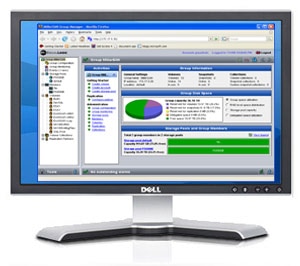 Exceptional Ease of Use
The PS6000X is an intelligent storage array that provides rapid installation, simple management and seamless expansion. All PS Series storage arrays include SAN configuration features and capabilities that sense network topology, automatically build RAID sets and conduct system health checks to help ensure that all components are fully functional. A PS6000X can often be installed, configured and operational in less than one hour.

Modular Design with Enterprise Reliability
EqualLogic PS Series arrays are based on a virtualized modular storage architecture that enables IT managers to purchase only the storage that is needed, when it is needed — to help prevent both under utilization and over-provisioning. Using patented data movement technology, all PS Series arrays can work together to automatically manage data, load balance across system resources and expand to meet growing needs. The EqualLogic PS Series is designed to meet and exceed the ruggedness requirements of the data center. The PS6000X includes fault tolerance capabilities through fully redundant and hot-swappable components — dual-controllers, standard dual fan trays, dual power supplies and disk drives with hot spares. Self-tuning write-back caches are battery-backed and mirrored across controllers for the ultimate protection without compromising performance.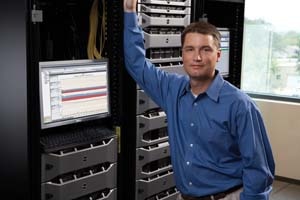 ENTERPRISE DATA SERVICES WITHOUT ADDITIONAL COST

The PS6000X has built-in storage features once available only to top-tier data centers, enabling best practice storage for every size organization. EqualLogic PS Series arrays include the following enterprise data services and software features with no additional software licensing fees:

Management


PS Group Manager
SAN HeadQuarters Multi-SAN Historical Performance Monitoring
Rapid Provisioning
Remote Setup Wizard
Roles-Based Administration
Volume Management
Data Protection, Availability and Recovery
Auto-Replication, Multi-Way
Instant Volume Restore
Multi-Path I/O* 
Multi-Volume, Writeable Snapshots
Snapshot and Auto-Replication Scheduler
Volume Cloning
Volume Consistency Sets
Storage Virtualization
Array Evacuation
Automatic Load Balancing
Automatic or Manual Storage Tiering
Complete SAN Virtualization
Online Data and Volume Movement
RAID Load Balancing
Storage Pools
Thin Provisioning
Maintenance
Auto-Stat Disk Monitoring System
E-mail Home
Enclosure Monitoring System
Performance Monitoring
Server Management and Protection Integration
Auto-Snapshot Manager/Microsoft® Edition*
Auto-Snapshot Manager/VMware® Edition*
Automatic MPIO Connection Management
Microsoft® VSS and VDS Providers
Smart Copy for Microsoft® Hyper-V™ , Exchange® , SQL Server® ,Windows® File Systems and VMware® VMFS
VMware® Site Recovery Manager Adapter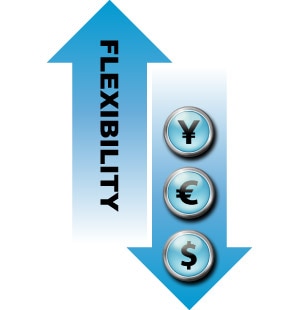 Flexibility with Low Cost of Ownership
Dell EqualLogic PS Series arrays represent a breakthrough in storage economics, from purchase and setup to operation and upgrades. The PS Series scales on-demand and online, allowing storage growth without disrupting applications. As a result, EqualLogic arrays provide exceptional flexibility with a low total cost of ownership.

Whether consolidating a direct-attached storage (DAS) infrastructure, migrating data from an existing SAN, streamlining data protection processes or simply adding storage capacity, the Dell EqualLogic family of proven, high-performance, self-managing storage arrays is designed to meet the requirements of today's critical data center environments.
Dell 提供完整的全面解決方案,協助您儲存資料並加以管理,讓您以高效率適時將所需資料移至正確位置。EqualLogic 陣列軟體和主機軟體是這些解決方案的一部分,隨附於您購買的 EqualLogic 陣列中,提供貴機構打造完整儲存區域網路 (SAN) 解決方案所需要的所有工具。



EqualLogic 陣列軟體

每個 EqualLogic 陣列出貨時都提供強大的軟體功能組合,協助您管理、保護及最佳化資料。EqualLogic Group Manager 可協助簡化儲存和資料管理,橫跨二個 PS 系列 SAN 陣列與 FS 系列 NAS 應用裝置。EqualLogic PS 系列韌體是 EqualLogic 軟體系列的基礎。EqualLogic PS 系列韌體是一種 SAN 作業系統,可整合至所有的 EqualLogic PS 陣列系列產品,並採用獨特的對等儲存架構,能夠:


虛擬化 SAN 資源

最高提供 16 個陣列的對等擴充能力

提供智慧資料管理功能

自動調整系統資源

最佳化效能

減少手動操作


另外韌體還包含 EqualLogic 手動傳輸公用程式,提供非網路的複製功能,可大幅降低在複製合作夥伴之間傳輸大量資料所需的時間。

EqualLogic 最新韌體 (7.0 版) 包含適用於 PS 系列陣列的強化功能,例如:



功能強大且可擴充的存取控制原則,提供更簡單的管理方式

重新設計的 GUI,具備搜尋功能

RAID 原則建議,協助推廣 RAID 最佳實務

各種與舊版相容的新技術,包括適用於較新陣列的 64 位元核心韌體版本,以及支援 4K 磁區的磁碟區和 4K 原生磁區 (4Kn) 磁碟機
EqualLogic 主機整合工具

本系列的主機型軟體,可在 EqualLogic 陣列與主機之間提供緊密整合。Dell 針對 Microsoft®、VMware® 及 Linux® 環境提供主機整合工具,讓客戶享有下列好處:


全方位的資料保護及可用性

整合式儲存管理

穩定可靠的效能

簡化陣列設定
EqualLogic SAN Headquarters

Dell EqualLogic SAN Headquarters (SAN HQ) 是集中式的監控及報告工具,可在多個群組的 EqualLogic PS 陣列之間,針對效能、容量和警示提供深入資訊,協助提升效能並有效分配群組資源。

有了 Dell SupportAssist 功能,SAN HQ 3.0 便可根據系統錯誤自動建立支援案例,並且可讓您針對受 SupportAssist 監控的 EqualLogic 陣列檢視開放的 Dell 支援案例。

深入了解 EqualLogic 軟體

了解 Dell EqualLogic 軟體如何協助您設計、管理及最佳化您的儲存解決方案。



深入了解 ›

Dell ProSupport — Faster, more reliable support services designed to address the technology challenges you face today. This new support portfolio is focused on your needs, time demands and budgets.
Need professional support services that take care of both you and your employees' IT needs 24x7? Choose Dell ProSupport* to get access to a certified technician in two minutes or less.
Got an IT staff? Choose Dell ProSupport for IT and get tech-to-tech support, along with 24x7 access to Dell-certified technicians.
Dell ProSupport Service Model

Dell ProSupport

Dell ProSupport for IT


Designed for organizations with limited or no dedicated IT staff.

Includes:


24x7 direct break-fix hardware and software support for your employees

Access to a certified technician in two minutes or less

Designed to provide tech-to-tech support for IT professionals, database administrators and internal service desks or help desks.

Includes:


24x7 Direct access to Dell Expert Centers

Escalation management through Dell's Global Command Centers

Collaborative hardware and software support
Next, Dell ProSupport Options align to the way you use technology — rapidly responding to your needs, protecting your investment, your productivity and your sensitive data, and providing enhanced proactive support services to reduce the risk and complexity of managing your infrastructure.
SPEED OF RESPONSE

PROTECTION

PREMIUM PROACTIVE

Mission Critical — Perfect for server and storage environments where avoiding unplanned downtime and reducing recovery time through priority response are a must. The package includes priority 4-hour onsite service or optional 2-hour response with 6-hour hardware repair, Dell's proven critical situation process, and emergency dispatch.
Data Management and Protection

Keep Your Hard Drive

*

helps you retain control of sensitive data

Enterprise-Wide Contract — Provides enhanced proactive capabilities through:


Designated Service Delivery Manager

Performance benchmarking and custom reporting

Planning and assessments


Dell Server and Storage Deployment Services
Dell provides a comprehensive set of remote and on-site installation services for PowerEdge and PowerEdge SC servers, as well as PowerVault, Dell | EMC and Dell EqualLogic storage products to help reduce the time required to get your system up and running. These installation services help:
Speed up deployment
Supply necessary expertise for correct installation
Minimize disruptions to your business


Comprehensive Training
Get the skills you need to keep pace in today's competitive IT environment with comprehensive training courses. Dell offers a vast array of instructor-led classes and online training courses in a range of topics from server maintenance to in-depth technical overview of specific systems.