高密度 Gigabit 乙太網路交換器搭配虛擬機箱技術,適用於銅線網路
體積精巧,節能省電的 1U 架構,提供高可用性、高效能及單點管理等功能。
請致電戴爾查詢最新價格
很抱歉,本商品不再提供線上購買。請參閱我們建議的替代產品。
PowerConnect J-EX4200-48T 乙太網路交換器
PowerConnect
Innovative Architecture
The PowerConnect J-EX4200-48T Ethernet switches feature complete enterprise Layer 2 and Layer 3 switching capabilities to satisfy your high-density access and Gigabit Ethernet (GbE) aggregation requirements.
Optional GbE and 10 GbE uplink modules enable high-speed connectivity to aggregation or core-layer switches.
Internal redundant, hot-swappable power supplies and a field-replaceable fan tray with redundant blowers help ensure maximum uptime.
Eight power over Ethernet (PoE) ports deliver a full 15.4 watts of Class 3 PoE to support IP-enabled telephones, video cameras and wireless LAN access points in converged networks.
A purpose-built, packet-forwarding-engine application-specific integrated circuit (ASIC) consistently delivers wire-rate forwarding, even with all control-plane features enabled.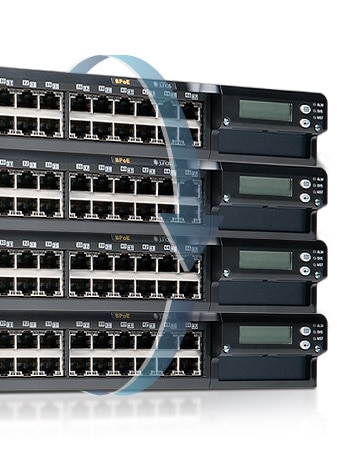 Virtual Chassis Technology
In a virtual chassis configuration, all switches can be monitored and managed as a single device, which enables administrators to improve network efficiency by separating physical topology from logical end-point groupings.

Up to 10 PowerConnect J-EX4200-48T switches can be connected to create a single logical device supporting up to 480 10/100/1000BASE-T ports plus an additional 20 GbE or ten 10 GbE uplink ports, which helps:
Ease configuration and management
Reduce operational costs
Simplify cabling
Lower cooling costs
Conserve data center floor space
Servers attached to the top-of-rack devices are connected by a single, high-bandwidth, low-latency switch and do not rely on an aggregation switch for server-to-server communications. What's more, different models, such as the PowerConnect J-EX4200-24T and PowerConnect J-EX4200-24F, can be mixed to provide a variety of port and density options.

A single virtual switch can also be created using the GbE or 10 GbE uplink ports to extend the virtual chassis configuration across long distances, spanning different wiring closets, floors or even buildings.
Junos Operating System
The PowerConnect J-EX4200-48T Ethernet switch runs on the Junos OS, which is commonly used across all J-Series products, as well as many of the world's largest and most complex networks.
Highly disciplined, the Junos OS development process uses a single source code, follows a single quarterly release train and employs a highly available modular architecture that prevents isolated failures from bringing an entire system down.
Fully regression-tested, each new release is a true superset of the previous version. Therefore, whenever Junos-powered products are updated, all existing capabilities will be maintained and operate in the same way.
Session-based forwarding combines the session state information of a traditional firewall and the next-hop forwarding of a classic router into a single operation, helping to improve throughput and lower latency for session traffic when compared to classic
Leveraging a common version of the Junos OS across the switch families ensures consistency throughout the infrastructure and reduces the learning curve.
Dell ProSupport
Dell ProSupport™* 服務支援組合,著重於滿足您的需要、時間需求及預算,提供快速且更為可靠的支援服務,協助您解決現有的各種技術難題。
您是否需要專業的支援服務,24 小時全年無休處理您與員工的 IT 需求?選擇 Dell ProSupport,就可連絡獲得認證的技術人員。
您是否擁有 IT 人員?選擇 IT 專用的 Dell ProSupport,獲得技術對技術的支援,並可擁有 Dell 認證技術人員的快速派遣服務,24 小時全年無休。
服務模式
使用者專用的 Dell ProSupport
適合 IT 人員缺乏或不足的企業組織,服務內容包括:
24 小時全年無休的故障回復硬體支援,因應員工需求
熱門軟體應用程式的「操作指引」支援,例如 Norton™ AntiVirus、Microsoft® Office、Microsoft® Small Business Server、Intuit® QuickBooks、Adobe® Photoshop® 和 Adobe Acrobat®
可在 2 分鐘內獲得認證技術人員支援
IT 專用的 Dell ProSupport
適合擁有專屬 IT 人員的企業組織。包括:
24 小時全年無休直接連絡 Dell 專家中心
Dell 認證技術人員的快速派遣服務
透過 Dell 全球指揮中心進行問題上報/升級管理
如果需要更快速解決問題,請新增當日回應。適用客戶為:使用 Dell™ 系統進行分秒必爭的營運或關鍵業務功能。接受 Dell 訓練的技術人員,將於問題判定後 4 小時內到達現場 (需視地點而定),以最快的速度協助系統回復運作。



安裝:Dell 提供簡化的標準安裝服務,讓您輕鬆選擇特定套件,在工作環境中快速使用新系統,淘汰舊系統。
維護:您可升級至 3 年零件或裝置硬體更換,搭配當日、4 小時或次營業日回應。