請致電戴爾查詢最新價格
很抱歉,本商品不再提供線上購買。請參閱我們建議的替代產品。
Dell Wyse R class 精簡型用戶端
Wyse
Model Comparison Specs- Download Spec Sheet PDF

Legend: S = Standard AO = Additional Option N/A = Not Applicable



| | |
| --- | --- |
| Performance | Dell™ Wyse R10L |
| Operating System | Dell Wyse ThinOS™ |
| Processor | 1.5GHz AMD Sempron™ |
| Memory | 128MB Flash/512MB RAM |
| Graphics | AMD ATI™ 690E |
| Power | Worldwide autosensing 100–240 VAC, 50/60Hz 65W, 19V DC |
| Power consumption | 14.6 watts (average) |
| Security | Built-in Kensington Security Slot (cable sold separately) |
| I/O peripheral support | Dell Wyse R10L |
| One DVI-I port, DVI to VGA (DB-15) adapter included | S |
| One DVI-D port | S |
| Two PS/2 ports | S |
| Two serial ports | S |
| Six external USB 2.0 ports (2 front; 4 back) | S |
| Four internal USB 2.0 ports | N/A |
| One mic in | N/A |
| One line out | N/A |
| One parallel port | N/A |
| Networking | Dell Wyse R10L |
| | 10/100/1000 Base-T Gigabit Ethernet |
| | Optional internal wireless 802.11 b/g |
| Display | Dell Wyse R10L |
| VESA monitor support with Display Data Control (DDC) for automatic setting of resolution and refresh rate | S |
| Single Monitor | 2560 x 1600 32bpp 60Hz |
| Dual Monitor | 1920 x 1200 32bpp 60Hz |
| Two independent full resolution frame buffers | S |
| Audio | Dell Wyse R10L |
| Output: 1/8-inch mini jack, full 16-bit stereo, 48KHz sample rate. | S |
| Input: 1/8-inch mini jack, 8-bit microphone | S |
| Internal mono speaker | S |
| Dimensions | Dell Wyse R10L |
| Height x Width x Depth | 250 mm x 225 mm x 53 mm (9.8 inches x 8.8 inches x 2.1 inches) |
| Weight | 1.850 kg (4.08 lb) |
| Mountings | Dell Wyse R10L |
| Vertical stand | S |
| Horizontal stand | AO |
| Wall-mounting bracket | AO |
| Temperature Range | Dell Wyse R10L |
| Horizontal position | 10° to 35°C (50° to 95°F) |
| Vertical position, power button up | 10° to 40°C (50° to 104°F) |
| Storage | -10° to 60°C (14° to 140°F) |
| Humidity | Dell Wyse R10L |
| Condensing | 20% to 80% |
| Noncondensing | 10% to 95% |
| Included | Dell Wyse R10L |
| Enhanced PS/2 keyboard with Windows Keys (104 keys) & PS/2 optical mouse included | S |
| Warranty | Dell Wyse R10L |
| 3-year Limited Hardware Warranty | S |
Regulatory Information:
Product Safety, EMC and Environmental Datasheets
Dell Regulatory Compliance Home Page
Dell and the Environment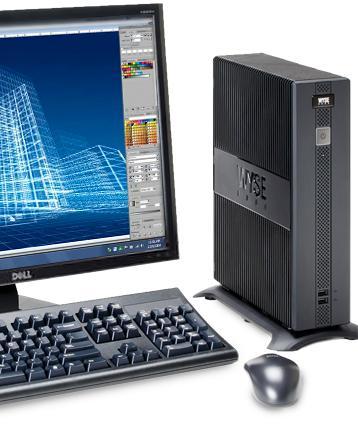 Created for performance and expandability.
Wyse® R class™ cloud clients give your users everything they need from their desktop PC, without the things they don't — such as moving parts, wasted energy, insecure hard drives and excessive heat. Instead, we've built in what matters most: Powerful processors, dual monitor support, fast graphics and a host of USB ports for those vital everyday peripherals.

The new Wyse R class features high-performance central and graphics processors, full support for multiple screens and the best PC experience available on a cloud computing platform.

 

Wyse Device Manager supports the Wyse R class with scalable, enterprise-wide management, simple deployment, patching, updates and asset management — all with secure end-to-end encrypted communications. Finally, each Wyse R class cloud client contributes — quietly and coolly — to lowering your organization's carbon footprint with power usage and emissions that are a fraction of traditional PC desktops.

Best-in-class high-end graphics.
Wyse R class supports any high-end graphics application, with support for dual monitors with standard DVI-I and DVI-D ports. By employing the advanced ATI 690E chipset from AMD, the Wyse R class family of cloud clients provides the best graphics performance in its class. These devices also include supported applications, which will be required for some of the latest and forthcoming technologies from Citrix, Microsoft and VMware.

Pure energy efficiency.
Wyse R class cloud clients typically use between 12 and 15 watts of power, compared to a typical PC that uses between 70 and 150 watts. Even in sleep mode, Wyse R class units draw just 2 watts — even while it's fully remotely managed.

Many Wyse R class models are EnergyStar certified. Through our EarthSmart computing initiative, we're committed to helping organizations implement a greener computing strategy. That way, we deliver a more efficient and productive computing experience for your users, so you can have a positive effect on energy wastage, heat and carbon emissions.
Wyse®-enhanced Ubuntu® Linux®

Wyse Zero
and
Wyse ThinOS
Local functionality

Citrix ICA/HDX protocol support

Microsoft RDP/RemoteFX protocol support

VMware® / Teradici PCoIP protocol support

Local terminal emulation

Supports embedded Linux apps

Supports embedded Windows apps

Local browser

Chrome

Management

Manage with Wyse Device Manager (WDM)

Hands-off management and configuration with
Wyse Automatic Management (WAM)

Hands-off automatic configuration with Wyse
Configuration Manager (WCM)

Manage with Microsoft System Center Configuration Manager

Performance

Instant on

Fastest screen display per CPU MIP

Multimedia acceleration with Wyse TCX

Network acceleration with Wyse VDA

Security

Zero attack surface — malware immune

Reduced attack surface

Local anti-virus recommended for some applications

Other
Patent license from Novell for SUSE and relevant
Microsoft Components
N/A
N/A
Footnotes: 1 — Per Microsoft EULA

Key:

Yes 
    
No 
The dynamics of end-user computing are rapidly changing. Organizations today are turning to desktop virtualization to cost-effectively enhance security, streamline desktop management, reduce time to value, and boost user productivity all while providing the flexibility to support a comprehensive array of business requirements.
With Dell Desktop Virtualization Solutions (DVS) featuring Dell Wyse cloud client devices, Dell gives you the ultimate user experience with secure access for any user, to any content, using any app, on any device, anytime anywhere.
Integrate Dell Desktop Virtualization Solutions (DVS) with your existing investments. Many DVS Enterprise solutions are integrated tightly with Citrix, Microsoft, VMware and Dell vWorkspace to optimize your deployments in either Windows or Linux® environments.
DVS Portfolio:
DVS Enterprise Solutions include pre-configured, pretested, on-premise desktop virtualization solutions designed for demanding IT environments.

DVS Enterprise ISS for Citrix and VMware
DVS Enterprise for Windows Server 2012
DVS Enterprise for Active Infrastructure for Citrix and VMware
DVS Enterprise for vWorkspace
The on-premise DVS Simplified Appliance includes all the data center hardware, virtualization software and Dell support services you need to run a desktop virtualization environment.
With Dell DaaS On Demand, you manage your virtual desktop images with an intuitive self-service portal and we implement, manage and maintain your VDI in a Dell Cloud.