The dual processor Dell PowerEdge 1950 delivers next generation performance in a 1U, rack dense chassis with Quad-Core Intel Xeon processors.
Sorry, this item is not available anymore for purchase online. Please see our recommended replacement product.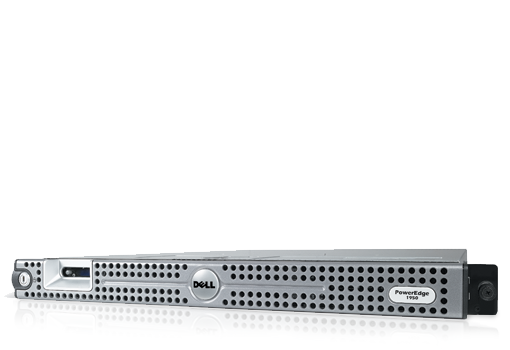 PowerEdge 1950 Rack Server
PowerEdge

Increased Commonality = Reduced Complexity
Only Dell delivers next-generation servers specifically designed to reduce complexity.

Hence, it's easier than ever to manage Dell servers through innovative design changes and increased management functionality, including a new Behavioral Specification that helps ensure consistency is maintained over future generations.

Plus, Dell's industry-leading software commonality takes steps to help reduce software complexity and drive down the number of updates.

You can even break down the new servers and service without tools.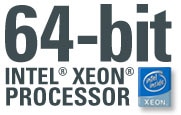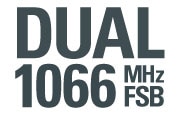 High Performance for Today.and Tomorrow
Dell goes the distance to increase price/performance and performance-per-watt1 in its newest generation of servers. The latest 64-bit Quad-Core Intel® Xeon® processors deliver performance gains of up to 63%* over the previous generation.

A 1066MHz FSB facilitates better speed. 64-bit memory addressability provides scalability for large memory footprint applications.

A TCP/IP Offload Engine (TOE) helps deliver greater network throughput and efficiency by offloading the TCP/IP processing to a dedicated processor, freeing up the main system processor in web-based applications or when using iSCSI.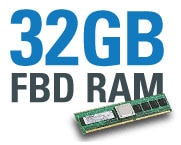 Memory
The new PowerEdge 9th Generation servers offer up to 32GB of fully-buffered DIMM memory, twice the memory capacity of the previous generation. This allows for simultaneous reads/writes of memory and can help improve performance in virtualized workloads.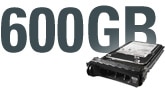 Storage
Serial-Attached SCSI (SAS) hard drives deliver the next generation of SCSI performance and reliability for critical business applications, while SATA options provide greater value for systems that rely on external storage and fiber-channel storage.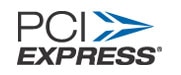 Peripherals
PCI Express I/O expansion facilitates greater I/O throughput and support for high-bandwidth I/O peripherals such as Infiniband, 4Gb fiber channel and future 10Gb Ethernet.
Availability Without Compromise
Dell addresses the need for high availability in the new PowerEdge 9th Generation by providing hot-plug redundant power supplies and hard drives, plus multiple SAS RAID options - without sacrificing expandability, and including support for High Availability Clustering and deployment in SANs. Redundant NICs and redundant cooling fans help keep the servers running smoothly.
Setting the Standard for Manageability
SAS hard drive carriers and memory options are common across the entire line of PowerEdge 9th Generation servers. The PowerEdge 1950, 2900 and 2950 feature standardized drivers and BIOS.

All servers include an Integrated Intelligent Platform Management Interface (IPMI) 2.0 management controller (with SMASH Command Line Protocol), plus an optional DRAC 5 remote management card with continuous video and Active Directory integration for robust remote server management.
Processor
Intel® Xeon® processors
Up to two Quad-Core Intel® Xeon® 5300 series processors at up to 3.0GHz
Up to two Quad-Core Intel® Low Volt Xeon® L5300 series processor at 2.0GHz
Up to two Dual-Core Intel® Xeon® 5100 sequence processors at up to 3.0GHz
Up to two Dual-Core Intel® Low Volt Xeon® 5148 processors at 2.33GHz
Operating System
Factory Installed O/S:
Windows® Server 2003 R2, Standard Edition
Windows® Server 2003 R2, Enterprise Edition
Windows® Server 2003 R2, Web Edition
Windows® Server 2003, x64 R2 Enterprise Edition
Windows® Server 2003, x64 R2 Standard Edition
Red Hat® Linux® Enterprise v4, ES EM64T
Red Hat® Linux® Enterprise v4, WS EM64T
Red Hat® Linux® Enterprise v4, ES
Red Hat® Linux® Enterprise v4, WS
SUSE Linux Enterprise Server 9 EM64T, SP3

Validated O/S, NFI:
Windows® 2000 Server
Windows® 2000 Advanced Server
Red Hat® Linux® Enterprise v4, AS EM64T
Red Hat® Linux® Enterprise v4, Advanced Server
Red Hat® Linux® Enterprise v3, ES
Red Hat® Linux® Enterprise v3, Advanced Server
Red Hat® Linux® Enterprise v3, WS
Novell® NetWare® 6.5 SP5 (No Open Manage support)
Drive Bays
2 hard drive base options
4 x 2.5-inch Hard Drive Option
2.5-inch HD Option: up to 4 SAS HDs (10K)
2 x 3.5-inch Hard Drive Option
3.5-inch HD Option: up to 2 SAS (10K/15K) or SATA (7200) drives
No Internal Floppy, External Floppy Optional
Slim optical drive bay with choice of CD-ROM, DVD-ROM or Combo CD-RW/DVD-ROM

Peripheral bays: 1 slim optical drive bay with choice of optional CD-ROM, optional DVD-ROM or Combo CD-RW/DVD-ROM
Chassis
1U Rack-mountable chassis
30.4" (77.2cm) D x 16.7" (42.6cm) W x 1.67" (4.26cm) H with bezel attached
Rack Weight 35.8 lbs (16.3 Kg), maximum configuration

Ports

Rear: 2 x USB 2.0 ports, 1 x video connector, 1 x serial connector, 1 x RJ-45 connector for DRAC 5/i (optional)
Front: 2 x USB 2.0 ports, 1 x video connector

Rack Support

4-post static Rapid and Versa Rails, 4-post Rapid/Versa Rail with Cable management arm and 2-post rails (non-Dell)
Availability
Hot-plug hard drives
Hot-plug redundant power
Redundant cooling
ECC memory
Spare Row
Single Device Data Correction (SDDC)
PERC5/i integrated daughtercard w/ battery-backed 256MB DDR2 cache
High availability failover cluster support
DRAC 5
Power
Standard 670 Watt hot-plug power supply
Optional redundant 670 Watt hot-plug power supply
Auto-switching universal 110/220 Volts
RAID Controllers
Optional PERC 5/E Adapter for external RAID storage
Optional PERC4e/DC (dual-channel PCI Express RAID controller)
Storage
Hard Drives:
2.5 inch SAS (10k rpm): 36GB* , 73GB* and 146GB* hot-plug hard drives
3.5 inch SAS (10k rpm): 146GB* and 300GB*
3.5" SAS (15k rpm): 36GB* , 73GB* and 146GB*
3.5" SATA (7.2k rpm); 80GB* , 160GB* , 250GB* (SATAu), 500GB* (SATAu) and 750GB* (SATAu) hot-plug hard drives

Maximum Internal Storage:
Up to 1.5TB* (with 2xSATA HDDs)

External Storage Options:
PowerVault NX1950 Unified Storage Solution
PowerVault MD3000 Modular Disk Storage Array
PowerVault MD1000 SAS external storage system
Dell/EMC products:
Dell/EMC AX150 and AX150i Networked Storage Array
Dell/EMC CX300 Networked Storage Array
Dell/EMC CX3-10c Networked Multi-protocol Storage Array
Dell/EMC CX3-20 Networked Storage Array
Dell/EMC CX3-40 Networked Storage Array
Dell/EMC CX3-80 Networked Storage Array

External Backup Options:
Libraries:
PowerVault ML6000 Modular Tape Libraries
PowerVault TL2000 and TL4000 Compact Tape Libraries

Autoloaders:
PowerVault 124T Autoloader

Single Drives:
PowerVault RD1000 Removable Disk Drive
PowerVault LTO Tape Drives
PowerVault Rackable Tape Drives

Tape Software:
Symantec® Backup Exec™ 11d
Yosemite® Tapeware 8.1
CommVault® Galaxy® Express 5.9
Backup Exe Quickstart Tape Backup
EMC® Networker™
Slots
2 expansion slots on 2 different riser options:
Riser 1 Option –PCIe
2 PCI Express slots (two x8) full height, half-length
Riser 2 Option – PCI-X
2 64-bit/133MHz PCI-X full-height, half-length
Management
OpenManage™
Standard Baseboard Management Controller with IPMI 2.0 support
optional DRAC 5/i for advanced capabilities
Communications
Dual embedded Broadcom® NetXtreme II™ 5708 Gigabit Ethernet NIC with fail-over and load balancing
TOE (TCP/IP Offload Engine) supported on Microsoft Windows Server 2003, SP1 or higher with Scalable Networking Pack

Optional add-in NICs:
Intel® PRO/1000 PT Dual Port NIC, Gigabit, Copper, PCI-E x4
Intel® PRO/1000 PT Single Port NIC, Gigabit, Copper, PCI-E x1
Intel® PRO/1000 PF Single Port NIC, Gigabit, Optical, PCI-E x4
Broadcom® NetXtreme™ 5721 Single Port Gigabit NIC, Copper, PCI-E x1
Broadcom® NetXtreme II™ 5708 Single Port Gigabit NIC w/TOE, Copper, PCI-E x4
Graphics Card
Integrated ATI ES1000 controller with 16MB of SDRAM
Environmental Operating Conditions
Operating Temperature: 10º C to 35º C (50º F to 95º F)
Storage Temperature: -40º C to 65º C (-40º F to 149º F)
Operating Relative Humidity (non-condensing twmax=29C): 20% to 80% non-condensing
Maximum humidity gradient: 10% per hour, operational and non-operational conditions.
Storage Relative Humidity: 5% to 95% non-condensing (twmax=38C)
Operating Vibration: 0.26G at 5Hz to 350Hz for 2 minutes
Storage Vibration: 1.54Grms Random Vibration at 10Hz to 250Hz for 15 minutes
Operating Shock: 1 shock pulse of 41G for up to 2ms
Storage Shock: 6 shock pulses of 71G for up to 2ms
Operating Altitude: -16 to 3,048m (-50 ft to 10,000 ft)
Storage Altitude: -16m to 10,600m (-50 ft to 35,000 ft)
Regulatory
FCC (U.S. only) Class A
ICES (Canada) Class A
CE Mark (EN 55022 Class A, EN55024, EN61000-3-2, EN61000-3-3)
VCCI (Japan) Class A
BSMI (Taiwan) Class A
C-Tick (Australia/New Zealand) Class A
SABS (South Africa) Class A
CCC (China) Class A
MIC (Korea) Class A
UL 60950 - 1
CAN/CSA C22.2 No. 60950 - 1
EN 60950 - 1
IEC 60950 - 1