Sorry, this item is not available anymore for purchase online. Please see our recommended replacement product.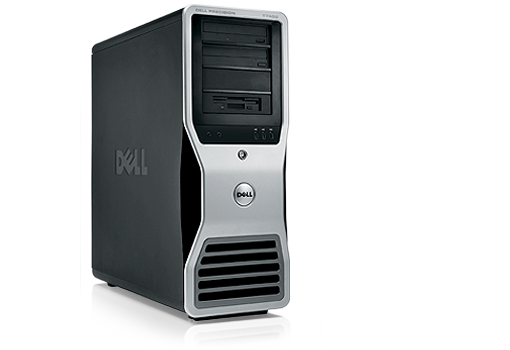 Dell Precision T7400 Tower Workstation
Precision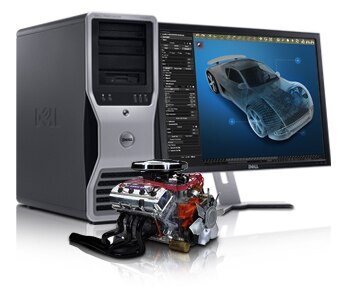 Ultimate Performance and Scalability
The Dell Precision T7400 is an ultra-high-performance workstation designed to maximize performance and scalability. The Dell Precision T7400 features the newest, and most powerful, multicore Intel Xeon processors, as well as advanced memory, graphics and RAID options to power through the most complex applications. Dell partners with leading independent software vendors (ISVs) to certify system and application compatibility so that your applications can run gracefully right out of the box.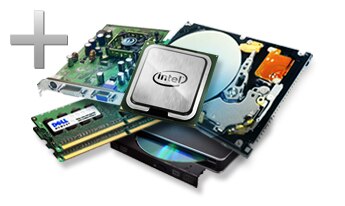 New Heights of Scalability
The Dell Precision™ T7400 is in a class of its own among Dell workstations. The T7400 climbs to new heights of scalability by supporting dual-graphics, Genuine Windows® 7 Professional, up to 64GB of 800MHz fully buffered DIMM memory with higher bandwidth quad-channel memory architecture, and up to two 64-bit quad core Intel® Xeon® processors. Memory scalability is up to 128GB* (available in Q2 2008 with expected availability of 8GB FB DIMMs). Because business needs differ, the Dell Precision T7400 delivers great flexibility in system configurations to meet your future needs.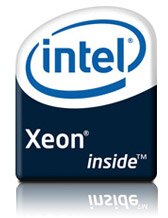 High Performance = Maximum Productivity
Choose from the latest Intel 64-bit multicore Xeon processors with up to 1600MHz front side bus to power the Dell Precision T7400. The Dell Precision T7400 is designed to scale as your application and workload demands change. The new Intel Xeon quad-core processors, with up to 12 MB cache and up to 1600 MHz dual independent front side busses, provide up to 12.8 GB bandwidth path for data between processors, memory and chipset.

See All Dell Precision T7400 Te ch Specs

Outstanding Graphics Performance
The graphics offerings on the Dell Precision T7400 can handle the demands of 2D and Open GL 3D operations for engineering, architecture or design applications with ease. The Dell Precision T7400 offers a wide range of high-performance options, including dual Native PCIe Gen 2 x16 slot support and up to 225 watts graphics card. Use the Dell Precision T7400 for Microsoft® Certified Application Developer (MCAD), visualization and digital content creation, configured with multiple monitors for ultimate efficiency.
See All Dell Precision T7400 Tech Specs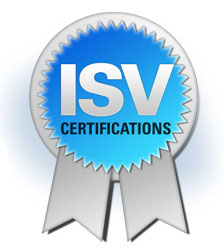 ISV Application Certifications
Dell partners with leading ISVs to certify system and application compatibility so that your applications can run seamlessly on Dell Precision workstations, which feature 25 active certified ISVs and over 60 application certifications. Through rigorous testing, Dell targets flawless compatibility and optimized performance in demanding work environments, such as computer-aided design and engineering, digital content creation, and financial trading. ISV compatibility ensures maximized, out-of-the-box reliability with ongoing compliance and support.

Get a Workstation Recommendation by Application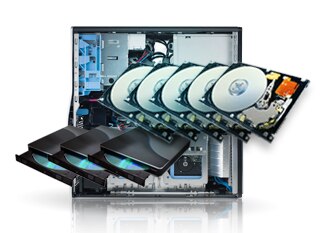 Flexible Storage
The Dell Precision T7400 supports the use of two optical drives, and with up to five Serial ATA (SATA) hard drives can yield a potential total storage capacity of 5.0 TB*, providing drive space for the largest data files with room to spare. The Dell Precision T7400 provides advanced hard drive technology with SATA and Serial Attached SCSI (SAS) drives, offering an ideal balance of high capacity and outstanding performance. The optional PERC 6/i PCI-e SAS/SATA RAID card provides support for RAID 0, 1, 5 or 10 to enhance I/O (input/output) performance and keep your critical data and applications secure.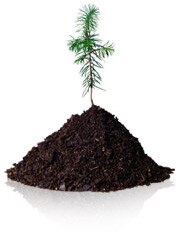 Energy Efficiency
Helping to reduce total cost of ownership, the Dell Precision T7400 is available configured to meet Energy Star 4.0 and Energy Smart certifications, and features maximum flexibility power hardware for global use. A high level of power management, combined with 80+ efficient Power Factor Correcting power supplies, flat panel displays, Intel multicore processors and Dell's thermally efficient chassis design, can help conserve your resources and the earth's resources at the same time.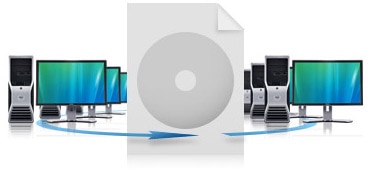 Optimized Solutions
Dell offers complete customization of all Dell Precision workstations. Factory integration can accelerate system deployment, allowing selection of various settings during the purchase process, including partitioning, boot order, BIOS settings and more. A Web-based image management system, ImageDirect™, enables the creation and management of custom images for loading on your system, even remotely.
Dell ProSupport 
Designed to address the technology challenges you face today, Dell ProSupport™* starts with a service model designed for IT professionals like you.

Dell ProSupport for IT provides:

24x7 direct access to Dell Expert Centers

Fast-track dispatch for Dell-certified technicians

Escalation management through Dell's Global Command Centers
Next, Dell ProSupport options align to the way you use technology — rapidly responding to your needs, protecting your investment, your productivity and your sensitive data, and providing enhanced proactive support services to help reduce the risk and complexity of managing your infrastructure.


Speed of Response

Protection

Premium Proactive

Mission Critical 4-hour On-site Service* with 6-hour Hardware Repair — Priority on-site service to get you back up and running fast


Asset Management and Protection — Helps ensure quick recovery


Accidental Damage Protection

*

repairs or replaces accidentally damaged systems

Enterprise-Wide Contract — Provides enhanced proactive capabilities through:

Designated service delivery manager

Performance benchmarking and custom reporting

Planning and assessments

Specialized On-site Options — Allow you to augment your daily IT management or tap into specific technical expertise for critical projects when needed.

Recommended options for notebooks include:

Onsite Parts Management to help minimize downtime by having parts at your fingertips
Onsite Personnel to augment your IT staff
Onsite Diagnosis for accelerated troubleshooting

Data Management and Protection — Helps ensure data security


Keep Your Hard Drive*

helps you retain control of sensitive data.

Hard Drive Data Recovery provides unlimited attempts to recover data from a failed hard drive.
Certified Data Destruction wipes your hard drive clean and destroys data.

Proactive Maintenance — Proactively maximizes the availability and stability of your infrastructure. The package includes a detailed system assessment and implementation of driver or firmware updates and upgrades for your server or storage systems.

Remote Advisory Options — Provide telephone and internet access to technical expertise for specialized applications and solutions such as Microsoft® Exchange, Virtualization, and more.
Don't have an IT staff?
Dell ProSupport for End Users is designed for organizations with limited or no dedicated IT staff. End users receive 24x7 direct break-fix hardware support plus "how-to" support on popular software applications such as Norton AntiVirus™, Microsoft® Office, Microsoft® Small Business Server, Intuit® QuickBooks®, Adobe® Photoshop® and Adobe Acrobat®. To purchase Dell ProSupport for end users, please contact your Dell sales representative.


Deployment Services
Our end-to-end deployment services are designed to simplify and accelerate the customization and utilization of your new systems. Dell Deployment Services include everything from order consolidation to coordination of deployment resources. Learn More

Managed Deployment
Dell Managed Deployment Services are for customers who need a complete, end-to-end deployment solution. Managed deployments are useful within complex logistical environments which require a single point of contact.
Learn More

Custom Factory Integration
Dell offers custom factory integration services to help accelerate your system deployments. We can perform a range of services such as custom configuration, consolidation and integration in our factory so that you can deploy your systems right out of the box.
Learn More

ImageDirect
ImageDirect™ is a web-based, hosted image management service that enables customers to easily create, manage and load custom images for Dell commercial client systems.


Asset Recovery Services
Asset Recovery Services offers safe and environmentally appropriate disposal solutions for outdated or end-of-life IT assets. This service includes transportation, flexible logistics, equipment processing, detailed data security and environmental reports at an affordable price.