Highly secure and flexible zero-client computing solution
Sorry, this item is not available anymore for purchase online. Please see our recommended replacement product.
The Dell™ FX100 is a true zero-client communication solution that uses PC-over-IP® technology to support scenarios ranging from mainstream office use to extreme workstation/visualization application use. These innovative clients have:

No x86 processors
No application OS
No drivers
Key benefits include:
Near-zero footprint
Simplified deployment and management
Increased resistance to viruses that can affect traditional remote desktop installations
Dell FX100 Zero Client
Precision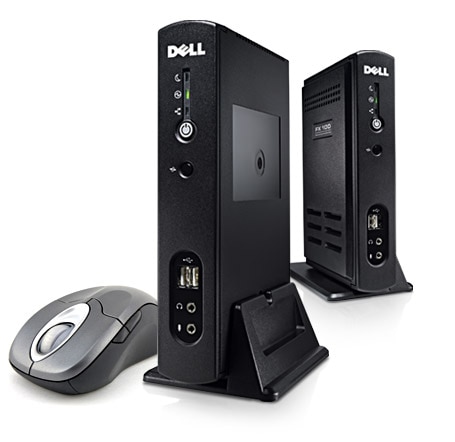 No Client Device to Manage
The Dell™ FX100 Zero Client has no image to manage — literally, none. Instead, this innovative, firmware-based decompression device provides bi-directional communication with your VMware view-based virtual PCs. Once the FX100 is installed, updates to the device are similar to BIOS updates on PCs: rare events, delivered as a single replacement package and secure from tampering or changes.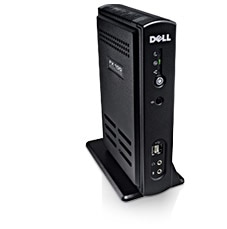 | | | |
| --- | --- | --- |
| A True Personal Computer Experience |   | Zero PC, Near-Zero Footprint |
|   |   |   |
| We developed the Dell FX100 specifically to enable a best-in-class experience for remote users. Designed to work over industry-standard IP networks in conjunction with VMware View, the FX100 provides support for all the capabilities of a PC—including USB, motion graphics and audio. |   | Zero fans. Zero drivers. Zero footprint. It's the ultimate in simplicity for devices that sit at the edge of the network, side-by-side with users. With the Dell FX100, even remote users can work effectively without the need for a complex client device and its accompanying OS, specialized drivers, graphics subsystem, and other potentially disruptive features. |
Flexible Computing for a Changing World
The Dell FX100 is a key component of Dell's Flexible Computing Solution, designed for businesses that need to centralize client desktops while providing employees with the performance and flexibility of traditional PCs. Equipped with audio in/out, multiple USB and two DVI connections, the FX100 enables flexible configurations, including support for up to two digital displays.
All interfaces in the FX100 are industry standard, ensuring seamless integration with existing peripherals such as keyboard, mouse, printer and headphones. In addition, the FX100 has been optimized for use with the Dell Precision™ R5400 Rack Workstation, and it can effortlessly switch between virtual PC sessions and virtual Precision Workstation sessions.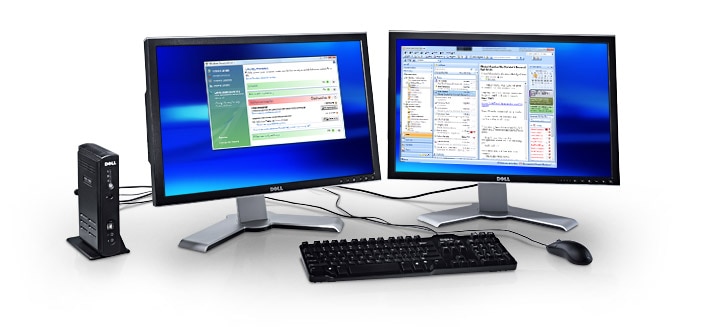 Deployment Services
Our end-to-end deployment services are designed to simplify and accelerate the customization and utilization of your new systems. Dell Deployment Services include everything from order consolidation to coordination of deployment resources.

Managed Deployment
Dell Managed Deployment Services are for customers who need a complete, end-to-end deployment solution. Managed deployments are useful within complex logistical environments which require a single point of contact.
 

Hardware Customization (CFI)
Dell offers hardware customization services to help accelerate your system deployments. We can perform a range of services such as custom configuration, consolidation, and integration in our factory so that you can deploy your systems right out of the box.

ImageDirect
ImageDirect is a web-based, hosted image management service that enables customers to easily create, manage, and load custom images for Dell commercial client systems.

Advanced Configuration Services
With Advanced Configuration Services (ACS), you can save time and resources by selecting various settings during the purchase process. You can choose to partition your hard drive; select boot order; change BIOS settings; and modify various standard software configuration settings.



Asset Recovery Services
Asset Recovery Services offers safe and environmentally-appropriate disposal solutions for outdated or end-of-life IT assets. This service includes transportation, flexible logistics, equipment processing, detailed data security and environmental reports at an affordable price
Dell Flexible Computing Solutions

The desktop computing landscape is evolving. As organizations and their workforces become increasingly distributed and mobile, an explosion of new end-user devices has exacerbated the challenges being faced by IT departments. These challenges include ensuring data and device security regardless of location, managing data and applications consistently across the organization and providing support for the myriad of emerging devices and applications. Traditional computing has addressed the key customer pain points around mobility, security, manageability and availability in a limited fashion.

Dell's new desktop computing vision - Flexible Computing-delivers validated solutions (hardware, software, and services) that augment Dell's traditional desktop offerings and enable IT departments to navigate their increasingly complex environment.