2-socket high-memory rack server
Sorry, this item is not available anymore for purchase online. Please see our recommended replacement product.
The PowerEdge™ C1100 server offers massive memory and storage support in a 1U form-factor to meet the demands of the densest data center environments.
PowerEdge C1100 Rack Server
PowerEdge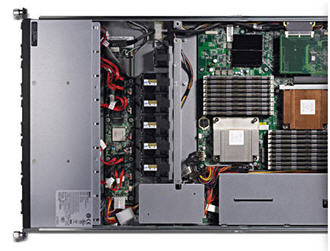 Maximize your memory
The PowerEdge™ C1100 has the maximum number of memory slots available in an Intel® Xeon® 5500/5600 series architecture, providing up to 18 DDR3 DIMM sockets for a maximum of 192GB. 

In addition to supporting extremely large memory capacity, the PowerEdge C1100 supports low-cost memory solutions by allowing for the use of smaller DIMMs in optimal configurations.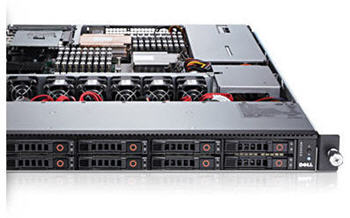 More flexibility in just 1.7" space
Choose from high-capacity 3.5" SATA, high-performance 2.5" serial attached SCSI (SAS) or enterprise-class single-level cell (SLC) solid-state drives (SSDs) for the optimal storage solution (up to 12TB) to support your applications.

Drive-configuration options include 10 of 2.5" or 4 of 3.5" drives.
Everything you need, nothing you don't
With the PowerEdge C line of servers, Dell has leveraged its expertise in custom-built hyperscale computing and high-volume production to bring ultradense, high-performance, efficient solutions to HPC, Web 2.0, cloud builders, telcos/hosting and big data applications.

We've designed PowerEdge C servers for large, homogenous cloud/cluster application environments where the software stack predominantly provides platform availability and resiliency. We haven't added the extra features you don't need to get the job done, such as extensive systems management or broad enterprise storage.


Dell ProSupport — Faster, more reliable support services designed to address the technology challenges you face today. This new support portfolio is focused on your needs, time demands and budgets.
Need professional support services that take care of both you and your employees' IT needs 7x24? Choose Dell ProSupport to get access to a certified technician in two minutes or less.
Got an IT staff? Choose Dell ProSupport for IT and get tech-to-tech support with Fast-Track Dispatch, along with 7x24 access to Dell-certified technicians.
 Dell ProSupport Service Model 

Dell ProSupport

Dell ProSupport for IT

Designed for organizations with limited or no dedicated IT staff.

Designed to provide tech-to-tech support for IT Professionals, Database Administrators and internal Service Desks or helpdesks.

Includes:

7x24 direct break-fix hardware support for your employees

"How-to" support on popular software applications such as Norton AntiVirus, Microsoft Office, Microsoft Small Business Server, Intuit QuickBooks, Adobe Photoshop and Adobe Acrobat.

Access to a certified technician in two minutes or less

Includes:

7x24 Direct access to Dell Expert Centers

Fast-track dispatch for Dell-certified technicians

Escalation management through Dell's Global Command Centers
Next, Dell ProSupport Options align to the way you use technology – rapidly responding to your needs, protecting your investment, your productivity and your sensitive data, and providing enhanced proactive support services to help reduce the risk and complexity of managing your infrastructure.

SPEED OF RESPONSE

PROTECTION

PROACTIVE

Mission Critical — Perfect for server and storage environments where avoiding unplanned downtime and reducing recovery time through priority response are a must. The package includes priority 4-hour Onsite Service after Remote Diagnosis

*

or optional 2-hour response with 6-hour hardware repair, Dell's proven Critical Situation process, and emergency dispatch.

Data Management and Protection


Keep Your Hard Drive helps you retain control of sensitive data
Hard Drive Data Recovery provides unlimited attempts to recover data from a failed hard drive
Certified Data Destruction wipes your hard drive clean and destroys data

Proactive Maintenance — Maximizes the availability and stability of your infrastructure proactively. The package includes a detailed system assessment and implementation of driver or firmware updates and upgrades for your server or storage systems.



Remote Advisory Options — Provides telephone and Internet access to technical expertise for specialized applications and solutions such as Microsoft Exchange, Virtualization, virus remediation and more.

Ideal for non-essential application environments. This service offers business-hour, phone-based support* for hardware-only issues with Next Business Day On-Site Service* following completion of phone-based troubleshooting
Go from factory to deployment with Dell server installation services. Our modular suite of installation services allows you to customize the right package of services needed to rapidly implement your new system.


Get the skills you need to keep pace in today's competitive IT environment with comprehensive training and certification courses. Dell offers a vast array of instructor-led classes and online training courses in a range of topics from server maintenance to in-depth technical overview of specific systems. 
Optimized for performance and efficiency
Dell PowerEdge™ C servers are available with certified software from Dell partners to create optimized, fully-supported solutions that include hardware, software, service and support. These offerings include powerful solutions for data analytics, business intelligence and cloud computing.  

Dell | Aster Data Analytics Solution
Together, Aster Data and Dell deliver large-scale data warehousing and advanced analytics so you have all the information you need to make the best possible decisions. The combination of Aster Data software, Dell hardware, and joint services and support from the two companies yields a powerful solution for big data analytics.
Learn More

The Dell Cloud Solution for Web Applications
Take the guesswork out of building and running efficient public and private clouds with a turnkey cloud solution. The Dell Cloud Solution for Web Applications brings together optimized Dell hardware, Joyent software and joint services so you can easily and quickly deploy and manage an elastic, on-demand cloud infrastructure with confidence, with as little or as much outside support as you want along the way.
Learn More

The Dell | Canonical Cloud Solution
Dell and Canonical offer a powerful open-source infrastructure as a service (IaaS) cloud that leverages Ubuntu® Enterprise Cloud Standard Edition (powered by Eucalyptus) on Dell PowerEdge C servers, with joint service and support. It's easy to use, compatible with other systems and software, and as secure as they come.