High density, with up to four 2-socket server nodes
Sorry, this item is not available anymore for purchase online. Please see our recommended replacement product.
Bring efficiency and lasting value to your high-end computing environment with the Dell™ PowerEdge™ C6105. This AMD processor-based server offers exceptional work-per-watt performance for scale-out Web 2.0 environments, hosters and cloud builders.


AMD Opteron 4000 series processor offers four- and six-core performance at less than 6W per core average CPU power (ACP) and thermal design power (TDP)
Shared infrastructure designed to reduce floor space, power and cooling usage
Four server nodes in a 2U chassis
PowerEdge C6105 Rack Server
PowerEdge

Build a cost-effective data center
Maximize performance while helping to lower power, weight and space requirements with efficient Dell™ PowerEdge™ C6105 shared-infrastructure servers.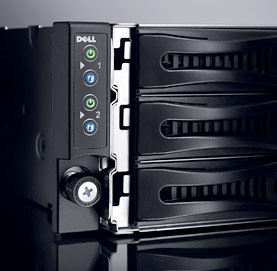 Increased uptime, power savings and increased efficiency
Featuring low-power AMD Opteron™ processors, and available with up to 94% efficient hot-plug redundant power supplies, the PowerEdge™ C6105 can help you improve energy efficiency and lower operating costs by effectively reducing the total power consumed. In addition, the shared infrastructure design saves space and weight, resulting in one of the most cost-effective designs available in the Dell hyperscale server portfolio.

High-density, flexible and efficient computing

With the PowerEdge C6105, you get capacity, performance and flexibility in a very dense package. The server's highly efficient 2U rack chassis supports up to four servers and 12 x 3.5-inches or 24 x 2.5-inches hot-plug serial attached SCSI (SAS), serial ATA (SATA) or solid-state drive (SSD) hard drives.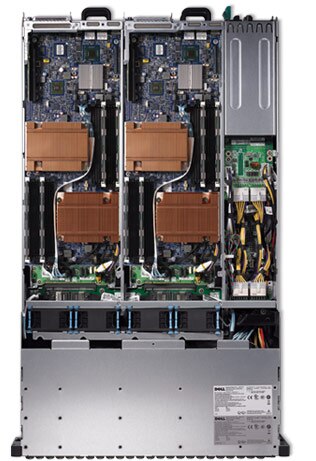 Ultimate flexibility in a standard 2U chassis

The PowerEdge C6105 has the specific features you need to run hyperscale applications:

Front-mounted 3.5-inch or 2.5-inch hot-plug hard drives
Up to four discrete 2-socket nodes
12 DIMM slots for up to 192GB DDR3 memory
x16 PCIe slot and x8 mezzanine slots
Hot-plug redundant power supplies
IPMI 2.0 dedicated management
Dell ProSupport

Dell ProSupport offers a suite of support services tailored to your business needs and resource strategy. For critical PowerEdge cloud solutions, we recommend Dell ProSupport Plus with SupportAssist or Dell ProSupport for comprehensive hardware and software support. For very large data center customers with a skilled support staff, we also offer ProSupport Flex for Data Center.

Dell PowerEdge C Services

Dell is dedicated to simplifying IT, and Dell™ Services can help you manage the complexities of growing and maintaining your hyperscale, high-performance and cloud computing data center environments. Dell's broad portfolio of planning, implementation and support services can help accelerate your IT initiatives, so you can grow your business.

PowerEdge C Services are tailored to complement how you manage your data center. Options include:


Consulting Services — Bring in experts and get it right, from the start.
Deployment Services — Get new technology into production faster.
Expert-level Tech Support — Critical, immediate support for critical systems.
Support Tools — Prevent system downtime, increase productivity.
Whatever the situation, Dell can help you break through complexity by providing services and solutions to meet your exact data center needs.

Dell Consulting Services

Dell Consulting Services guide and facilitate PowerEdge cloud server integration with business needs. Our experts offer deep expertise in cloud, virtualization, disaster recovery and data center transformation. We take a holistic and collaborative approach, analyze your business objectives and leverage the right technologies to meet your requirements.

With growing interest in cloud and virtualization tools, Dell Consulting Services offers a Cloud Readiness Assessment, one of the best ways to understand current environments and the hardware you need to move from a physical/virtual environment to a cloud model.

Dell Enterprise Deployment Services

Get your new cloud server up and running quickly and efficiently. Dell provides end-to-end deployment services — from rack integration to configuration and implementation — so your staff can confidently adopt your new technology with as little effort as possible. For more information, please contact your Dell representative.

Dell Training Services

Dell Education Services offers PowerEdge Server training courses designed to help you achieve more with your hardware investment. The curriculum is designed in conjunction with the server development team, as well as Dell's technical support team, to ensure that the training delivers the information and practical, hands-on skills you and your team need to confidently deploy, manage and maintain your Dell Server solution.

Dell Support Tools

Dell's automated and self-service tools simplify your support experience and minimize your effort when Dell systems require service. Dell's portfolio of tools and technologies drive productivity, ensure uptime and maximize performance.

SupportAssist

Reduce support effort, maintain device health and prevent issues from turning costly with automated proactive support. SupportAssist features include:


Remote monitoring
Automated issue detection and notification
Automated case creation and contact from Dell

TechDirect

Boost productivity by centralizing support-case and replacement-parts dispatch management with this self-service support tool. Available online in 11 languages, through a mobile application and via APIs (application programming interfaces), TechDirect makes issue resolution easy, convenient and flexible.

Optimized for performance and efficiency
Dell™ PowerEdge C servers are available with certified software from Dell partners to create optimized, fully-supported solutions that include hardware, software, service and support. These offerings include powerful solutions for new big data and cloud computing instances.

Dell Apache Hadoop Solution
Leverage Hadoop to process massive application datasets. The Dell | Cloudera® solution combines Dell servers, Crowbar software framework and networking components with Cloudera's Distribution, including Apache Hadoop (CDH) as well as management tools, training, technology support and professional services. This Dell Apache Hadoop Solution gives you a one-stop shop for deploying, managing and scaling a Hadoop cluster.

The Dell OpenStack-Powered Cloud Solution
Stand up an OpenStack cloud in hours instead of days. This massively scalable open source Infrastructure as a Service (IaaS) cloud solution leverages OpenStack™ cloud software on Dell PowerEdge C servers and switches, Crowbar software framework, Dell OpenStack expertise, service and support. It's open, compatible with other systems and gives you the freedom to build the cloud of your dreams.

The Dell Cloud Solution for Web Applications
Take the guesswork out of building and running efficient public and private clouds with a turnkey cloud solution. The Dell Cloud Solution for Web Applications brings together optimized Dell hardware, Joyent software and joint services, so you can easily and quickly deploy and manage an elastic, on-demand cloud infrastructure with confidence, with as little or as much outside support as you want along the way.

Dell Solution Services
Whether you need help with strategy and deployment, require IT or business consulting, or want to explore managed services that take the load off your IT staff, turn to Dell services for expert advice and world-class support for your data center environment.