PowerEdge M910
Sorry, this item is not available anymore for purchase online. Please see our recommended replacement product.
Ideal for virtualization workloads or core applications, the Dell™ PowerEdge™ M910 is a four-socket, full-height blade server that offers an excellent blend of performance, reliability and scalability in a high-density form factor.

Powerful — Up to four, 10-core Intel® Xeon® processors 
Scalable — Up to 1TB of DDR3 RAM
Compact — Full-height blade form factor allows up to eight blades per 10U enclosure
Dell PowerEdge M910 Blade Server
PowerEdge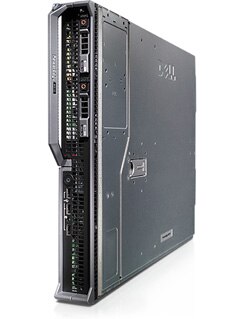 Powerful, Scalable and Compact
The PowerEdge™ M910 was designed to meet the needs of nearly any IT environment. Built with Intel® Xeon® processors and advanced systems management capabilities, the M910 is ideal for the demanding applications at the core of most data centers.
Dell™ FlexMem Bridge technology allows the M910 to seamlessly scale from 4GB to 1TB of DDR3 RAM in either two-socket or four-socket configurations. This patent-pending technology allows Dell to deliver a unique platform that can grow as your needs dictate.
By delivering these capabilities in a blade server, Dell allows your organization to add significant performance in an exceptionally energy-efficient and easily managed form factor. With 8 four-socket servers per 10U of rack space, the M910 offers more than three times the density of traditional 4U rack-optimized four-socket servers. 
Focused on Quality and Reliability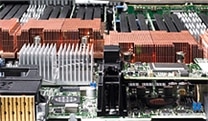 The PowerEdge™ M910 utilizes the redundant power, cooling and networking infrastructure provided by the Dell M1000e blade enclosure. The PowerEdge M910 itself incorporates additional features designed for maximum protection against potential downtime, such as the ability to support three fully redundant fabrics per blade and the inclusion of a dual-media redundant embedded hypervisor.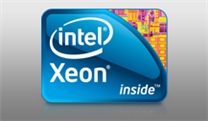 The PowerEdge M910 also utilizes Intel Xeon processors that are designed to automatically monitor, report and recover from hardware errors to maintain data integrity and keep mission-critical services online.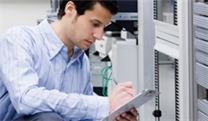 Like all Dell PowerEdge servers, the M910 is manufactured with our one-touch factory-build process. This process is designed to ensure that just one person is responsible for the entire server build, resulting in greater quality control. In addition, every fully configured Dell server is tested (and retested) before it leaves the factory to ensure maximum reliability.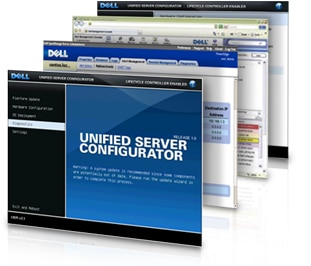 Simplified Systems Management
The next generation Dell OpenManage™ suite offers advanced operations and standards-based commands designed to integrate with existing systems for effective control.

TheDell Management Console, powered by Altiris from Symantec, delivers a single view and a common data source into the entire infrastructure. Dell Management Console is built on the Symantec™ Management Platform (formerly Altiris® Notification Server), an easily extensible, modular foundation that can provide basic hardware management or more advanced functions such as asset and security management. Dell Management Console helps reduce manual processes so less time and money can be spent keeping the lights on and more time can be spent on strategic uses of technology.
Lifecycle Controller is the engine for advanced systems management integrated on the server. Lifecycle Controller is designed to simplify administrator tasks to perform a complete set of provisioning functions such as system deployment, system updates, hardware configuration and diagnostics from a single intuitive interface called Unified Server Configurator (USC) in a pre-OS environment. This can eliminate the need to use and maintain multiple pieces of disparate CD/DVD media.
The Dell Unified Server Configurator delivers a single access point for secure, efficient and user-friendly infrastructure management. Embedded and integrated into the system, it provides quick and consistent access, excellent flexibility and advanced capabilities. With built-in driver installations, firmware updates, hardware configuration and diagnostics, the USC tool is a one-stop shop for operating system deployment.

Dell ProSupport — Faster, more reliable support services designed to address the technology challenges you face today. This new support portfolio is focused on your needs, time demands and budgets.

Need professional support services that take care of both you and your employees' IT needs 7x24? Choose Dell ProSupport to get access to a certified technician in two minutes or less.

Got an IT staff? Choose Dell ProSupport for IT and get tech-to-tech support with Fast-Track Dispatch, along with 7x24 access to Dell-certified technicians.



Dell ProSupport Service Model
Dell ProSupport

Dell ProSupport for IT




Designed for organizations with limited or no dedicated IT staff.

Designed to provide tech-to-tech support for IT Professionals, Database Administrators and internal Service Desks or helpdesks.

Includes:

7x24 direct break-fix hardware support for your employees

"How-to" support on popular software applications such as Norton AntiVirus, Microsoft Office, Microsoft Small Business Server, Intuit QuickBooks, Adobe Photoshop and Adobe Acrobat.

Access to a certified technician in two minutes or less

Includes:

7x24 Direct access to Dell Expert Centers

Fast-track dispatch for Dell-certified technicians

Escalation management through Dell's Global Command Centers

Next, Dell ProSupport Options align to the way you use technology – rapidly responding to your needs, protecting your investment, your productivity and your sensitive data, and providing enhanced proactive support services to help reduce the risk and complexity of managing your infrastructure. 


SPEED OF RESPONSE
PROTECTION
PROACTIVE
Mission Critical — Perfect for server and storage environments where avoiding unplanned downtime and reducing recovery time through priority response are a must. The package includes priority 4-hour Onsite* Service after Remote Diagnosis

or optional 2-hour response with 6-hour hardware repair, Dell's proven Critical Situation process, and emergency dispatch.

Data Management and Protection

Keep Your Hard Drive helps you retain control of sensitive data
Hard Drive Data Recovery provides unlimited attempts to recover data from a failed hard drive
Certified Data Destruction wipes your hard drive clean and destroys data

Proactive Maintenance — Maximizes the availability and stability of your infrastructure proactively. The package includes a detailed system assessment and implementation of driver or firmware updates and upgrades for your server or storage systems.

Remote Advisory Options — Provides telephone and Internet access to technical expertise for specialized applications and solutions such as Microsoft Exchange, Virtualization, virus remediation and more.


Ideal for non-essential application environments. This service offers business-hour, phone-based support* for hardware-only issues with Next Business Day On-Site Service* following completion of phone-based troubleshooting


Go from factory to deployment with Dell server installation services. Our modular suite of installation services allows you to customize the right package of services needed to rapidly implement your new system.


Get the skills you need to keep pace in today's competitive IT environment with comprehensive training and certification courses. Dell offers a vast array of instructor-led classes and online training courses in a range of topics from server maintenance to in-depth technical overview of specific systems.