Value and performance in a four-socket, 2U rack server
Sorry, this item is not available anymore for purchase online. Please see our recommended replacement product.
Ideal for virtualization, medium databases, high-performance computing (HPC) and other highly threaded applications, the Dell™ PowerEdge™ R815 is a four-socket, 2U rack server that offers an excellent balance of processor density, redundancy and value in a space-saving form factor.

Ability to scale up to 64 processor cores with AMD Opteron™ 6200 and 6300 series processors
Four-socket performance in a space-saving 2U form factor
Advanced systems-management capability with Lifecycle Controller
PowerEdge R815 Rack Server
PowerEdge

Purpose-Built for Reliability
The design of the PowerEdge™ R815 centers on reliability and ease of use, with features ranging from robust, metal-hard drive carriers and embedded diagnostics to an interactive LCD display and industrial-quality materials. The PowerEdge R815 also includes dual internal SD modules to provide failover at the hypervisor level — another reliability feature designed with direct input from Dell customers.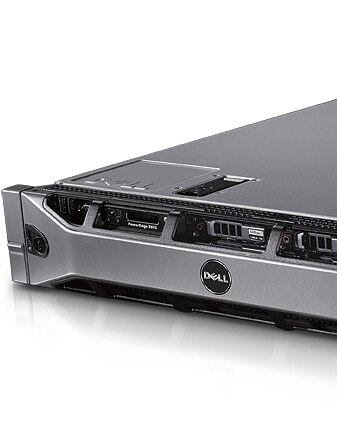 Server Reliability: A Long-Term Goal
Dell customers have told us they need a server manufacturer that inspires confidence through its reliability, availability and quality of products. By listening to and focusing on what our customers want, we've set a simple reliability goal: Deliver quality products that stand the test of time.
To help meet this goal, Dell is dedicated to improving reliability processes by:
Employing robust validation and testing processes for durable product design
Verifying that each supplier meets Dell's stringent quality standards
Utilizing robust, durable industrial materials to enable long product lifecycles
Introducing a Unified Server Configurator (USC), which helps to minimize downtime by offering embedded and persistent diagnostics with no media required
Improving redundancy generation over generation with features such as dual internal SD modules that provide failover at the hypervisor level
Implementing a "one-touch" quality-control process designed to ensure that one person is responsible for the entire server build
Ensuring that every fully configured Dell server is tested—and retested—before it leaves the factory
Intelligent, Connected Systems Management
Along with its adherence to open standards, Dell's systems-management portfolio focuses on simplicity, efficiency, cost containment and cost reduction. Additionally, we've integrated our management solutions with third-party offerings to provide your organization with a holistic focus across the solutions stack.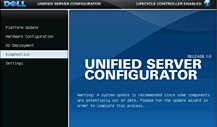 Integrated on the server, the Lifecycle Controller helps to simplify administrator tasks by performing a comprehensive set of provisioning functions such as system deployment, system updates, hardware configuration, and diagnostics in a pre-OS environment—all from a single, intuitive interface called the Unified Server Configurator (USC). This can help eliminate the need to use and maintain multiple pieces of disparate CD/DVD media.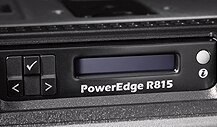 The PowerEdge R815 also features an interactive LCD display positioned on the front of the server for easy setup, monitoring and maintenance. Plain-language diagnosis and a programmable messaging system can help users address issues quickly, while a color-based alert screen (blue for normal operation; amber for a problem) simplifies day-to-day monitoring.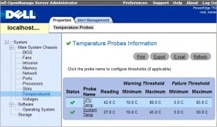 Dell's OpenManage™ systems-management portfolio also includes the Dell Management Console, which is included with every Dell server, and provides IT managers with a consolidated view of their entire IT infrastructure.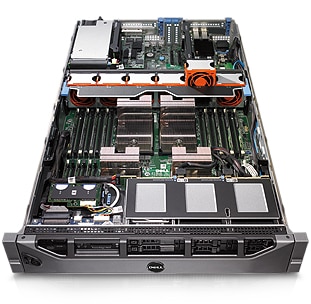 Performance-Driven Technology
Purpose-built to provide a reliable foundation, and balanced with next-generation AMD processors, advanced memory capacity and energy-efficient technologies, the Dell™ PowerEdge™ R815 offers an ideal combination of value and performance.
Featuring AMD Opteron™ processor technology, the PowerEdge R815 is designed to handle demanding workloads with outstanding speed, stability, efficiency and bottom-line value. The PowerEdge R815 offers an ideal solution for virtualization, medium to large databases, email, high-performance computing (HPC) environments and other highly threaded applications.
Dell aims to bring value to your business by including the features you need for your specific IT environment. Our goal is to deliver outstanding performance and value through tailored, intelligent platforms based on industry standards and purposeful, innovative design.
Efficient Infrastructure
Along with rising energy costs, limitations on space, power and cooling capacity present enormous challenges for IT. PowerEdge servers drive energy efficiency as a design standard while delivering the performance you need to meet cost and environmental goals. Our energy-efficient system design, built with Energy Smart technologies, can help to manage power in your specific environment.
Energy-Efficient Interior: The PowerEdge R815 includes efficient high capacity fans that spin in accordance toserver workload demands, helping to reduce unnecessary noise when possible. In addition, the internal shrouding and logical layout of the internal components aids with airflow direction, helping to keep the server cool.
Efficient Power Management: The PowerEdge R815 also includes power-management features such as volt regulators, power-regulating processors and an interactive LCD screen for easy access to power-consumption information. Along with the server's internal design, these features can simplify and aid in the management of power within your IT environment.

Dell ProSupport — Faster, more reliable support services designed to address the technology challenges you face today. This new support portfolio is focused on your needs, time demands and budgets.

Need professional support services that take care of both you and your employees' IT needs 7x24? Choose Dell ProSupport to get access to a certified technician in two minutes or less.

Got an IT staff? Choose Dell ProSupport for IT and get tech-to-tech support with Fast-Track Dispatch, along with 7x24 access to Dell-certified technicians.



Dell ProSupport Service Model
Dell ProSupport

Dell ProSupport for IT




Designed for organizations with limited or no dedicated IT staff.

Designed to provide tech-to-tech support for IT Professionals, Database Administrators and internal Service Desks or helpdesks.

Includes:

7x24 direct break-fix hardware support for your employees

"How-to" support on popular software applications such as Norton AntiVirus, Microsoft Office, Microsoft Small Business Server, Intuit QuickBooks, Adobe Photoshop and Adobe Acrobat.

Access to a certified technician in two minutes or less

Includes:

7x24 Direct access to Dell Expert Centers

Fast-track dispatch for Dell-certified technicians

Escalation management through Dell's Global Command Centers

Next, Dell ProSupport Options align to the way you use technology – rapidly responding to your needs, protecting your investment, your productivity and your sensitive data, and providing enhanced proactive support services to help reduce the risk and complexity of managing your infrastructure. 


SPEED OF RESPONSE
PROTECTION
PROACTIVE
Mission Critical — Perfect for server and storage environments where avoiding unplanned downtime and reducing recovery time through priority response are a must. The package includes priority 4-hour Onsite* Service after Remote Diagnosis

or optional 2-hour response with 6-hour hardware repair, Dell's proven Critical Situation process, and emergency dispatch.

Data Management and Protection

Keep Your Hard Drive helps you retain control of sensitive data
Hard Drive Data Recovery provides unlimited attempts to recover data from a failed hard drive
Certified Data Destruction wipes your hard drive clean and destroys data

Proactive Maintenance — Maximizes the availability and stability of your infrastructure proactively. The package includes a detailed system assessment and implementation of driver or firmware updates and upgrades for your server or storage systems.

Remote Advisory Options — Provides telephone and Internet access to technical expertise for specialized applications and solutions such as Microsoft Exchange, Virtualization, virus remediation and more.


Ideal for non-essential application environments. This service offers business-hour, phone-based support* for hardware-only issues with Next Business Day On-Site Service* following completion of phone-based troubleshooting


Go from factory to deployment with Dell server installation services. Our modular suite of installation services allows you to customize the right package of services needed to rapidly implement your new system.


Get the skills you need to keep pace in today's competitive IT environment with comprehensive training and certification courses. Dell offers a vast array of instructor-led classes and online training courses in a range of topics from server maintenance to in-depth technical overview of specific systems.
Virtualization Solutions
Dell Management Plug-in for VMware vCenter
What if you could manage your physical infrastructure from your virtual console?
What if you could rapidly and consistently provision hardware and deploy virtual machines from within VMware vCenter?
What if you could reduce the number of steps needed to deploy virtual infrastructure?
With the Dell Management Plug-In for VMware vCenter installed in your VMware environment, you can:
• Get deep-level detail from Dell servers for inventory, monitoring and alerting— all from within vCenter
• Deploy BIOS and firmware updates to Dell servers from within vCenter
• Build hardware and hypervisor profiles and deploy any combination of the two on bare-metal Dell PowerEdge servers without a preboot execution environment (PXE)
• Automatically perform Dell-recommended vCenter actions based on Dell hardware alerts
• Access Dell hardware warranty information online
And, to give you even more power, we deliver our plug-in as a virtual appliance. That makes it easier to deploy and configure and offers integration directly into the vCenter console, providing more information inside of vCenter itself — unlike many other vendors who provide only "link-and-launch" capabilities to point to their own proprietary consoles.
The combination of the Dell Management Plug-In for VMware vCenter and the revolutionary embedded management features offered by Integrated Dell Remote Access Controller (iDRAC) with Lifecycle Controller in Dell PowerEdge servers gives you an unmatched level of integration between vCenter and your server hardware.