Put the latest storage technology to work for you
Sorry, this item is not available anymore for purchase online. Please see our recommended replacement product.
The PowerVault NX3100 is a capacity-dense storage solution (NAS) with integrated storage specific features and data management software, designed to help small and medium sized businesses stay efficient and productive.


Capacity-dense rack system enables sharing of both file and block data (block data using Microsoft iSCSI target). Supports up to 36TB in a compact 2U chassis.
Grow your system by expanding with a wide selection of Dell's PowerVault arrays for up to 384TB total maximum capacity.
Arrives integrated with everything you need to start file sharing, including an automated initial setup and configuration wizard to save you valuable time.
PowerVault NX3100 Network Attached Storage
PowerVault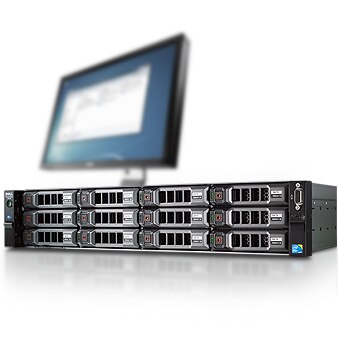 Share up to 576TB of Files and Application Data.
Grow capacity internally up to 36TB, using 12 data drives in a compact 2U chassis. Choose from 450GB/600GB SAS or 1TB/2TB/3TB near-line SAS. The NX3100 system grows with your business needs.
Expand capacity externally with a wide selection of Dell's PowerVault™ arrays for up to 576TB maximum capacity.
Manage your data with the built-in data management software. Create policy based actions to move, backup or otherwise manage the lifecycle of your data.
Deliver better managed file services across Server Message Block (SMB) and NFS with File Services Resource Manager (FSRM).
By merging file servers and block storage into one PowerVault NX3100 system, you can manage more with less effort. This enables you to leverage existing protocols, technologies and IP infrastructure, cutting your system-wide deployment and management costs for info-sharing across both file and block data.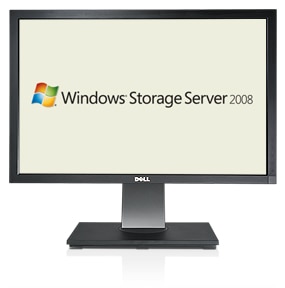 Storage technology that works for you
The NX3100 offers of the right mix of high storage capacity and software to keep your storage network highly efficient. The factory-installed Windows® Storage Server 2008 R2 x64 operating system condenses the top file-serving features from Windows® Server 2008 and adds advanced storage management features designed for faster, more efficient and more reliable file sharing.


Choose higher-capacity or higher-performance with select SAS, near-line SAS and SATA hard drives.
Reduce duplicate files (transparent file-level deduplication) with single-instance storage (SIS).
Access information faster through Distributed File System (DFS) namespaces.
Share files across Windows and non-Windows clients with CIFS (SMB 2.0) and NFS.
Block and file storage, Single Instant Storage and internal as well as external capacity expansion. The smart integration of these SMB critical features help ensure that your storage investment is protected for years to come.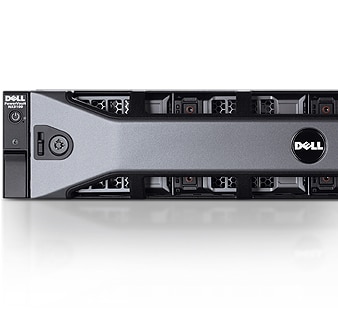 Set Up and Manage with Ease
The PowerVault™ NX3100 integrates everything you need, right out of the box, to begin sharing information safely and efficiently, without wasting time, money and resources building a file server from scratch.


Automates setup and configuration with the "initial configuration task" tool.
Supports unlimited users through included client-added licenses (CALs).
Manages your information remotely through a web-based browser using Remote Desktop and the Microsoft Management Console.
The NX3100 NAS system integrates seamlessly into your Windows® environment, taking advantage of the same management and protection tools you've already deployed. Integration with non-Windows® clients is also effortless and transparent.

Headless operation and remote management are offered through the integrated Dell™ Remote Access Controller (iDRAC) and Java Remote Desktop Protocol (RDP). In addition, the Remote Desktop for Administration feature in Windows® Storage Server 2008 R2 provides remote administration of recurring management tasks, saving valuable time and resources.



Dell™ ProSupport™

— Faster, more reliable support services designed to address the technology challenges you face today. This new support portfolio is focused on your needs, time demands and budgets.

Need professional support services that take care of both you and your employees' IT needs 24x7? Choose Dell ProSupport to get access to a certified technician in two minutes or less.

Got an IT staff? Choose Dell ProSupport for IT and get tech-to-tech support with Fast-Track Dispatch, along with 24x7 access to Dell-certified technicians.
Dell ProSupport Service Model

Dell ProSupport

Dell ProSupport for IT

Designed for organizations with limited or no dedicated IT staff.


Designed to provide tech-to-tech support for IT professionals, database administrators and internal service desks or helpdesks.

Includes:


24x7 direct break-fix hardware support for your employees

"How-to" support on popular software applications such as Norton AntiVirus™, Microsoft® Office, Microsoft Small Business Server, Intuit® QuickBooks®, Adobe® Photoshop® and Adobe Acrobat®.

Access to a certified technician in two minutes or less




Includes:


24x7 direct access to Dell Expert Centers

Fast-Track Dispatch for Dell-certified technicians

Escalation management through Dell's Global Command Centers
Next, Dell ProSupport options align to the way you use technology — rapidly responding to your needs, protecting your investment, your productivity and your sensitive data, and providing enhanced proactive support services to reduce the risk and complexity of managing your infrastructure.


SPEED OF RESPONSE
PROTECTION

PROACTIVE

 
Mission Critical — Perfect for server and storage environments where avoiding unplanned downtime and reducing recovery time through priority response are a must. The package includes priority 4-hour on-site service or optional 2-hour response with 6-hour hardware repair, Dell's proven Critical Situation process and emergency dispatch.
Data Management and Protection


Keep Your Hard Drive helps you retain control of sensitive data
Hard Drive Data Recovery provides unlimited attempts to recover data from a failed hard drive
Certified Data Destruction wipes your hard drive clean and destroys data

Proactive Maintenance — Maximizes the availability and stability of your infrastructure proactively. The package includes a detailed system assessment and implementation of driver or firmware updates and upgrades for your server or storage systems.

Remote Advisory Options — Provides telephone and internet access to technical expertise for specialized applications and solutions such as Microsoft Exchange, Virtualization, virus remediation and more.


EDT Installation
Enhanced installation and configuration with Dell professional project management and documentation. A project manager will be acting as the single-point-of-contact for the entire installation project from presite audit to coordination of the installation and delivery of post-project documentation.



Comprehensive Training
Get the skills you need to keep pace in today's competitive IT environment with comprehensive training and certification courses. Dell offers a vast array of instructor-led classes and online training courses in a range of topics from server maintenance to in-depth technical overview of specific systems.