Dell PowerEdge R910 4U rack server
The PowerEdge™ R910 is an Intel® processor-based 4-socket, 4U rack server for mission-critical applications in corporate data centers and workloads needing the highest performance, reliability and I/O scalability.
Sorry, this item is not available anymore for purchase online. Please see our recommended replacement product.
PowerEdge R910 Rack Server
PowerEdge

Purpose-Built with a Focus on Reliability
Dell™ customers have told us they need a server manufacturer that inspires confidence through its reliability, availability and quality of products. By listening to and focusing on what customers want, we've set a simple reliability goal: Deliver quality over time.

We've designed the Dell™ PowerEdge™ R910 for reliability, incorporating features such as Intel® advanced reliability, availability and serviceability (RAS) capabilities; redundant power supplies; remote IDRAC6 connectivity; and embedded diagnostics. Internal Dual SD Module provides failover at the hypervisor — a reliability feature designed with direct input from Dell™ customers.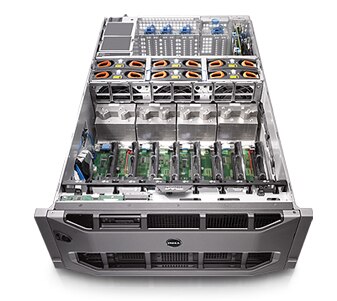 Our focus on reliability starts with product design and ends only when we've delivered by following a proven set of processes with rigorous validation. With the PowerEdge R910, we work to ensure reliability through:
Employing robust validation and testing processes to ensure peerless product design
Verifying that each supplier meets Dell's stringent quality standards
Utilizing robust, durable industrial materials to enable longer product lifecycles
Introducing a Unified Server Configurator (USC), which helps to minimize downtime by offering embedded and persistent diagnostics with no media required
Incorporating customer-inspired features, such as dual internal SD modules that provide failover at the hypervisor
Implementing a "one-touch" quality-control process designed to ensure that one person is responsible for the entire server build
Ensuring that every fully configured Dell server is tested—and retested—before it leaves the factory
Intelligent Platforms, Connected Foundations
By listening to and focusing on our customers, Dell delivers innovations that matters and values that last.
Virtualization, consolidation, unifying fabrics, networking and storage upgrades are driving the need for more robust network pipes, and servers have to be able to provide the connectivity to drive this need for bandwidth. The PowerEdge™ R910 is available with a 2x10GbB LOM option to meet these demands. This delivers the bandwidth for applications without limiting scalability by integrating 10Gb capabilities on a riser.
A Complete Management Portfolio
The PowerEdge R910 is simple to deploy, manage and maintain, saving you time and money to focus on what matters most — your people and business.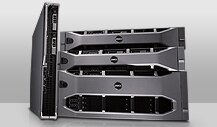 Dell™ systems-management solutions focus on simplicity, efficiency, cost containment and reduction, as well as an adherence to open standards. Our solutions are complemented by, connected to, and integrated with third-party offerings to provide a holistic focus across the solutions stack.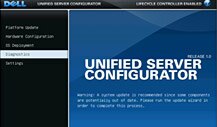 Integrated on the server, the Lifecycle Controller chip helps to simplify administrator tasks by performing a complete set of provisioning functions such as system deployment, system updates, hardware configuration, and diagnostics in a pre-OS environment — all from a single, intuitive interface called the Unified Server Configurator (USC). This eliminates the need to use and maintain multiple pieces of disparate CD/DVD media.
Also part of Dell's systems-management portfolio is the Dell Management Console, part of the OpenManage™ software that ships free with every Dell server and provides IT managers with a consolidated view of their entire IT infrastructure.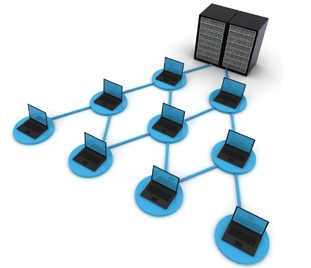 Efficient Infrastructure
Customers can build an efficient and scalable server infrastructure with standard x86 server technologies. The PowerEdge™ R910 is the building block for a standard efficient infrastructure.


Dell's focus is on helping customers reduce cost with a server created to help simplify daily operations, maximize infrastructure, and streamline deployment.
Dell™ LifeCycle Controller was developed to help customers implement an effective process for deployment and comprehensive server management.
This Dell innovation allows customers to simplify initial setup and configuration of new servers by auto-discovery and initial security configuration of system service processor with the already collected and available drivers, helping reduce time and potential error or disruption.
Dell provides choice with open standard server solutions based on Intel® Xeon® processor architecture combined with Linux® , and providing all the required characteristics — performance, scalability, reliability, security and support options to help reduce data center operations costs.

The PowerEdge™ R910 is in line with the 11th generation PowerEdge portfolio behavioral specifications featuring the same system design commonality and serviceability true to the entire portfolio. Dell™ PowerEdge servers are engineered with all external ports, power supplies and LED lights in the same location for familiar user experience, as well as easy installation and deployment.

Dell provides a server foundation giving customers the peace of mind and quiet confidence to run their businesses.
Learn about the storage technology Dell offers that can enable you to derive maximum value from your information infrastructure.

No other company knows more about storing and protecting information on Dell servers and storage arrays—than Dell. Direct feedback from customers--fueled by the Dell direct model--drives the design and development of a broad range of storage products for organizations of all sizes. Upon consulting with you to understand your operational objectives, Dell can design and deploy a custom storage solution and become a primary contact to assist you with your enterprise applications and information.


Storage Area Network (SAN):
A network of shared storage resources


Learn More
---
Network Attached Storage (NAS):
A storage server that connects to a network


Learn More

 
---
Disk Storage Arrays:
Disk enclosures that connect to a server or network


Learn More

 
---
Disk Backup :
Disk Based Backup and data protection


Learn More

 
---
Tape Automation:
Automated tape systems for consolidated backup


Learn More

 
---
Tape Drives and Removable Disk Drives:
Tape and Removable Disk Drive devices used to back up and restore information


Learn More
Dell Global Services include a wide, customizable range of choices to simplify the assessment, design, implementation, management and maintenance of your IT environment, and to help you transition from platform to platform. Depending on your current business requirements and the level of service you want, we can provide you with factory, onsite, remote, modular and specialized services that fit your needs, and budget. We'll help you with a little or a lot—your choice—and provide you with access to our global resources like our global command centers.

Dell IT Consulting Services
Dell global infrastructure consulting services utilize skilled solution architects, innovative tools, automated analysis and our own intellectual property to give customers rapid insight into the root causes of unnecessary complexity. We seek better answers than traditional service models, based on our belief that solving problems should not need armies of people. Our strategy is to help customers quickly identify high-impact, short-duration projects that deliver ROI and free up resources to obtain competitive advantage. The result is practical, action-oriented plans with specific, predictable, measurable outcomes. From Data Center Optimization to Server Virtualization to Systems Management, our consulting services help you build a more efficient enterprise.

Dell Managed Services
Dell Managed Services are a modular set of lifecycle services designed to help customers automate and centrally configure, deploy, and manage their day-to-day data center operations. These services extend a customer's existing on-premise IT infrastructure with off-premise cloud services designed to better address challenges with mobility, highly distributed organizations, security, compliance, business continuity and disaster preparedness.

Deploy: Our factory, remote and onsite installation services for servers make efficient use of your employees' time by helping to speed up activities like configuration, customization and deployment, enabling delivery of systems that are ready to work right out of the box.

Operate: Dell can help optimize your data center operations, including storage, backup and virtual environments by focusing on remote monitoring, reporting and alerts, along with full remote management for storage and backup environments, freeing up IT resources.

Protect: Dell Data Center Backup Management services are available to assist you with reporting to help refine SLA requirements, to provide monitoring to improve process efficiency or for the full management of your backup environment.

Recovery and Recycling: Dell Asset Recovery and Recycling Services help you recover and dispose of owned or leased computer equipment, in a manner that follows EPA guidelines.

Dell ProSupport
Dell ProSupport is a suite of support services that enable you to build the solution that's right for your organization. Choose support models based on how you use technology and where you want to allocate resources. From the desktop to the datacenter, address everyday IT challenges such as unplanned downtime, mission critical needs, data and asset protection, support planning, resource allocation, software application management and more. Optimize your IT resources by prescribing the right support model.
LifeCycle Controller Embedded Management

Embedded Management
The Lifecycle Controller is the engine for advanced embedded management and is delivered as part of the optional iDRAC Express or iDRAC Enterprise in the PowerEdge R910. The Lifecycle Controller is a chip that is integrated on the server. It helps to simplify administrator tasks by performing a comprehensive set of provisioning functions such as system deployment, system updates, hardware configuration and diagnostics from a single, intuitive interface called the Unified Server Configurator (USC) in a pre-OS environment. This can eliminate the need to use and maintain multiple pieces of disparate CD/DVD media.

Learn More
Dell Management Console

Integrated Management
Open, flexible, integrated—manage your infrastructure, not your management consoles. With the introduction of Dell™ Management Console powered by Altiris® from Symantec™ , Dell is doing for systems management what it did for computer hardware—taking a complex, proprietary industry technology and transforming it by delivering a simple, streamlined, modular solution easily adapted to your specific management needs.

Learn More
Virtualization Solutions

VMware® vSphere 4 uses the power of virtualization to help transform data centers into dramatically simplified cloud infrastructures. Dell is committed to driving complexity from enterprise computing, including virtual infrastructure. Together, Dell and VMware deliver efficient, virtual infrastructure solutions that are fast to deploy and easy to manage, so you can:


Drive new levels of efficiency through consolidation and management automation
Increase IT control of the quality of service through service level automation
Achieve the flexibility to easily adapt to changing requirements


Learn More
Oracle

Optimize for Oracle Database 11g

Dell works hand-in-hand with Oracle engineers to help ensure compliance with IT best practices. We provide solutions that integrate software, systems management, services, and storage from some of the leaders in the industry: Dell, Oracle® , and EMC® . The entire solution stack is pre-engineered, tested and validated. Oracle database solutions are available with Red Hat® Linux® and Microsoft® Windows® Server 2008 operating systems.

Learn More
Microsoft Exchange 2007

Does your business depend on robust messaging capabilities? Exchange 2007 is the right tool for the job and Dell is the right partner to deliver a complete user-to-datacenter solution. Use our Exchange Advisor tool, validated reference architecture, and interoperability testing to build an Exchange environment unique to your infrastructure.

Coming Soon!