Rendimiento y durabilidad dondequiera que vaya
Windows 7 Professional
Manténgase a la altura de los negocios dondequiera que esté con la laptop Dell™ Latitude™ E6520. Esta laptop de alto rendimiento fue creada para el nuevo tipo de empresas móviles, con la durabilidad, seguridad y simple capacidad de administración que usted espera de las laptops Latitude E-Family.
Procesamiento mejorado de cuatro núcleos, gráficos discretos y pantalla de alta definición de 15" con función táctil habilitada.
Cuenta con una carcasa resistente y totalmente blindada de forma elegante, fabricada con Tri-MetalTM y probada según MIL-STD 810G, una base pintada al polvo y un teclado resistente a los derrames.
Teclado iluminado, mayor duración de la batería y opciones de compartimiento de medios para una productividad insuperable.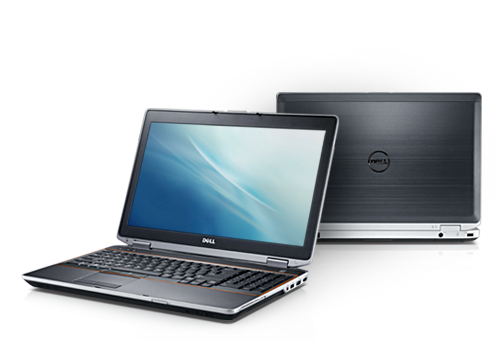 Redesigned for work in your world
Windows 7 Professional
Offering the latest generation quad core processing, discrete graphics and a 15" full HD, touch-enabled display, the redesigned Dell Latitude™ E6520 is ideal for professionals looking for a stable and durable laptop that is easy to carry on the go.
Ready for whatever your work might dish out, this business-rugged laptop is stylishly armored top to bottom with a hard-wearing MIL-STD 810G tested Tri-Metal™ design, a highly durable anodized aluminum display back, a tough powder-coated base, reinforced steel hinges, a magnesium alloy internal frame and zinc alloy latch. The Latitude E6520 is also equipped with a spill-resistant keyboard, protective LCD seal and a 360-degree bumper for added screen protection that can outlast the bumps and spills of everyday work.
You can enjoy outstanding productivity while in flight or in low-light settings with the optional backlit
1
keyboard and long battery life, including a wide array of long-life battery options and swappable optical drives, hard drive and USB 3.0 media modules that help keep productivity in full swing.
Lastly, as a member of the Latitude E-Family, the E6520 provides go-anywhere productivity, confident security and efficient manageability in a durable design that's built to last — all that you've come to expect from the Latitude E-Family.

Design that's built to last
Doing business today means working anytime, anywhere. You need a laptop to keep up with your work style. Latitude E-Family laptops combine world-class design with durability to perform, wherever business takes you.
Get protection from extreme temperatures, vibration, dust and high altitudes with MIL-STD 810G tested laptops.
Look sharp while working hard thanks to the Dell Tri-Metal™ design with an anodized brushed aluminum LCD finish and reinforced magnesium alloy wrapped corners.
Worry less about making a mess with the spill-resistant keyboard and LCD protective seal that helps to form a barrier around your LCD panel when closed.
Appreciate the fine details, from strong steel hinges and zinc alloy display latch to the durable powder-coated underside that helps guard against nicks and scratches.

Go-anywhere productivity
Get long-lasting power and performance to make your job easier, whether you are in the office or on the road. Latitude E-Family laptops are built keeping your business in mind, offering great features to help increase productivity.
Stay productive with a variety of battery life options, including a 4-cell, 6-cell, 9-cell and 9-cell (97Wh) 3-year limited hardware warranty* Lithium Ion battery options.
Multitask at the speed of business with Intel® Core™ processor options, high-bandwidth DDR3 memory and Intel® UMA or NVIDIA® graphics.
Enjoy efficient data entry with the conveniently placed number keypad alongside the keyboard.
Communicate effectively worldwide with built-in webcam, array microphones that help provide better sound quality and a high-performing antenna for ideal mobile broadband connections.
Work in your comfort zone with a multitouch display and 180-degree LCD movement.
Type anywhere with the only commercial laptop to offer a backlit keyboard* option.

Confident security
Know your data is secure with Dell's Data Protection Encryption and encrypted hard drive options.

Management made easy
Manage and maintain your fleet of Latitude E-Family laptops with ease from planning and deploying to ongoing maintenance and support.
Confidently plan future product roll-outs with Dell Latitude's long life cycles, transitions and ImageWatch™ advance look at software and hardware changes.
Easily customize, select Latitude laptops with hard drive, battery, optical drives and USB 3.0 media modules.
Upgrade or service key components conveniently via one single access door.
Save time and money with Dell KACE™ easy to use systems management appliances.
Know you have a partner with Dell for maintaining and supporting your systems with a wide range of customizable and globally focused service and support options.
&nbsp

Soporte de productos
Desde los controladores y los manuales hasta las herramientas de diagnóstico y las piezas de repuesto, el soporte de productos Dell lo mantiene protegido.
Comenzar
&nbsp