48-Port Gigabit Ethernet Blade Switch
Data centers deploying blade servers requiring fewer switch modules in conjunction with increased server networking ports.
Dell Networking M6348 Switch
PowerConnect
Chassis
267 x 258 x 31mm (W x D x H)

10.5" x 10.2" x 1.2"

Approximate weight: 2.7kg, 5.8 lbs
Performance
Switch Fabric Capacity 184 Gb/s
Forwarding Rate up to 160 Mpps
Up to 32K MAC Addresses
512MB of CPU SDRAM
64MB of Flash Memory

Layer 3 Routing Performance

Up to 10K IPv4 Routes
Up to 3K IPv6 Routes
Up to 512 RIP Routing Interfaces
Maximum OSPF V2 LSAs is 25165
Maximum OSPF V3 LSAs is 16992
Up to 32 routes for ECMP Routing; up to 4 next hops per ECMP
Up to 128 VLAN Routing Interfaces
Up to 2K Multicast Forwarding Entries
Up to 400 NDP entries
Up to 8K IPv4 ARP Entries
Up to 4K IPv6 ARP Entries

Power
See M1000e Modular Server Enclosure Owner's Manual
Security
IEEE 802.1x based edge authentication -- supports single and multiple host access, guest access, and voice authorization.
Switch access password protection
User-definable settings for enabling or disabling Web, SSH, Telnet, SSL management access
IP Address filtering for management access via Telnet, HTTP, HTTPS/SSL, SSH and SNMP
RADIUS and TACACS+ remote authentication for switch management access
Up to 100 Access Control Lists (ACLs) supported; up to 12 Access Control Entries (ACEs) per ACL
SSLv3 and SSHv2 encryption for switch management traffic
Management access filtering via Management Access Profiles
Management
Supports a simple switch mode to allow auto configuration of complex network settings
Web-based management interface
Industry-standard CLI accessible via Telnet, SSH or Local Serial Port
SNMPv1, SNMP v2c and SNMPv3 supported
4 RMON groups supported (history, statistics, alarms and events)
FTP, HTTP, FTP, SFTP and SCP transfers of firmware and configuration files
Dual Firmware images on-board
Multiple Configuration file upload/download supported
Statistics for error monitoring and performance optimization including port summary tables
BootP/DHCP IP address and configuration management supported
Syslog remote logging capabilities
Temperature sensors for environmental monitoring
VLAN
VLAN support for tagging and port-based as per IEEE 802.1Q
Double VLAN tagging (QinQ)
Up to 1024 VLANs supported
Dynamic VLAN with GVRP support
Voice VLAN support
Quality of Service
Layer 2 Trusted Mode (IEEE 802.1p tagging)
Layer 3 Trusted Mode (DSCP)
Layer 4 Trusted Mode (TCP/UDP)
Advanced Mode using Layer 2/3/4 flow-based Policies, including metering/rate limiting, marking and bandwidth guarantees; up to 100 ACLs can be used for QoS flow identification via Class-maps
8 Priority Queues per Port
Adjustable Weighted-Round-Robin (WRR) and Strict Queue Scheduling
Port-based QoS Services Mode
Flow-based QoS Services Mode
Multicast
Static IP Multicast
Dynamic Multicast Support – 1024 Multicast groups supported in IGMP Snooping
IGMP snooping for IP multicast support
IGMP and MLD snooping Querier
Protocol Independent Multicast (PIM-DM, PIM-SM)
Other Switching
Link Aggregation with support for up to 48 LAGs total, up to 18 of which can be dynamic, aggregated links, 8 dynamic aggregated links per switch and up to 8 member ports per aggregated link; LACP support (IEEE 802.3ad), LLDP-MED
Support for unicast NLB (multicast NLB not supported)
RFC 768, 783, 791, 792, 793, 826, 854, 855, 894, 896, 951, 1027, 1112, 1155, 1157, 1212, 1213, 1215, 1256, 1286, 1321, 1442, 1451, 1492, 1493, 1519, 1534, 1573, 1643, 1757, 1765, 1812,1867, 1901,1907, 1908, 1981, 2011, 2012, 2013, 2030, 2031, 2032, 2082, 2131, 2233, 2236, 2328, 2373, 2453, 2460, 2461, 2462, 2464, 2474, 2475, 2597, 2618, 2665, 2666, 2068, 2246, 2271, 2295, 2296, 2346, 2365, 2576, 2578, 2579, 2580, 2674, 2710, 2711, 2737, 2740, 2818, 2819, 2863, 2865, 2866, 2868, 2869, 2869bis, 3046, 3101, 3164, 3246, 3260, 3315, 3376, 3410, 3411, 3412, 3413, 3414, 3415, 3416, 3417, 3418, 3484, 3493, 3513, 3542, 3580, 3587, 3736, 3768, 3810, 3973, 4213, 4251, 4252, 4253, 4254, 4291, 4419, 4443, 4541, 4601, and 4716
Environmental Operating Conditions
Operating Temperature: 0º C to 45º C
Storage Temperature: -20º C to 70º C
Operating Relative Humidity: 10% to 90% non-condensing
Storage Relative Humidity: 10% to 95% non-condensing
Advanced 48-port blade switch offering from Dell

Advanced Blade switch
The Dell Networking M6348 is one of the most advanced blade switch offerings from Dell™, with advanced core switching capabilities for today's data center. This 48-port GbE Layer 3 switch supports stacking, offers integrated 10 Gigabit uplink ports and is IP version 6 (IPv6)-certified, enabling broader worldwide scalability.

High-performance stacking
High-performance stacking is supported for up to 12 systems, and advanced security and quality-of-service (QoS) features make this switch ideal for applications, such as server virtualization, Voice over IP (VoIP), Layer 3 routing, high-performance computing cluster (HPPC) and Internet SCSI (iSCSI) storage.

Advanced security
The switch can support Access Control Lists (ACLs), allowing the user to perform deep packet inspection. 802.1x port authentication offers both single and multiple host access. Further security is provided through denial-of-service (DoS) attack prevention, whereby the switch can help protect against common network attacks and CPU attacks.
High density: Delivering extreme rack density in a bladed form factor, the Dell Networking M6348 is designed to give users the flexibility to maximize blade server connectivity in a 0U form factor. Up to 192 nonredundant servers can be connected in a stack of 12 M6348 series blade switches to provide the maximum density, flexibility and manageability.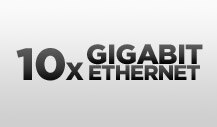 Integrated 10 GbE: The Dell Networking M6348 provides excellent performance for GbE and additionally provides four integrated ports of 10 GbE. Two SFP+ ports can be used to aggregate and deliver I/O (input/output) over optical connections at greater distances or to top-of-rack switches over short reach connections. Two CX4 ports are also available as 10GbE connections or can alternatively be used to stack up to 12 M6348 switches.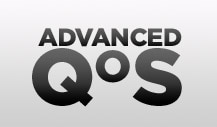 Advanced QoS: The Dell Networking M6348 offers flexibility in QoS by giving network administrators the ability to prioritize time-critical network traffic based on a variety of user-defined criteria. Administrators can expedite traffic based on L2 or L3 information, such as IP QoS, and provide greater control over traffic flow within the network. Voice virtual LANs (VLANs) are provided specifically for VoIP applications.
IPv6 Certified:
IPv6 is version six of the Internet Protocol that has been in development for over 20 years. IPv6 has been designed to address IP address limitations of previous version of the Internet Protocol, enabling an increased number of unique IP addresses for broader scalability worldwide, now and in the future.
Advanced Layer 3 capabilities:
The Dell Networking M6348 supports advanced Layer 3 routing and multicast protocols to help reduce congestion and manage traffic in the network. It also supports frequently used LAN routing protocols, namely:
Routing Information Protocol (RIP) v1/v2
Open Shortest Path First (OSPF) v2/v3
Virtual Router Redundancy Protocol (VRRP)
Internet Group Management Protocol (IGMP)
Distance Vector Multicast Routing Protocol (DVMRP)
Protocol Independent Multicast (PIM)
Link Layer Discover Protocol-Media (LLDP-MED)
Navigate network complexity with Dell EMC Services
Our global team of network experts understands the complexities of IT ecosystems, including multi-vendor environments. We have the skillset and experience to not only quickly resolve performance issues but also transform your network to meet the demands of your business.
Consulting
Dell EMC network consultants provide expert guidance to help you optimize and transform the network environment for the demands of today's multi-cloud infrastructures. Our deep infrastructure and application expertise combined with sophisticated network analysis toolsets address a wide range of network technology and process challenges.
Deployment
Leverage the Dell EMC ProDeploy Enterprise Suite to get your network installed and configured. Our experts can free your IT staff to focus on your core business, minimize downtime and give you the confidence that the job will be done right, the first time.
Support
Gain access to ProSupport technical experts who can assist with your most complex networking challenges. The Dell EMC ProSupport Enterprise Suite provides networking support around the clock and around the globe, helping your team maintain a high level of productivity.
Education
Dell EMC offers flexible training programs so your staff can build the right skills to successfully manage and utilize your network to its full potential. Through our personalized approach, your staff gets the exact training they need to improve productivity and adoption, decrease downtime, and reduce end-user support calls.