PowerConnect 5424
Lo sentimos, pero ya no es posible adquirir este artículo en el sitio web. Por favor vea nuestro producto de reemplazo recomendado.
El PowerConnect™ 5424 le brinda a los clientes importantes beneficios en cuanto a la relación precio/rendimiento. Además de ofrecer una plataforma de red segura y de alto rendimiento y de brindar características avanzadas de administración de red, el PowerConnect 5424 es el primer conmutador del mundo en autooptimizarse para el tráfico de almacenamiento iSCSI. Estas características les permiten a los administradores de red optimizar y proteger efectivamente su tráfico de red.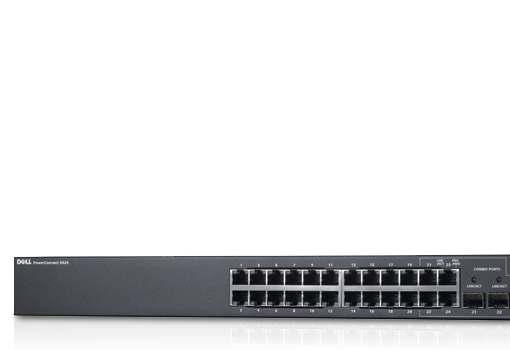 PowerConnect 5424 Redes
PowerConnect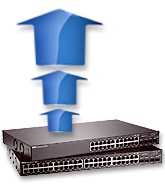 Performance
The PowerConnect 5424 delivers 24 ports of wire-speed, Gigabit Ethernet with advanced security and enterprise management features to help meet the needs of organizations of all sizes. Providing 48 Gbps for switching capacity and 35.6 Mbps forwarding rate, the PowerConnect provides ample performance for server aggregation, wiring closets and iSCSI storage. Combo ports — four ports of either small form-factor pluggable (SFP) Fiber support or 10/100/1000 Copper support — provide for connectivity flexibility and long-haul connections.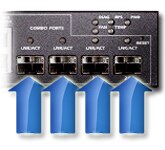 iSCSI Optimization
The PowerConnect 5400-series is the world's first switch portfolio to automatically optimize itself for iSCSI storage. The switches automatically detect whether traffic flows are iSCSI-based and, if so, assigns that traffic flow a high-level of quality of service (QoS). This helps ensure that iSCSI storage traffic is prioritized in the event of resource contention. The 5400-series also provides information about all active iSCSI sessions to allow for easier management and optimization.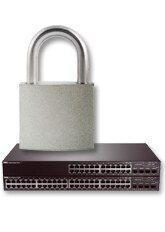 Security
The PowerConnect 5424 offers multiple options and levels of security. Industry-standard features include Secure Shell/Secure Socket Layer (SSH/SSL) Management Encryptions, Dynamic Host Configuration Protocol (DHCP) Snooping, IP and Media Access Control (MAC)-based access control lists (ACLs) access password protection, and Port-based MAC Address alert and lock-down. Higher level security is provided through Remote Authentication Dial-In User Service (RADIUS) for switch management access, 802.1x Authentication and TACACS+, and Management access filtering through Management Access Profiles.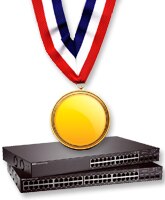 Quality of Service
Supports open industry standards including quality of service (L3-aware), multicast support, link aggregation, and dynamic virtual LAN (VLAN) configurations.

VoIP Functionality

Voice-VLAN functionality ensures voice over IP (VoIP) traffic is prioritized in the event of resource contention. LLDP-Med provides detailed network topology information, emergency call service using IP phone location information and troubleshooting information.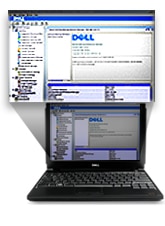 Management
PowerConnect provides numerous management options including an industry-standard command-line interface (CLI), remote management using an embedded Web server or support for Simple Network Management Protocol (SNMP)-based management applications.
Hardware Support Service Plans
Gold Enterprise Service Plan
Provides 7x24 rapid response and resolution of critical issues including escalation management and on-site Emergency Dispatch procedures to quickly restore operations. This level of support is appropriate for servers that are being used for email systems, database applications and virtualization.
Silver Enterprise Service Plan
Silver support provides convenient 7x24 phone access for hardware and core software troubleshooting with 4-hour* 7x24 on-site services following completion of phone-based troubleshooting. This level of support is appropriate for file and print servers and other non-production testing and development.
Basic Enterprise Service Plan
Phone-based support during business hours with Next Business Day on-site service following completion of phone-based troubleshooting. This level of support is appropriate for non-essential application environments.
Learn More about Dell Enterprise Support Services
Customization and Set-Up
Installation Services
Dell provides streamlined standard installation services so you can easily choose the specific package that quickly gets new systems into the workspace and old systems out.