Smarter backup and recovery
The Dell DR4100 offers a simple and cost-effective disk backup and recovery solution featuring deduplication, replication and capacity expansion.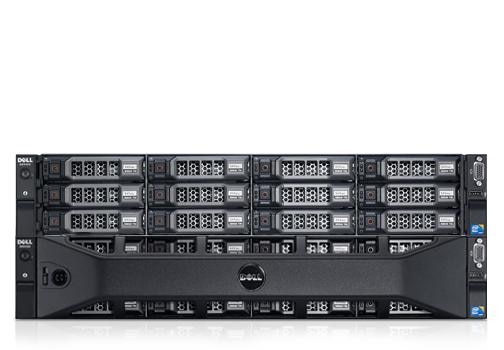 Dell DR4100
PowerVault
Data reduction through deduplication
Help reduce your storage for backups with the Dell DR4100, a next-generation backup and recovery solution powered by the Dell 12G platform.


Optimize your storage utilization and help reduce WAN bandwidth requirements with in-line deduplication, compression and deduplicated replication.
Help ensure high performance for applications with target-based deduplication and compression, which can reduce application server processing requirements.
Deploy a future-ready solution with deduplication and compression — enhanced features of the DR4100 that are key technologies of the Dell Fluid Architecture and are being integrated across the Dell Storage portfolio.
Many-to-one replication for disaster recovery
The DR4100 offers a cost-effective way to protect multiple remote offices through disaster recovery. Consolidate and optimize your disaster recovery systems and support multiple backup workloads with a single, easy-to-manage solution.


Provide replication to a single node from up to 32 nodes at once, helping reduce the costs and inefficiencies associated with distributed backup environments.
Help secure your backup data with encrypted and compressed replication between DR4000 and DR4100 systems.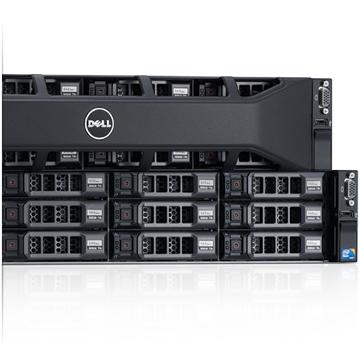 Flexible expandability options
Easily scale storage for backup and recovery according to your business demands. The DR4100 is available in several capacity configurations, enabling you to expand as needed.


The DR4100 can back up much more data than its usable capacity may indicate. With integrated deduplication and compression technologies, you can have up to 27TB* physical capacity and up to 405TB* logical capacity per system.
Low TCO and maintenance
Deploy a cost-effective, easy-to-maintain, turnkey solution that supports your data-reduction and protection initiatives.


The disk-based DR4100 has powerful built-in features and delivers exceptional value when compared to traditional tape-only backup.
Reduce both the costs and the time associated with tape-based backup.
The all-inclusive licensing model of the DR4100 eliminates hidden costs and offers improved features and additional benefits without extra expense.
Broad, integrated software support
Implement a backup-and-restore solution that supports the software you use, and help optimize performance through integration with certified applications.


The DR4100 supports industry-leading backup software applications and has multiple independent software vendor (ISV) certifications.*
DR Rapid Data Access integrates with backup software such as Symantec™ OpenStorage technology (OST) backup applications.
Support for OST helps the DR4100 deliver fast backup and restore performance, and provides enhanced functionality such as optimized duplication-based replication.
Enhanced data protection
Help protect your critical information with the data-protection safeguards built into both the hardware and software of the DR4100. Provide your organization with enhanced protection against downtime and disaster.


The DR4100 is designed to protect data in the event of a power loss and can proactively detect data corruption due to hardware faults.
Support for RAID 6 configurations helps the DR4100 provide another layer of data protection and supports up to two simultaneous hard drive failures without service interruption.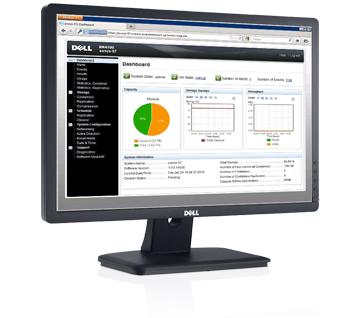 Simplified, intuitive management
Deploy a turnkey solution designed to drop into any backup workflow environment.


The DR4100 is managed through an intuitive dashboard interface that provides an overview of system status, automatically monitors hardware health and verifies software integrity.
Help reduce the burden on IT staff by conducting fast, daily full backups that can be more efficient than using tape-backup methods.
Work efficiently with full remote setup and administration, and with simplified management of disk pools.
Dimensions & Weight
Physical Dimension: Height- 87.3 mm (3.44 inch), Width 482.4 mm ( 18.98 inch), Depth ( included bezel) 755.8mm (29.75 inch)

Rack Weight:
(Maximum) 31.86 kg (70.24 lb)
(Empty) 18.78 kg (41.4 lb)

Wattage
 750 W

Voltage
100-240 V AC, autoranging, 50/60 Hz.

Heat Dissipation
2891 BTU/hr maximum (750 W power supply)

Regulatory Model
E14S