Combine cost-effectiveness with high capacity and performance
Augment your remote office data center with the high-performance, high-capacity and cost-effective Dell™ EqualLogic™ PS4100X GbE iSCSI arrays.
Sorry, this item is not available anymore for purchase online. Please see our recommended replacement product.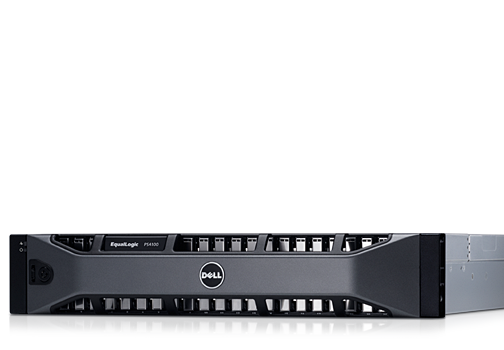 Dell EqualLogic PS4100X Array
EqualLogic
Built to make storage simple
Master your data-hungry tasks with EqualLogic™ PS4100X — powerful performance with easy, flexible management for small -or midsize -companies and enterprise branch offices.

Enterprise features for smaller deployments
Ideal for your growing storage needs, the PS4100X GbE iSCSI array offers a virtualized architecture, enterprise software and easy administration at an affordable price. 
Take advantage of a data-center class IT solution in small and midsize businesses as well as enterprise branch offices.  
Use the EqualLogic virtualized scale-out architecture for server consolidation and virtualization.
Integrate full snapshot, replication and application integration for data protection and disaster recovery.
Cut management time and costs with self-optimizing performance and automation.
Manage your enterprise-wide EqualLogic SAN, including PS4100 remote-site arrays, with EqualLogic SAN Headquarters.
Expand easily into a larger EqualLogic SAN by adding PS4100 (maximum two per group) and PS61xx arrays to scale capacity and performance.
Whether you're consolidating a direct-attached storage (DAS) infrastructure, migrating data from an existing SAN or NAS system, streamlining data protection processes, or simply adding storage capacity, the Dell EqualLogic PS4100 series offers a solution. The proven, high-performance, self-managing storage arrays are designed to meet the requirements of your growing business.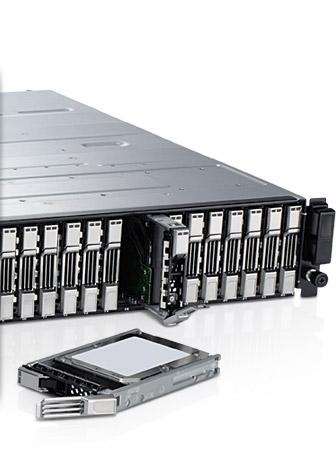 Choose your array
Build capacity for your data center using PS4100X arrays. With 24 Serial Attached SCSI (SAS) 2.5" HDDs and up to 28.8 terabytes of capacity, the PS4100X is an efficient, high-performance and high-capacity storage solution.

The Dell EqualLogic PS4100 series enables you to choose the storage solution that best suits your small or midsize business or enterprise branch office. The PS4100 Series family features: 
Two GbE ports per controller
Dedicated 10/100 management port per controller
6G SAS backplane
Options for 12 or 24 hot-swappable drives
7.2K NL-SAS, 10K SAS, or 15K SAS drives 
Cache-to-flash memory de-staging
Peer-scaling architecture that scales performance linearly
Vertical Port Failover, designed to enable you to maintain full bandwidth if a networking port fails
Group Manager, which integrates all management into one console for both file and block storage protocols
Array firmware and host software with no additional licenses or fees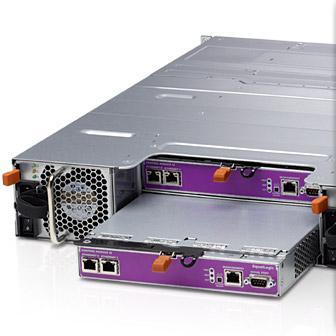 Grow confidently with advanced Array Software features
 Meet your current storage needs and future data management requirements with EqualLogic™ Array Software.


Synchronous Replication: Maintain two identical copies of a volume across two different storage pools in the same PS Series for real-time data protection.
Volume Unmap: Recover unused space previously allocated to thin-provisioned volumes for better storage capacity utilization and cost-effectiveness.
Snapshot Space Borrowing: Temporarily increase the available snapshot space for a volume by borrowing from the snapshot reserve of other volumes and pool-free space, improving your capacity management.
Enterprise power with everyday simplicity
Dell Storage PS Series software helps you store and manage your data more efficiently and cost-effectively. PS Series array, host and management software are included in your storage array purchase — virtually all the tools your organization needs for a complete solution. PS Series software virtualizes and simplifies your environment to help protect business-critical data, optimize storage performance and streamline operations. Additionally, the latest SC and PS Series software releases offer common management and cross-platform replication capabilities between SC and PS Series storage arrays, allowing you to take advantage of new functionality while leveraging existing investments.
Simplified management and data protection deliver lasting value
Dell Storage PS Series Array Software, including PS Series Firmware, Group Manager and the Manual Transfer Utility, delivers advanced Storage Area Network (SAN) functions that automatically virtualize and optimize storage resources while providing advanced data protection and SAN management. Integrated across the entire family of PS Series arrays, the PS Series Firmware is a SAN operating system based on a unique peer storage architecture that automatically adjusts system resources. In addition, Dell Storage Update Manager simplifies the firmware upgrade process.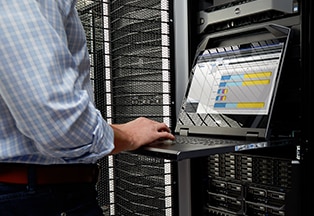 Advanced cross-platform capabilities and streamlined management
If you are adding an SC Series array to your environment, Dell Storage Manager (DSM) provides a common management tool for PS and SC Series day-to-day activities. You can also initiate volume replication between PS and SC Series with DSM, and easily configure and monitor replication task. To simplify migration, you can import data from PS to SC Series using the Thin Import feature.*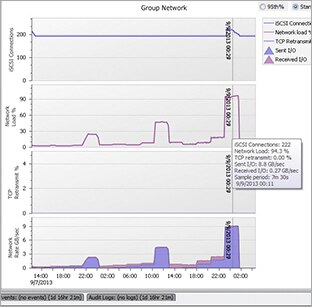 Data center automation with integration and monitoring tools
This family of host-based software provides tight integration between the PS Series array and the host. Dell Storage PS Series Host Integration Tools (HIT) for Microsoft®, VMware® and Linux® environments offer comprehensive data protection and reliable performance.

Dell Storage PS Series SAN Headquarters (SAN HQ) is a centralized monitoring and reporting tool that gathers and provides in-depth performance and capacity information and provides alerts across multiple groups of PS Series arrays. SAN HQ with SupportAssist further streamlines management and improves productivity with automatic case creation and case tracking.
End-to-end services
Dell offers a wide range of professional services and tools to simplify the assessment, design, implementation, management and maintenance of your PS Series environment, including Dell ProSupport and SupportAssist.

Dell Services storage experts go beyond everyday administration to help you improve the performance and utilization of your Dell Storage systems. The Dell Storage Services portfolio provides system installation and implementation as well as training. From disaster recovery planning to physical relocation, the Dell Services team is available to provide professional assistance when you need it.
Comprehensive, proactive support
With Dell ProSupport, you get the most out of your investment with the support expertise and insights Dell is known for across the globe. Dell ProSupport doesn't just extend your IT team, it offers a single point of contact for all your hardware and software issues. Innovative tools like SupportAssist offer proactive issue notification and automated case creation to help streamline your support experience.

We recommend Dell ProSupport Plus with SupportAssist for mission-critical systems or Dell ProSupport for comprehensive hardware and software support for your Dell Storage PS Series solution. Contact your Dell representative today for more information*.
Implement fast. Implement correctly. Implement once.
Dell ProDeploy Enterprise Suite* can reduce costs and relieve your IT department of time-consuming implementation tasks that otherwise divert valuable IT resources from business-critical activities. We bring two unmatched values to every Dell Storage implementation: deep knowledge of our products and broad experience from performing thousands of deployments every year, in just about every type of customer environment. Choose ProDeploy Plus for the most complete deployment offer available in the market, ProDeploy for expert configuration and installations, or Basic Deployment for worry-free hardware installations.
Start on the right path with Dell Education Services
Gain the skills and knowledge necessary to simplify administration, optimize resources and improve disaster recovery with Dell Storage training. Choose from online courses designed to introduce Dell Storage to hands-on training that dive into the advanced features and best practices to prepare for a successful implementation right from the start. Learn more about the right classes for your organization.
Transform your data center
Dell Storage Consulting Services can help you meet your complex storage infrastructure and data management needs while optimizing resources and budgets. Consulting services can help with:

 • Storage infrastructure consolidation and risk-managed migration for both PS and SC Series systems
 • Storage infrastructure optimization for virtual environments
 • Data protection process development and backup/restore policies
 • Data archiving to address long-term data retention, access and regulatory compliance
 • Classification and categorization of data for storage tiering and archival
 • Storage high availability and disaster recovery planning, design and implementation