Deploy an enterprise storage solution built for performance
Bring high-performance, high-capacity and cost-effective storage together with the Dell™ EqualLogic™ PS6100XV 3.5" iSCSI array, ideal for large enterprise storage needs.
Sorry, this item is not available anymore for purchase online. Please see our recommended replacement product.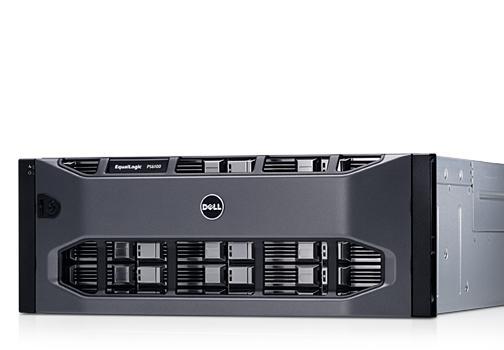 Dell EqualLogic PS6100XV 3.5" Array
EqualLogic
Built to make storage simple
Master your data-hungry tasks with EqualLogic PS6100XV 3.5" high-capacity performance with easy, flexible management for highly consolidated enterprise environments.
Designed to scale with your business
Deploy cost-effective performance and capacity for your enterprise storage needs with the PS6100XV 3.5" iSCSI array, a Dell Storage solution with a virtualized scale-out architecture that delivers enhanced storage performance and reliability that is easy to manage.
Help eliminate downtime and performance penalties with smooth, incremental SAN expansion.
Grow your virtual storage alongside your virtual server growth.
Change hardware without disruption.
Add or remove arrays at will, according to policy, age, application or business need
Easily mix new disk or network technologies in the SAN.
Move volumes (databases/VMs) online between any pool or disk resources.
Avoid forklift upgrades or data-in-place migrations that cost time and money.
Automatically balance loads across disks and multiple arrays in a pool.
Help eliminate manual re-distributing of capacity or application workloads (downtime and services costs).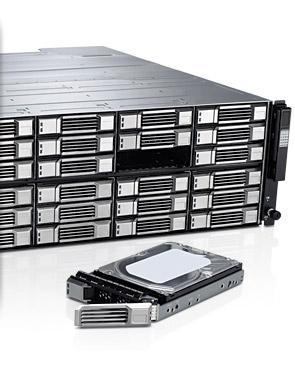 Choose your array
Flex your storage muscles with the performance, capacity and economy of the PS6100XV 3.5" arrays. With 24 high-performance 3.5" SAS HDDs and up to 14.4 terabytes of capacity, the PS6100XV 3.5" GbE iSCSI array is an ideal solution for critical enterprise-storage applications.
The PS6100 Series family features: 
Dual controllers designed for built-in redundancy
Four GbE ports per controller
Dedicated 10/100 management port per controller
6G SAS backplane
24 hot-swappable drives
7.2K NL-SAS, 10K SAS, or 15K SAS drives or solid state drives (SSDs) 
Cache-to-flash memory de-staging
Peer-scaling architecture that scales performance linearly
Vertical Port Failover, designed to enable you to maintain full bandwidth if a networking port fails
Group Manager, which integrates all management into one console for both file- and block-storage protocols
Array firmware and host software with no additional licenses or fees
Enhanced security with self-encrypting drives (SED)
Software and Services for a complete SAN solution
Dell delivers comprehensive end-to-end solutions with software and services options to help you store and manage your data more efficiently and cost-effectively. Included with your PS Series array purchase are the EqualLogic™ array software and host software — virtually all the tools your organization needs for a complete solution.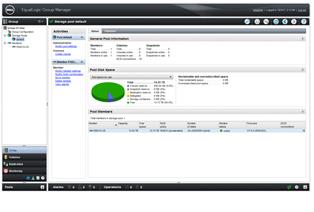 EqualLogic Array Software
EqualLogic Group Manager helps to streamline storage and data management.
EqualLogic Manual Transfer Utility minimizes downtime when transferring large amounts of data.
EqualLogic PS Series Firmware is the foundation of the EqualLogic software family.
Dell Storage Update Manager simplifies the upgrade process with guided update management.
Integrated across the entire family of EqualLogic PS arrays, the EqualLogic Firmware is a SAN operating system based on a unique peer storage architecture that:
Virtualizes SAN resources
Enables peer scalability of up to 16 arrays
Provides intelligent data management functionality
Automatically adjusts system resources
Optimizes performance
EqualLogic Host Integration Tools
This family of host-based software provides tight integration between the PS Series array and the host. Dell provides host integration tools for Microsoft®, VMware® and Linux® environments to offer comprehensive data protection and reliable performance.
EqualLogic SAN Headquarters
Dell EqualLogic SAN Headquarters (SAN HQ) is a centralized monitoring and reporting tool that gathers and provides in-depth information on performance and capacity and provides alerts across multiple groups of PS Series arrays. SAN HQ with Support Assist further streamlines management and improves productivity with automatic case creation and case tracking.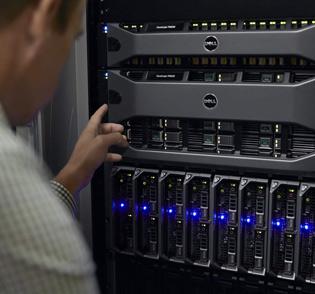 Global Services and Support
Dell offers a wide range of professional services to simplify the assessment, design, implementation, management and maintenance of your IT environment to help you transition from platform to platform.

Dell Support Services
Dell ProSupport offers a suite of support services that enable you to choose support models based on how you use technology and where you want to allocate resources. We recommend Dell ProSupport Plus with SupportAssist for mission-critical systems or Dell ProSupport for premium hardware and software support for your PowerEdge solution. For hyper-scale data centers, we also offer ProSupport Flex for Data Center.

Dell Enterprise Deployment Services
ProDeploy Enterprise Suite* offers a full range of deployment services and professional certifications to help you get more out of your technology starting on day one. Choose ProDeploy Plus for the most complete deployment offer available in the market, ProDeploy for expert configuration and installations, or Basic Deployment for worry-free hardware installations.
Dell Training Services
Dell Education Services aims to complement your relationship with Dell as a trusted partner by offering Education Services for our own products, for industry leading infrastructure solutions and for the ongoing development of your organization. It is a global organization with local representation, classrooms and web-based training available worldwide.

Contact your Dell representative today for more information or click here.