The PowerEdge R900 is an Intel processor-based 4-socket, 4U rack server that is ideal for virtualisation, RISC migration and compute-intense, business-critical applications.
Sorry, this item is not available anymore for purchase online. Please see our recommended replacement product.
PowerEdge R900 Rack Server
PowerEdge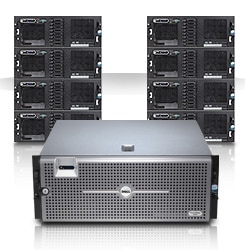 Outstanding Virtualization Performance
Dell's most powerful Intel® server, the PowerEdge R900 is designed and optimized to provide outstanding virtualization performance.

The R900 is an optimum platform for data-demanding enterprise applications in a virtual environment and features:
Intel® Xeon® 7400 series 6-core and 4-core processor technology
Increased memory and I/O (input/output) capacities over the previous model
Broad scalability
An embedded hypervisor for simplified virtualization — Choose between VMware® ESXi™ 3.5 or Citrix® XenServer™ and then power up the server and begin migration of virtual machines within minutes with factory-integrated hypervisors.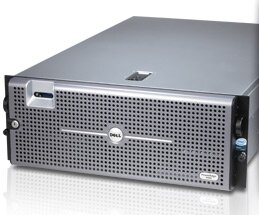 An Ideal Server for RISC Migration
Migrating to an open x86 platform can reduce costs and improve overall management while providing an affordable foundation that scales easily for future needs. Dell's premium-free systems management helps drive down costs and simplify RISC migration.

With up to 24 cores, the PowerEdge R900 moves well into the enterprise class of RISC/UNIX® proprietary-systems.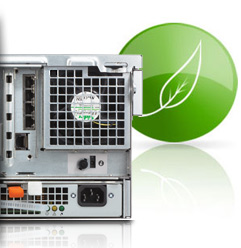 Power and Stability for Business-Critical Applications
Designed to handle data and compute-intensive applications, the PowerEdge R900 is:

Dell's most powerful Intel-based system to date
An outstanding choice for Oracle®, SQL® and other business-critical enterprise-class solutions
Stable and efficient with Energy Smart® power supply units that provide 90 percent efficiency for improved performance per watt and maximum value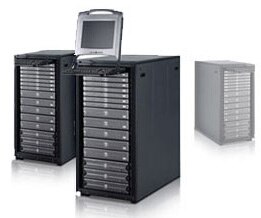 Simplified Management
The PowerEdge R900 helps simplify your IT infrastructure with:

Improved monitoring capabilities in a single, easy-to-use interface with the Dell OpenManage™ suite of management tools featuring monitoring capabilities for power-sensitive and virtual environments
Advanced security features, including the industry-standard Trusted Platform Module (TPM), a locked-down internal USB port and a chassis intrusion sensor to help protect critical data
High availability thanks to hot-pluggable redundant power supplies and hard drives and multiple RAID options, including support for RAID-6
Dell ProSupport
Faster, more reliable support services designed to address the technology challenges you face today. This new support portfolio is focused on your needs, time demands and budgets.

Need professional support services that take care of both you and your employees' IT needs 7x24? Choose Dell ProSupport to get access to a certified technician in two minutes or less.

Got an IT staff? Choose Dell ProSupport for IT and get tech-to-tech support with Fast-Track Dispatch, along with 7x24 access to Dell-certified technicians.


 Dell ProSupport Service Model

Dell ProSupport

Dell ProSupport for IT

Designed for organisations with limited or no dedicated IT staff.

Includes:


7x24 direct break-fix hardware support for your employees

"How-to" support on popular software applications such as Norton AntiVirus, Microsoft Office, Microsoft Small Business Server, Intuit QuickBooks, Adobe Photoshop and Adobe Acrobat.

Access to a certified technician in two minutes or less

Designed to provide tech-to-tech support for IT Professionals, Database Administrators and internal Service Desks or helpdesks.

Includes:


7x24 Direct access to Dell Expert Centers

Fast-track dispatch for Dell-certified technicians

Escalation management through Dell's Global Command Centers

Next, Dell ProSupport Options align to the way you use technology – rapidly responding to your needs, protecting your investment, your productivity and your sensitive data, and providing enhanced proactive support services to help reduce the risk and complexity of managing your infrastructure.


SPEED OF RESPONSE

PROTECTION

PROACTIVE

Mission Critical - Perfect for server and storage environments where avoiding unplanned downtime and reducing recovery time through priority response are a must. The package includes priority 4-hour onsite

*

service or optional 2-hour response with 6-hour hardware repair, Dell's proven Critical Situation process, and emergency dispatch.

Data Management and Protection


Keep Your Hard Drive

*

helps you retain control of sensitive data

Certified Data Destruction wipes your hard drive clean and destroys data

Proactive Maintenance - Maximises the availability and stability of your infrastructure proactively. The package includes a detailed system assessment and implementation of driver or firmware updates and upgrades for your server or storage systems.

Remote Advisory Options - Provides telephone and Internet access to technical expertise for specialised applications and solutions such as Microsoft Exchange, Virtualization and more.


Ideal for non-essential application environments. This service offers business-hour, phone-based support* for hardware-only issues with Next Business Day On-Site Service following completion of phone-based troubleshooting.


Server Installation Services
Go from factory to deployment with Dell server installation services. Our modular suite of installation services allows you to customise the right package of services needed to rapidly implement your new system.


Comprehensive Training
Get the skills you need to keep pace in today's competitive IT environment with comprehensive training and certification courses. Dell offers a vast array of instructor-led classes and online training courses in a range of topics from server maintenance to in-depth technical overview of specific systems.