Get 10GbE speed for your Dell PowerEdge tower and rack servers.
Bring the speed of dual 10GbE connectivity to your Dell™ PowerEdge™ rack or tower servers with a Broadcom® Converged Network Adaptor.
Powerful throughput: Provides two ports of 10 Gigabit Ethernet.
Flexible integration: Supports NIC partitioning (NPAR) on 10GbE ports to help improve resource utilization and deployment flexibility.
Streamlined management: Helps improve management efficiency through integration into Dell™ Lifecycle Controller 2.0.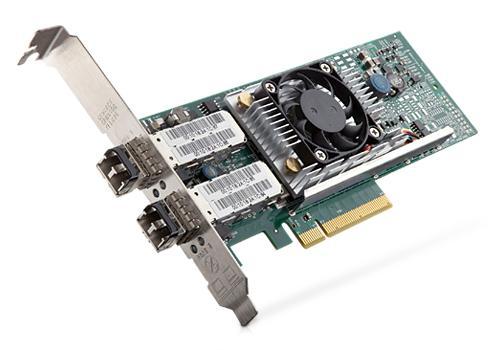 Broadcom® 57810S Dual-Port 10GbE SFP+ Converged Network Adapter (CNA)
Broadcom

Bring 10GbE speed to your tower and rack server environment.
Bring the speed of 10GbE to your tower or rack servers with the
Broadcom
®
57810S Dual-Port 10GbE SFP+ Converged Network Adapter (CNA). It's designed to give you fast performance in two- and four-socket Dell tower and rack servers where multiple network or storage connections are required.
Increase network efficiency in physical and virtual environments: Enjoy optimized bandwidth allocation with Broadcom's switch-independent NIC partitioning (NPAR). This feature enables segmentation and reallocation of 10GbE ports according to bandwidth and resource needs.
Optimize server performance: Broadcom 10GbE adapters leverage stateless offload such as TCP/IP checksum, TCP segmentation offload (TSO), receive side scaling (RSS), large send offload (LSO) and others to help provide maximum flexibility and optimized performance. 
Simplify management: Broadcom 10GbE adapters easily integrate into Dell's iDRAC7 and Lifecycle Control embedded management framework.