Premium look. Premium options.
Work confidently from anywhere on the world's smallest 14" premium commercial laptop.* More premium choices provide an amazing screen experience, intelligent performance, built-in security, and privacy. Configurable as a laptop or 2-in-1.

Latitude-14-7430-laptop
Latitude
Operating system
Available with Windows 11.
The confidence to work anywhere
ExpressConnect
Be on 2 networks at once with the world's first simultaneous multi-network connection for faster data and video downloads.
*
Get up to 20% more in data transfer from optimized networking, 30% faster application data processing and 8 times better video quality from optimized internet bandwidth.
*
4G, 5G & WiFi6E connections
Wi
-
Fi6E allows 7 more channels for more
bandwidth which provides faster, smoother
Wi
-
Fi, especially in high
-
density areas while
4G LTE options keep you connected
wherever you work.*

Work longer

Long battery life with ExpressCharge that provides up to 80% charge within 60 minutes.
*
The reliability to collaborate everywhere
Intelligent Privacy 

Onlooker detection notifies you when someone is peering at your screen and will texturize your screen, while Look Away Detect knows when your focus is elsewhere and dims the screen to further protect privacy and save battery life.*



ExpressSign-In

Sign in seamlessly with ExpressSign-in. Camera-based proximity detection will wake-up your system and sign you in and lock your system whenever you step away.

*


Intelligent Audio
Artificial intelligence improves audio and voice quality and adjusts for different environments. Neural Noise Cancellation eliminates unwanted background noise as well as the background noise of the participants on your call.

Advanced camera
Optional FHD IR camera with manual shutter, dual sensors and Temporal Noise Reduction improves image quality, even in low light.
Multi-tasking for today's hybrid work
Power for every project
These PCs featuring Intel vPro®, an Intel® Evo™ design with 12th Gen Intel® U-series (15W) or P-series (28W), are built for what IT needs with the power, responsiveness and battery life that business multitaskers want.

Cooler and quieter under pressure
New larger dual opposite outlet fan with optimized venting and other thermal improvements keep your system cool and up to 30% quieter than its predecessor* even when working with multiple applications. We offer the broadest range of user-selectable performance, temperature and fan noise settings.

Keep up with your work
Toggle seamlessly between multiple applications with choice of up to 32GB DDR4 on U-series processors or 32GB LPDDR5 on P-series processors.

Our most sustainable Latitude portfolio: Working toward our goals, so you can meet yours.
New 100% recycled or renewable packaging


Packaging that looks good and feels good. The first design to meet our 2030 moonshot goals. (Coming later in 2022)



Most innovative use of bio-based & recycled materials in 14" and 15" premium commercial laptops*
We have up to 39% bio-based rubber in the bottom bumpers, up to 50% recycled plastics in the battery frame, up to 35% recycled plastic in the palm rest and up to 18% recycled Carbon Fiber in the lid.

Recycling e-waste
Help us in our mission to make our products with at least 50% recycled or renewable content. Send your e-waste (old electronics of any brand) to us for recycling or reuse in support of a circular economy.

Learn more at Dell.com/Recycle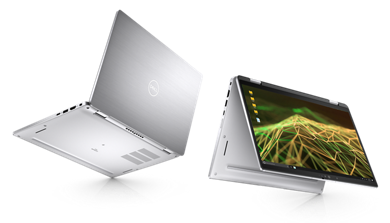 A stunning front-of-screen experience
Easy on the eyes
ComfortView Plus, an always-on, built-in low blue light solution that reduces harmful blue light while delivering excellent color. TÜV Rheinland certified.

Stunning from every angle
FHD 400 nit, Safe Screen and a 4K option bring every image to life like never before, while the super low power panels provide longer battery life and extended run time.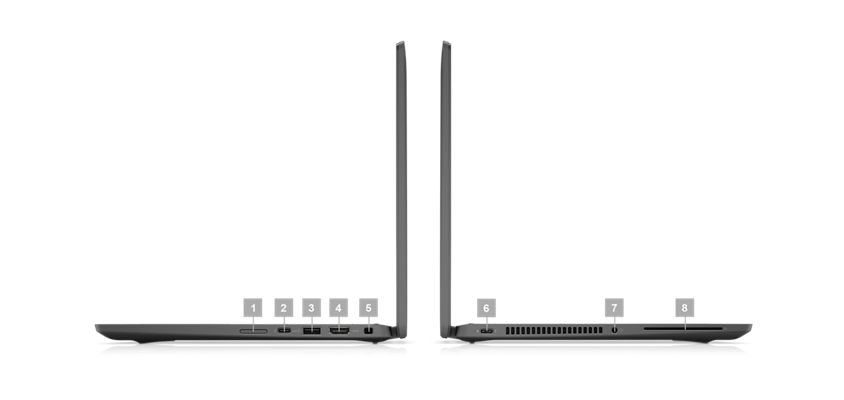 Ports & Slots
1. uSIM card slot (optional) (WWAN only)
2. Thunderbolt™ 4 with Power Delivery and DisplayPort (USB Type-C™)
3. USB 3.2 Gen 1 with Power share
4. HDMI 2.0

5. Wedge-shaped Lock Slot
6. Thunderbolt™ 4 with Power Delivery and DisplayPort (USB Type-C™)
7. Universal Audio Jack
8. Smart Card Reader (optional)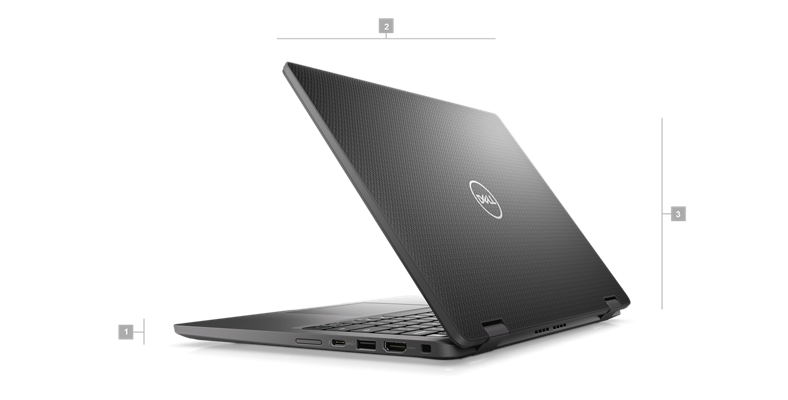 Dimensions & Weight
Laptop:
Carbon Fiber
1.
Height: 17.27 mm (0.68 in.)
2. Width: 321.35 mm (12.65 in.)
3. Depth: 208.69 mm (8.22 in.)
4. Weight: 1.22 kg (2.69 lb)
*
Aluminum
1.
Height: 16.90 mm (0.66 in.)
2. Width: 321.35 mm (12.65 in.)
3. Depth: 208.69 mm (8.22 in.)
4. Weight: 1.27 kg (2.79 lb)
*
Carbon Fiber with Intel
®
Core™ P-series (28W)
1.
Height: 18.47 mm (0.727 in.)
2. Width: 321.35 mm (12.65 in.)
3. Depth: 208.69 mm (8.22 in.)
4. Weight: 1.24 kg (2.73 lb)
*
2-in-1:
Carbon Fiber
1.
Height: 17.06 mm (0.67 in.)
2. Width: 321.35 mm (12.65 in.)
3. Depth: 208.69 mm (8.22 in.)
4. Weight: 1.35 kg (2.97 lb)
*
Aluminum
1.
Height: 16.40 mm (0.65 in.)
2. Width: 321.35 mm (12.65 in.)
3. Depth: 208.69 mm (8.22 in.)
4. Weight: 1.44 kg (3.18 lb)
*
At-the-desk accessories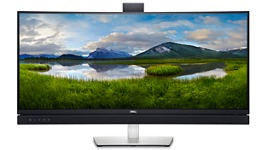 Dell 34 Curved Video Conferencing Monitor C3422WE
Bring your meetings to life on this 34-inch curved WQHD monitor with an integrated IR camera, dual 5W speakers and a dedicated, one-touch Teams button.

Dell Thunderbolt™ 4 Dock | WD22TB4
Boost your PC's power on the world's first modular Thunderbolt™ 4 dock with a future-ready design.*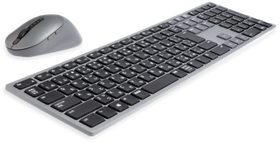 Dell Premier Multi-Device Wireless Keyboard & Mouse | KM7321W
Multi-task seamlessly across 3 devices with this premium full-size keyboard and sculpted mouse combo featuring programmable shortcuts and 36 months battery life.*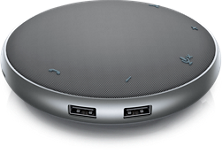 Dell Speakerphone with Multiport Adapter MH3021P
Multiport adapter with integrated speakerphone offers an all-in-one connectivity and conferencing solution.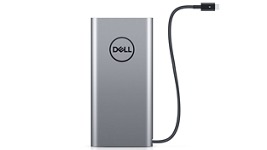 Dell Notebook Power Bank Plus –USB C, 65Wh -PW7018LC
With fast high-power delivery of up to 65Wh, this power bank can charge the widest range of USB-C laptops, and mobile devices.
Processor
12th Generation Intel® Core™ i5-1235U (12 MB cache, 10 cores, 12 threads, up to 4.40 GHz)
12th Generation Intel® vPro® Enterprise with Intel® Core™ i5-1245U (12 MB cache, 10 cores, 12 threads, up to 4.40 GHz)
12th Generation Intel® vPro® Enterprise with Intel® Core™ i5-1265U (12 MB cache, 10 cores, 12 threads, up to 4.80 GHz)
12th Generation Intel® Core™ i7-1255U (12 MB cache, 10 cores, 12 threads, up to 4.70 GHz)
12th Generation Intel® Core™ i5-1240P (12 MB cache, 12 cores, 16 threads, up to 4.40 GHz)
12th Generation Intel® vPro® Enterprise with Intel® Core™ i5-1250P (12 MB cache, 12 cores, 16 threads, up to 4.40 GHz)
12th Generation Intel® vPro® Enterprise with Intel® Core™ i7-1270P (18 MB cache, 12 cores, 16 threads, up to 4.80 GHz)
Operating System (Dell recommends Windows 10 Pro for business.)
Windows 11 Pro, 64-bit
Windows 11 Home, 64-bit
Ubuntu® Linux® 20.04 LTS, 64-bit
Display
Laptop
14-inch, FHD 1920 x 1080, 60 Hz, anti-glare, non-touch, 45% NTSC, 250 nits, wide-viewing angle, narrow bent
14-inch, FHD 1920 x 1080, 60 Hz, anti-glare, non-touch, 100% sRGB, 400 nits, wide-viewing angle, narrow bent, super low power, comfort view, low blue light
14-inch, FHD 1920 x 1080, 60 Hz, anti-glare, touch, 72% NTSC, 300 nits, wide-viewing angle, narrow bent
14-inch, FHD 1920 x 1080, 60 Hz, anti-glare, touch, Digital Privacy SafeScreen, 100% sRGB, 300 nits, wide-viewing angle, narrow bent
14-inch, UHD 3840 x 2160, 60 Hz, anti-glare, non-touch, 100% sRGB, 400 nits, wide-viewing angle, narrow bent, super low power, comfort view, low blue light

2-in-1
14-inch, FHD 1920 x 1080, 60 Hz, anti-reflection, anti-smudge, touch, 100% sRGB, Corning® Gorilla Glass® 6 DXC, 300 nits, wide-viewing angle, narrow bent, super low power, active pen support
8 GB, DDR4, 3200 MHz, integrated, dual-channel
16 GB, DDR4, 3200 MHz, integrated, dual-channel
32 GB, DDR4, 3200 MHz, integrated, dual-channel
16 GB, LPDDR5, 4800 MHz, integrated, dual-channel
32 GB, LPDDR5, 4800 MHz, integrated, dual-channel
Hard Drive
M.2 2230, 256 GB, PCIe NVMe Gen4 x4, SSD, Class 35
M.2 2230, 512 GB, PCIe NVMe Gen4 x4, SSD, Class 35
M.2 2280, 512 GB, PCIe NVMe Gen4 x4, SSD, Class 40
M.2 2280, 1 TB, PCIe NVMe Gen4 x4, SSD, Class 40
M.2 2230, 256 GB, PCIe NVMe Gen4 x4, SSD, self-encrypting drive, Class 40
M.2 2280, 512 GB, PCIe NVMe Gen4 x4, SSD, self-encrypting drive, Class 40
Color
Aluminium Titan Grey
Carbon Fiber
Microsoft Office
Dell Support Assist
DDRE (Dell Developed Recovery Environment )
Dell Optimizer
Dell Support Center
Intel® WiFi Direct
Security Software
Dell Client Command Suite: On-Prem
Dell Client Command Suite: Cloud
Dell Optimizer
Dell Power Manager
Support Assist for PCs
Support Assist OS Recovery (Excalibur)
Dell SafeBIOS - Off Host Verification
Dell SafeBIOS - Indicators of Attack
Dell SafeID
Vmware Carbon Black Endpoint Standard
Vmware Carbon Black Endpoint Advanced
Vmware Carbon Black Endpoint Enterprise
Absolute Visibility
Absolute Control
Absolute Resilience
Dell Encryption Personal
Dell Encryption Enterprise
Netskope Cloud Access Security Broker (CASB)
Netskope Secure Web Gateway
Netskope Private Access
Support Services
3-year hardware warranty with on-site/in-home service after remote diagnosis
3-year ProSupport with Next Business Day on-site service
4-year ProSupport with Next Business Day on-site service
5-year ProSupport with Next Business Day on-site service
3-year ProSupport Plus with Next Business Day on-site service
4-year ProSupport Plus with Next Business Day on-site service
5-year ProSupport Plus with Next Business Day on-site service
Accidental Damage Service
3-year Accidental Damage Service
4-year Accidental Damage Service
5-year Accidental Damage Service
Ports
2 USB Type-C® Thunderbolt™ 4.0 ports with Power Delivery & DisplayPort 1.4
1 USB 3.2 Gen 1 port with PowerShare
1 headset (headphone and microphone combo) port
1 HDMI 2.0 port
Slots
1 Smart Card Reader (optional)
1 microSIM-card slot (optional)
Dimensions & Weight
LAPTOP
Carbon Fiber (U15):
Height: 17.27 mm (0.68 in.)
Width: 321.35 mm (12.65 in.)
Depth: 208.69 mm (8.22 in.)
Weight: 1.22 kg (2.69 lb)

Carbon Fiber (P28):
Height: 18.47 mm (0.727 in.)
Width: 321.35 mm (12.65 in.)
Depth: 208.69 mm (8.22 in.)
Weight: 1.24 kg (2.73 lb)

Aluminum Titan Grey:
Height: 16.90 mm (0.66 in.)
Width: 321.35 mm (12.65 in.)
Depth: 208.69 mm (8.22 in.)
Weight: 1.27 kg (2.79 lb)

2-in-1
Carbon Fiber
Height: 17.06 mm (0.67 in.)
Width: 321.35 mm (12.65 in.)
Depth: 208.69 mm (8.22 in.)
Weight: 1.35 kg (2.97 lb)

Aluminium Titan Grey
Height: 16.40 mm (0.65 in.)
Width: 321.35 mm (12.65 in.)
Depth: 208.69 mm (8.22 in.)
Weight: 1.44 kg (3.18 lb)

Camera
2.7 mm, 720p at 30 fps HD RGB webcam
6 mm, 720p at 30 fps HD RGB webcam
3.25 mm, 1080p at 30 fps FHD RGB+IR webcam with Human Presence Detection and ALS
6 mm, 1080p at 30 fps FHD RGB+IR webcam with Human Presence Detection and ALS
Audio and Speakers
Stereo speakers with Waves MaxxAudio® Pro, 2 W x 2 = 4 W total
2 Noise Canceling Microphones
Intelligent Audio with Neural Noise Cancellation
WLAN:
Intel® AX211, 2x2 MIMO, 2.40 Gbps, 2.40 GHz/6 GHz, Wi-Fi 6E (WiFi 802.11ax), Bluetooth® 5.2 (onboard)

WWAN (Optional):
Qualcomm® Snapdragon™ X20 LTE-A CAT16 (DW5821e)
Qualcomm® Snapdragon™ X20 LTE-A CAT9 (DW5829e)
Qualcomm® Snapdragon™ X55 Global 5G Modem (DW5930e)
Primary Battery
3-cell, 41 Wh "smart" lithium ion, ExpressCharge™, optional Long Cycle Life
4-cell, 58 Wh "smart" lithium ion, ExpressCharge™, optional Long Cycle Life