Adds up to 16.48 Teraflops of Computational Power to your Data Center
Sorry, this item is not available anymore for purchase online. Please see our recommended replacement product.
The PowerEdge™ C410x is a 3U, 16-slot external PCI Express (PCIe) expansion chassis that can support up to eight host connections to up to 16 graphics processing unit (GPU) cards. This enables massive parallel calculations separate from the server, greatly enhancing system performance and flexibility.


Enhance capabilities without adding servers.
Boost performance for faster results.
Save space, weight and cost while increasing density.
PowerEdge C410x PCIe Expansion Chassis
PowerEdge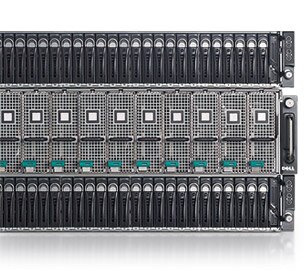 Problem Solver Extraordinaire
If you're looking for oil, predicting the weather or just trying to develop a more lifelike computer game, the PowerEdge™ C410x specializes in value-added performance.
Tons of horsepower — 16 PCIe slots for massive general-purpose graphics processing unit (GPGPU) calculations
Lots of options — Supports up to eight host connections to up to 16 GPU cards for maximum flexibility
Super-fast results — 4x the PCIe slots per server than competing PCIe expansion chassis 
The PowerEdge™ C410x is specifically qualified with the Dell™ PowerEdge™ C6100 server but can connect to a range of servers. Furthermore, because the PowerEdge C410x de-couples the PCIe devices from servers, you can refresh them at different rates.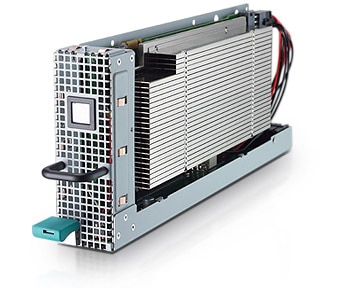 Extreme Number Cruncher
By populating the PowerEdge™ C410x with GPU PCIe cards, you can turn your servers into computing powerhouses that can satisfy your never-ending quest for customizable speed.


Up to 16.48 teraflops — x16 PCIe lanes allocated to a host interface connection means up to 16,480 gigaflops of parallel calculating power at your disposal.
First with the most — The PowerEdge C410x is the first PCIe enclosure of its kind with up to 16 slots in one chassis.
Multiple configurations — Mix and match PCIe devices to set the right ratio for maximum application performance.
The PowerEdge C410x PCIe expansion chassis is qualified for NVIDIA® Tesla™ compute modules, as well as for use with the PowerEdge C6100 server.
Easy to own and operate
The PowerEdge™ C410x PCIe expansion chassis is designed to concentrate tremendous computer power in a simple, scalable format that brings improved space-, weight- and cost-efficiency to your data center.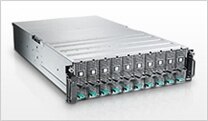 Compact package
The PowerEdge C410x is a 3U expansion chassis designed to save space and weight.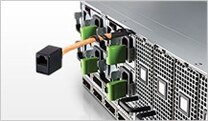 Intuitive monitoring
A dedicated Intelligent Platform Management Interface (IPMI) management port notifies you of voltage and temperature variations and any other system issues that may need attention.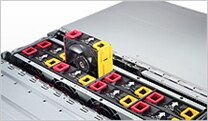 Uninterrupted service
Hot-add PCIe slots, hot-pluggable fans and redundant power supplies stretch system uptime and enable on-the-fly servicing.
PCI Express (PCIe) Modules
Up to 16 available slots, 10 front, 6 rear x16 slots
PCIe Form Factors
Half-height/half-length and full-height/half-length, up to 225W per module passively cooled PCIe modules are only available with cards installed.

PCIe Inputs
8 PCIe 2.0 x 16 iPASS ports
PCIe Cards Supported
NVIDIA® Tesla™ M2075, M2090, K10 and K20
Management
On-board BMC
IPMI 2.0
Dedicated management port

Power
4 x 1400W hot-plug, high-efficiency power supplies
N + 1 power supply redundancy
Maximum draw of 3600W
Fans
Shared redundant cooling with high-efficiency hot-plug 92mm fans

Host Interface Card (HIC)
NVIDIA single-port HIC
Note: NVIDIA dual-port HIC not supported on the PowerEdge C6100 due to card form factor

Host Interface Card (HIC) Form Factor
Low profile, PCIe x 16 Gen 2, single port
6.6" x 2.713"
9.74W per HIC
Validated Host Platforms
PowerEdge C6145 and C6220
Note: Other PowerEdge servers that support/qualify the NVIDIA HIC single port card could support the PowerEdge C410x with spread spectrum clocking turned off.
Services and Support
IT Consulting Services
Rack Integration (U.S. only)
Server and Storage Deployment
Support Services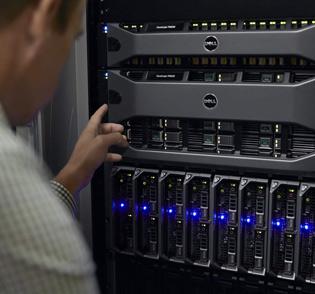 Global Services and Support
Dell offers a wide range of professional services to simplify the assessment, design, implementation, management and maintenance of your IT environment to help you transition from platform to platform.

Dell Support Services
Dell ProSupport offers a suite of support services that enable you to choose support models based on how you use technology and where you want to allocate resources. We recommend Dell ProSupport Plus with SupportAssist for mission-critical systems or Dell ProSupport for premium hardware and software support for your PowerEdge solution. For hyper-scale data centers, we also offer ProSupport Flex for Data Center.

Dell Enterprise Deployment Services
ProDeploy Enterprise Suite* offers a full range of deployment services and professional certifications to help you get more out of your technology starting on day one. Choose ProDeploy Plus for the most complete deployment offer available in the market, ProDeploy for expert configuration and installations, or Basic Deployment for worry-free hardware installations.
Dell Training Services
Dell Education Services aims to complement your relationship with Dell as a trusted partner by offering Education Services for our own products, for industry leading infrastructure solutions and for the ongoing development of your organization. It is a global organization with local representation, classrooms and web-based training available worldwide.

Contact your Dell representative today for more information or click here.
Optimized for performance and efficiency
Dell™ PowerEdge C servers are available with certified software from Dell partners to create optimized, fully-supported solutions that include hardware, software, service and support. These offerings include powerful solutions for new big data and cloud computing instances.

Dell Apache Hadoop Solution
Leverage Hadoop to process massive application datasets. The Dell | Cloudera® solution combines Dell servers, Crowbar software framework and networking components with Cloudera's Distribution, including Apache Hadoop (CDH) as well as management tools, training, technology support and professional services. This Dell Apache Hadoop Solution gives you a one-stop shop for deploying, managing and scaling a Hadoop cluster.

The Dell OpenStack-Powered Cloud Solution
Stand up an OpenStack cloud in hours instead of days. This massively scalable open source Infrastructure as a Service (IaaS) cloud solution leverages OpenStack™ cloud software on Dell PowerEdge C servers and switches, Crowbar software framework, Dell OpenStack expertise, service and support. It's open, compatible with other systems and gives you the freedom to build the cloud of your dreams.

The Dell Cloud Solution for Web Applications
Take the guesswork out of building and running efficient public and private clouds with a turnkey cloud solution. The Dell Cloud Solution for Web Applications brings together optimized Dell hardware, Joyent software and joint services, so you can easily and quickly deploy and manage an elastic, on-demand cloud infrastructure with confidence, with as little or as much outside support as you want along the way.

Dell Solution Services
Whether you need help with strategy and deployment, require IT or business consulting, or want to explore managed services that take the load off your IT staff, turn to Dell services for expert advice and world-class support for your data center environment.