Precision 7865 Tower: Desktops
Precision
Operating system
Available with Windows 11 or Linux Ubuntu.

Tear through your work
With AMD Ryzen™ Threadripper™ PRO you will accelerate the performance of your applications.
Displays picture perfect graphics
A full range of professional AMD and NVIDIA graphic options are available.
Prepare to perform
Further scale your performance with up to 1TB of 3200MHz DDR4 memory and 56TB of storage.
Quell the heat
Patented advanced thermal technologies help to keep your system running at peak performance while maintaining minimal acoustics.
Connect your devices
Connect all your devices with USB-C, USB-A, HDMI ports and more.
Manage your IT
Management tools, such as the AMD DASH, provide the user and the IT manager with a simplified management platform.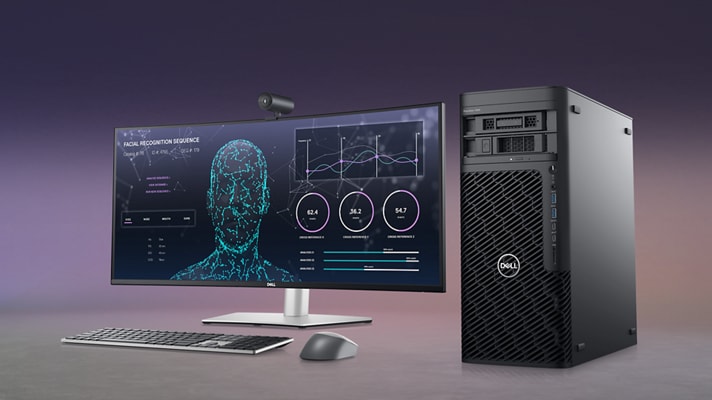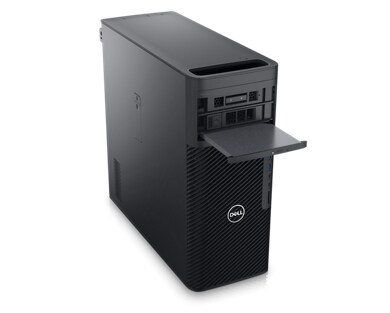 Reliable and secure
Mission-critical reliability: ISV certification with ECC and Reliable Memory Technology Pro options.

Secure even when you're away: Thanks to a lockable chassis with intrusion detection and self-encrypting drives, your work remains protected when you're away.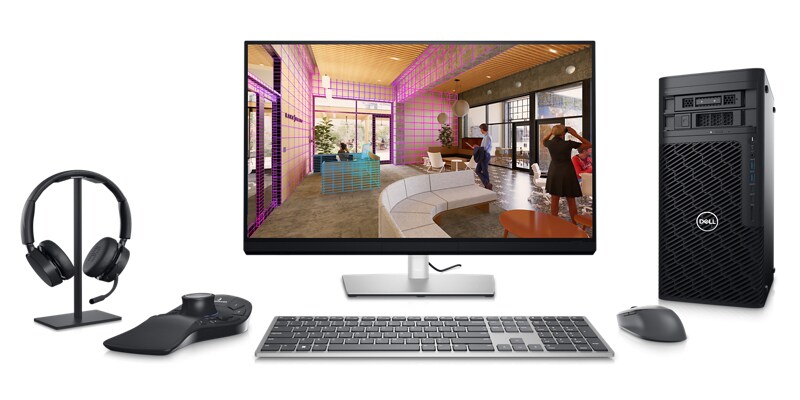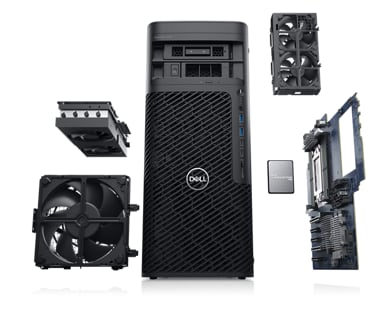 Designed with you in mind
Easier to transport:Power becomes portable with the carrying handles on the chassis.

Faster network speeds:Upload, download and stream faster with 1G and 10G native speeds.

Connect all your devices:With USB-A, USB-C.

Easy manageability:Features AMD Advanced Management with DASH.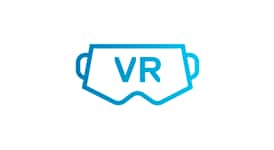 Virtual Reality
Create fully-immersive AR and VR content with next generation AMD Radeon PRO and NVIDIA RTX™ professional graphics, and powerful performance normally found only in tower workstations.
Independent Software Vendor (ISV) certification
Precision workstations are tested to ensure the high-performance applications you rely on every day run smoothly.
*
Learn More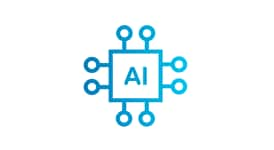 Artificial intelligence-ready Data Science Workstations
Intelligently designed for Data Scientists, the latest Precision Data Science Workstations utilize AI to empower users to get their most important work done faster by fine-tuning their devices for optimized performance of the applications they use most.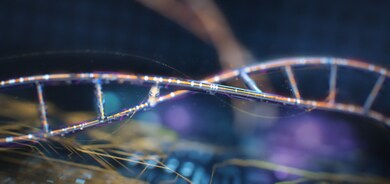 Dell Optimizer for Precision
Our built-in AI platform learns how you work and adapts to create a smarter, more personalized experience. We make it intelligent. You make it yours.

ExpressResponse: Seamlessly optimizes and improves app performance based on your usage, so every interaction feels second nature.

Analytics: Generates end-user reports and analyze your system for personalized insights

Learn More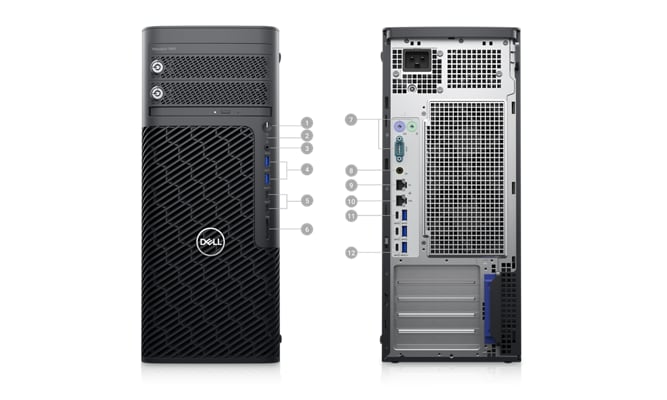 Connectivity options
Ports and Slots
Front:
1) Power switch with LED
2) HDD activity LED
3) Universal audio port
4) (2) USB 3.2 Gen1 (5Gb/s) Type-A
5) (2) USB 3.2 Gen2 (10Gb/s) Type-C (one with power share)
6) SD 6.0 card reader

Back:
7) Keyboard and Mouse PS/2 ports
8) Audio Line out
9) RJ45 (1Gb)
10) RJ45 (10Gb)
11) (3) USB 3.2 Gen 2 (10Gbs/s) Type-C
12) (3) USB 3.2 Gen 1 (5Gbs/s) Type-A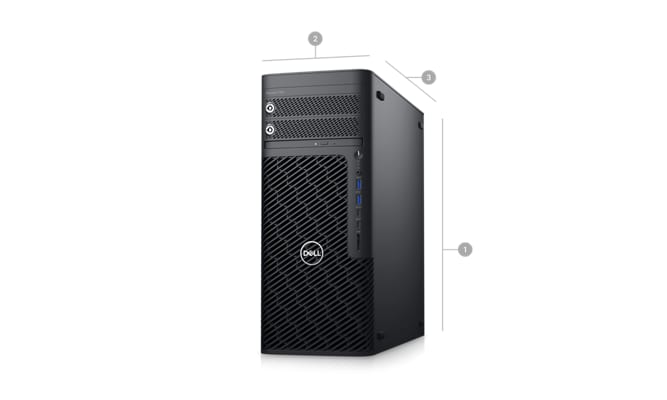 Dimensions and Weight
1) Height: 16.29" (414.00 mm)
2) Width: 6.79" (172.60 mm)
3) Depth: 16.90" (429.60 mm)
Accessories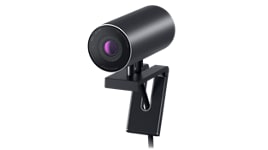 Dell UltraSharp Webcam - WB7022
Elevate your video conferencing experience on this powerful, intelligent 4K webcam that optimizes your visuals with a large 4K Sony STARVIS™ CMOS sensor and AI Auto-Framing.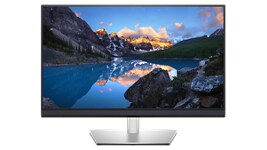 Dell UltraSharp 32 HDR PremierColor Monitor - UP3221Q
Create phenomenal 4K HDR content on the world's first professional monitor with 2K mini-LED direct backlit dimming zones.
*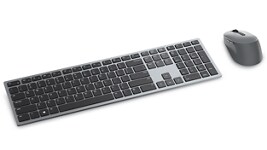 Dell Premier Multi-Device Wireless Keyboard and Mouse - KM7321W
Multi-task seamlessly across 3 devices with this premium full-size keyboard and sculpted mouse combo featuring programmable shortcuts and 36 months battery life.
*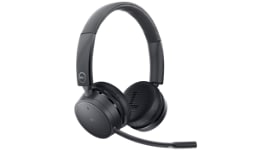 Dell Pro Wireless Headset - WL5022
Work from anywhere with this Bluetooth Teams certified headset that lets you switch seamlessly to your PC or smartphone and enjoy crystal clear audio on the go.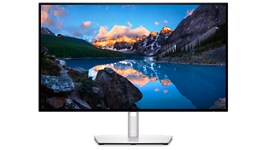 Dell UltraSharp 27 Monitor - U2722D
Take your work to new heights with this 27-inch QHD monitor featuring a wide color coverage, always-on built-in ComfortView Plus, and fast connectivity.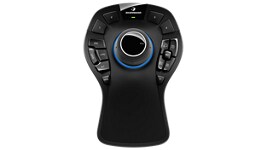 3Dconnexion SpaceMouse Pro USB Wireless 3D Mouse - 3DX-700075
SpaceMouse® Pro Wireless offers professional 3D navigation, advanced ergonomic design, reliable connectivity with a high performance Universal Receiver.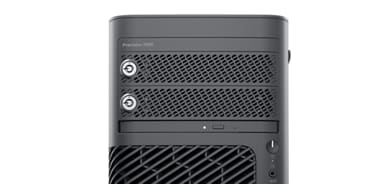 Green thinking: for today and tomorrow
EPEAT Registered: The entire portfolio of Precision workstations is EPEAT registered* and the majority meet the highest standards in sustainability criteria, making them EPEAT Gold.

Circular Economy/Takeback: Help us in our mission to make our products with at least 50% recycled or renewable content. Send your e-waste (any brand) to us for recycling or reuse in support of a circular economy. Learn more at Dell.com/Recycle.
We've got your business covered
ProDeploy Client Suite: Greater speed, less effort and more control.

ProSupport: 24x7 access to in-region advanced technology experts.

ProSupport Plus: All the capabilities of ProSupport with so much more.
Processor
AMD® Ryzen™ Threadripper™ PRO 5995WX, 256 MB cache, 64 cores, 128 threads, 2.70 GHz to 4.55 GHz, 280 W
AMD® Ryzen™ Threadripper™ PRO 5975WX, 128 MB cache, 32 cores, 64 threads, 3.60 GHz to 4.55 GHz, 280 W
AMD® Ryzen™ Threadripper™ PRO 5965WX, 128 MB cache, 24 cores, 48 threads, 3.80 GHz to 4.55 GHz, 280 W
AMD® Ryzen™ Threadripper™ PRO 5955WX, 64 MB cache, 16 cores, 32 threads, 4.00 GHz to 4.55 GHz, 280 W
AMD® Ryzen™ Threadripper™ PRO 5945WX, 64 MB cache, 12 cores, 24 threads, 4.10 GHz to 4.55 GHz, 280 W
Operating System (Dell recommends Windows 10 Pro for business.)
Windows 11 Pro, 64-bit
Windows 11 Pro Downgrade (Windows 10 Pro Image-factory installed)
Windows 10 CMIT Government Edition, 64-bit (China only)
Ubuntu® 20.04 LTS, 64-bit
Red Hat® Enterprise Linux® 8.6 (PRTS)
Video Card
NVIDIA:
NVIDIA® GeForce® RTX™ 3090, 24 GB GDDR6
NVIDIA® GeForce® RTX™ 3080, 10 GB GDDR6
NVIDIA® RTX™ A6000, 48 GB GDDR6
NVIDIA® RTX™ A5500, 24 GB GDDR6
NVIDIA® RTX™ A4500, 20 GB GDDR6
NVIDIA® RTX™ A4000, 16 GB GDDR6
NVIDIA® RTX™ A2000, 12 GB GDDR6
NVIDIA® T1000, 4 GB GDDR6
NVIDIA® T400, 2 GB GDDR6
NVIDIA® Quadro® GV100, 32 GB HBM2

AMD:
AMD Radeon™ RX 6900 XT, 16 GB GDDR6
AMD Radeon™ Pro W6800, 16 GB GDDR6
AMD Radeon™ Pro W6600, 8 GB GDDR6
AMD Radeon™ Pro W6400, 4 GB GDDR6v
8 GB, 1 x 8 GB, DDR4, 3200 MHz, ECC
16 GB, 1 x 16 GB, DDR4, 3200 MHz, ECC
16 GB, 2 x 8 GB, DDR4, 3200 MHz, ECC
32 GB, 4 x 8 GB, DDR4, 3200 MHz, ECC
32 GB, 2 x 16 GB, DDR4, 3200 MHz, ECC
64 GB, 8 x 8 GB, DDR4, 3200 MHz, ECC
64 GB, 4 x 16 GB, DDR4, 3200 MHz, ECC
64 GB, 2 x 32 GB, DDR4, 3200 MHz, ECC
128 GB, 1 x 128 GB, DDR4, 3200 MHz, ECC
128 GB, 4 x 32 GB, DDR4, 3200 MHz, ECC
128 GB, 8 x 16 GB, DDR4, 3200 MHz, ECC
128 GB, 2 x 64 GB, DDR4, 3200 MHz, ECC
256 GB, 8 x 32 GB, DDR4, 3200 MHz, ECC
256 GB, 4 x 64 GB, DDR4, 3200 MHz, ECC
256 GB, 2 x 128 GB, DDR4, 3200 MHz, ECC
512 GB, 8 x 64 GB, DDR4, 3200 MHz, ECC
512 GB, 4 x 128 GB, DDR4, 3200 MHz, ECC
1024 GB, 8 x 128 GB, DDR4, 3200 MHz, ECC

8 DIMM Slots: Up to 128 GB per slot
Maximum speed: 3200 MHz
Maximum capacity: 1 TB
Hard Drive
2.5-inch, 500 GB, 7200 RPM, SATA, HDD
3.5-inch, 1 TB, 7200 RPM, SATA, HDD
3.5-inch, 2 TB, 7200 RPM, SATA, Enterprise HDD
3.5-inch, 4 TB, 7200 RPM, SATA, Enterprise HDD
3.5-inch, 8 TB, 7200 RPM, SATA, Enterprise HDD
M.2 2230, 256 GB, PCIe NVMe Gen4 x4, SSD, Class 35
M.2 2280, 512 GB, PCIe NVMe Gen4 x4, SSD, Class 40
M.2 2280, 1 TB, PCIe NVMe Gen4 x4, SSD, Class 40
M.2 2280, 2 TB, PCIe NVMe Gen4 x4, SSD, Class 40
M.2 2280, 4 TB, PCIe NVMe Gen4 x4, SSD, Class 40
M.2 2280, 512 GB, PCIe NVMe Gen4 x4, SSD, Self-Encrypting, Opal 2.0, FIPS
M.2 2280, 1 TB, PCIe NVMe Gen4 x4, SSD, Self-Encrypting, Opal 2.0, FIPS
Microsoft Office
Microsoft Office Home and Business Commercial
Microsoft Office 2021 Professional Commercial
Dell Optimizer for Precision
Security Software
McAfee® Small Business Security 30-day free trial
McAfee® Small Business Security 12-month subscription
McAfee® Small Business Security 36-month subscription
Dell Encryption Personal
Dell Encryption Enterprise
Support Services
3-year Basic warranty with hardware service with on-site/in-home service after remote diagnosis
4-year Basic warranty with hardware service with on-site/in-home service after remote diagnosis
5-year Basic warranty with hardware service with on-site/in-home service after remote diagnosis
3-year ProSupport with Next Business Day on-site service
4-year ProSupport with Next Business Day on-site service
5-year ProSupport with Next Business Day on-site service
3-year ProSupport Plus for Client with Next Business Day on-site service
4-year ProSupport Plus for Client with Next Business Day on-site service
5-year ProSupport Plus for Client with Next Business Day on-site service
Accidental Damage Service
3-year Accidental Damage Service
4-year Accidental Damage Service
5-year Accidental Damage Service
Ports
Front:
2 USB 3.2 Gen 1 ports
1 USB 3.2 Gen 2 Type-C port with PowerShare
1 USB 3.2 Gen 2 Type-C port
1 Universal audio port
1 SD-card slot

Rear:
3 USB 3.2 Gen 2 Type-C ports
2 USB 3.2 Gen 1 ports
1 USB 3.2 Gen 1 port with Smart Power On
1 RJ45 Ethernet port, 1 GbE
1 RJ45 Ethernet port, 10 GbE
1 Line-out port
1 Serial port (optional)
2 PS2 ports (optional)
Optical Drive
8x DVD-ROM 9.5mm optical drive
8x DVD+/-RW 9.5mm optical drive
16x DVD+/-RW half-height optical drive
Slots
2 full-height Gen4 PCIe x16 slot
3 full-height Gen4 PCIe x8 slot
2 M.2 2230/2280 slots for PCIe NVMe Gen4 SSD
2 SATA slots for 2.5/3.5-inch HDD/ODD
2 Externally facing storage flexbays
Dimensions & Weight
Height: 16.29 in. (414.00 mm) / 16.45 in. (417.90 mm) with rubber foot protruding
Width: 6.79 in. (172.60 mm) / 6.94 in. (176.50 mm) with rubber foot protruding
Depth: 16.90 in. (429.60 mm) / 17.79 in. (452.10 mm) with lock structure protruding

Weight:
Maximum: 21.90 kg* (48.28 lbs.)
Minimum: 16.10 kg* (35.5 lbs.)
Chassis
Full-size (i.e. medium-size) tower
Qualcomm® WCN6856-DBS, 2x2 MIMO, 3571 Mbps, 2.4 GHz/5 GHz/6 GHz, Wi-Fi 6E (Wi-Fi 802.11ax), Bluetooth 5.2
Power
1350 W Platinum internal power supply unit