Achieve your daily to-dos
Find everyday success with this 14-inch laptop. Features a 3-sided narrow border, Dell ComfortView and up to AMD Ryzen™ 5000 series processors.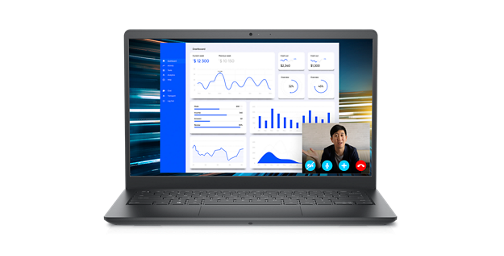 Find everyday success with this 14-inch laptop. Features a 3-sided narrow border, Dell ComfortView and up to AMD Ryzen™ 5000 series processors.
Vostro
Operating system
Available with Windows 11.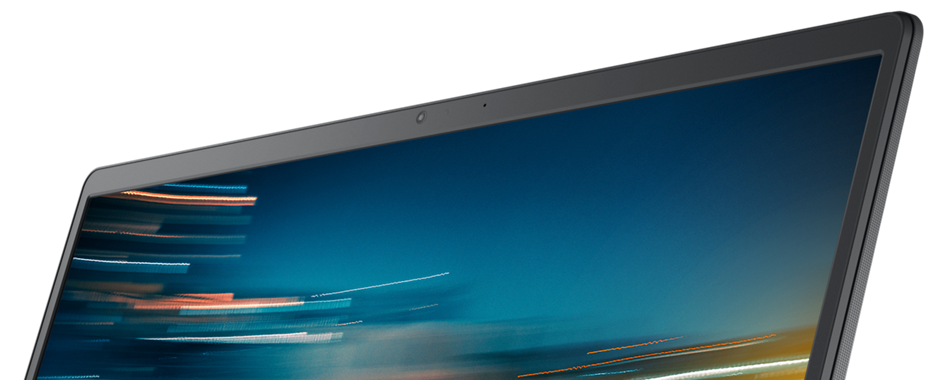 Daily productivity
This TÜV Rheinland certified
*
laptop with Dell ComfortView software technology helps reduce harmful blue light emissions to optimize eye comfort over extended screen time. And, a spill resistant, full-size keyboard with large touchpad puts your mind at ease while you work away. If you want to dial up your viewing experience, an optional FHD display panel offers more brightness and vivid color.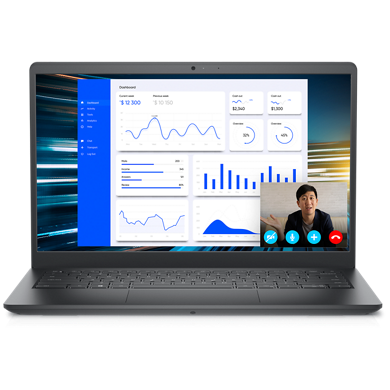 All the power you need
Work days feel like a breeze with up to AMD Ryzen™ 5000 Series Processors

. Plus, SSD storage delivers fast and smooth performance. Looking for a graphics boost? Optional NVIDIA® GeForce® MX550 with 2GB GDDR6 discrete graphics are available. And with up to an 80% charge in one hour using ExpressCharge*, you know you can rely on your device to power through the day.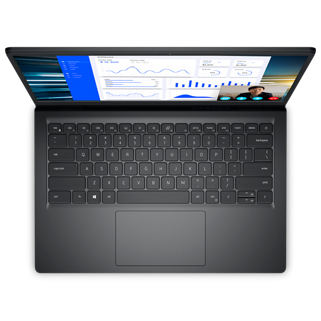 Stay secure
The 

Trusted Platform Module 2.0* 

is a commercial

-

grade security chip installed on the

motherboard that creates and stores passwords and encryption keys. It verifies that the

computer has not been tampered with before booting up and protects your data against

external software attacks.



Meanwhile, the optional fingerprint reader with Windows Hello allows you to easily and

securely log in with just one touch. For added protection, a wedge

-

shaped lock slot provides

an extra layer of security.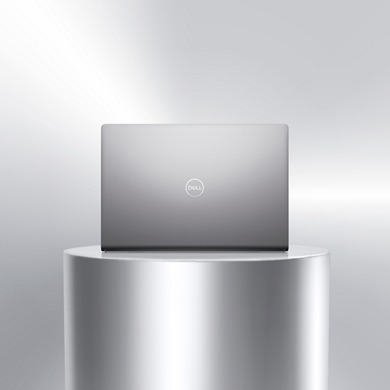 Upgrade your experience
The upgraded aluminum chassis option offers an array of features in a sleek design. Look your best with the new FHD webcam equipped with Wide Dynamic Range and Temporal Noise Reduction with built in dual mic.

For a little peace of mind, a mechanical shutter on the camera protects your privacy, and the aluminum chassis passed 15 MIL-810H* certification tests to help ensure it can withstand the wear and tear of the workday.​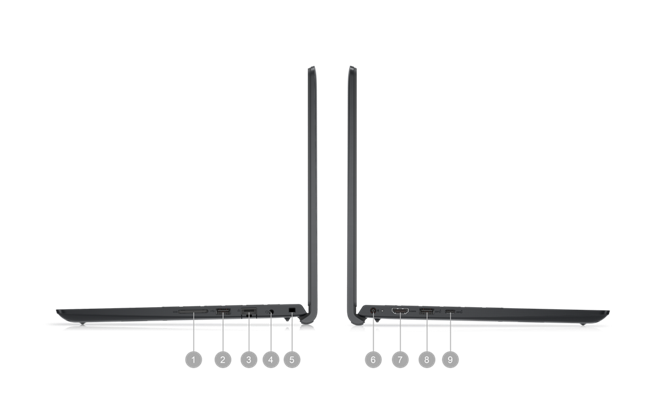 Ports & Slots
6. 
Power jack
7. HDMI 1.4**
8. USB 3.2 Gen 1
9. USB 3.2 Gen 1 Type-C

**HDMI 1.4 (Maximum resolution supported over HDMI is 1920x1080 @60Hz. No 4K/2K output)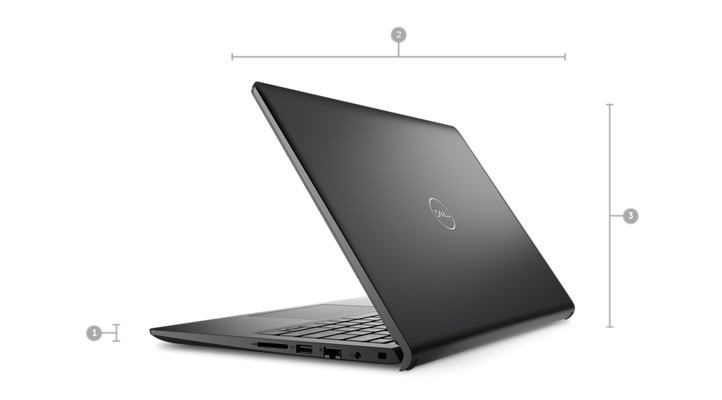 Dimensions & Weight
Plastic Chassis:
1.
Height: 18.62 mm
–
23.02mm (0.73"
–
0.91")
2. Width: 323.67 mm (12.74")
3. Depth: 220.26 mm (8.67")
4.
Starting weight: 3.27 lb (1.48 kg)
*
Accessories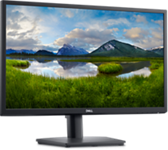 Dell 24 Monitor | E2422HS
Enhance your daily workflow with this space saving 23.8" FHD monitor that comes with a wide viewing angle, height adjustable stand and built-in speakers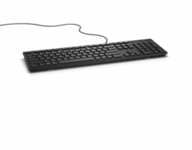 Dell Multimedia Keyboard | KB216
Compact, full size wired keyboard come with quiet keys with multimedia shortcuts and is spill resistant.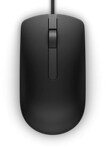 Dell Optical Mouse | MS116
Features optical LED tracking and wired connectivity providing a stellar performance day after day.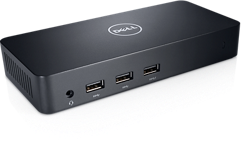 Dell Docking Station | USB 3.0 (D3100)
The Dell D3100 Dock connects your laptop to up to three additional monitors, various external devices and the Internet with a single USB 3.0 connection.
Dell Pro Wired Headset | WH3022
Experience exceptional audio clarity with this Teams certified wired headset that allows you to wear the microphone on either side for a customized fit.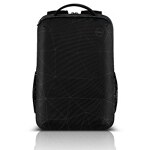 Dell Essential Backpack 15 | ES1520P
A bright, reflective graphic on the front panel of the Dell Essential Backpack 15 helps increase visibility during low light commute hours and provides quality protection for your laptop.
We've got your business covered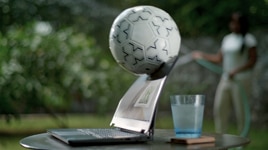 Accidental Damage Service
Accidents happen. Protect your PC from drops, spills and other disasters. Accidental Damage
*
offers you efficient repair or replacement service that reduces worry and gets you back to doing what you love, fast.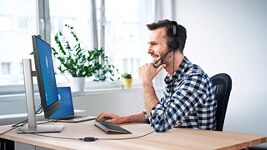 ProSupport
Get 24x7 proactive, automated support and onsite service when you need it with Dell ProSupport. Let our team give you back valuable time so you can take care of business.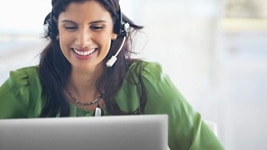 ProSupport Plus
Get anytime priority access to expert support with AI-driven predictive analytics and Accidental Damage Service to protect against drops, spills, surges and more.
Processor
AMD® Ryzen3™ 5300U (2 MB cache, 4 core, 8 threads, 2.60 GHz to 3.85 GHz, 15 W) (post RTS)
AMD® Ryzen3™ 5425U (10 MB cache, 4 core, 8 threads, 2.70 GHz to 4.10 GHz, 15 W)
AMD® Ryzen5™ 5500U (3 MB cache, 6 core, 12 threads, 2.10 GHz to 4 GHz, 15 W) (post RTS)
AMD® Ryzen5™ 5625U (19 MB cache, 6 core, 12 threads, 2.30 GHz to 4.30 GHz, 15 W)
AMD® Ryzen7™ 5825U (20 MB cache, 8 core, 16 threads, 2 GHz to 4.50 GHz, 15 W)
Operating System (Dell recommends Windows 10 Pro for business.)
Windows 11 Home, 64-bit
Windows 11 Pro, 64-bit
Windows 11 Pro National Academic, 64-bit
Ubuntu® 20.04 LTS, 64-bit
Video Card
AMD® Radeon™ Graphics
NVIDIA® GeForce® MX550 (Optional)
Display
14.0-inch, FHD 1920 x 1080, IPS, AG, Bent, glossy, non-touch, 45% NTSC, 250 nits
14.0-inch, HD 1366 x 768, TN, AG, Bent, 60 Hz, glossy, non-touch, 45% NTSC, 220 nits
4 GB, 1 x 4 GB, DDR4, 3200 MHz
8 GB, 1 x 8 GB, DDR4, 3200 MHz
8 GB, 2 x 4 GB, DDR4, 3200 MHz
12 GB, 1 x 4 GB + 1 x 8 GB, DDR4, 3200 MHz
16 GB, 1 x 16 GB, DDR4, 3200 MHz
16 GB, 2 x 8 GB, DDR4, 3200 MHz
Hard Drive
512 GB, M.2 2280, PCIe NVMe Gen4x4, SSD
1 TB, M.2 2280, PCIe NVMe Gen4x4, SSD
2 TB, M.2 2280, PCIe NVMe Gen4x4, SSD
256 GB, M.2 2230, PCIe NVMe Gen4x4, SSD
512 GB, M.2 2230, PCIe NVMe Gen4x4, SSD
1 TB, M.2 2230, PCIe NVMe Gen4x4, SSD
128 GB, M.2 2230, PCIe NVMe Gen3 x4, SSD
256 GB, M.2 2230, PCIe NVMe Gen3 x4, SSD
512 GB, M.2 2230, PCIe NVMe Gen3 x4, SSD
1 TB, M.2 2230, PCIe NVMe Gen3 x4, SSD
512 GB, M.2 2280, PCIe NVMe Gen3x4, QLC SSD
1 TB, M.2 2280, PCIe NVMe Gen3x4, QLC SSD
Color
Plastic:
Carbon Black
Titan Grey

Aluminum:
Titan Grey
Microsoft Office
Microsoft Office 30 Day Trial
Microsoft Office Home and Business 2019
Microsoft Office Professional 2019
Dell Hybrid Client 1.5 (optional)
Dell Optimizer
Security Software
McAfee® Small Business Security 30 Day Free Trial
McAfee® Small Business Security 12-month subscription
McAfee® Small Business Security 36 month Subscription
Support of Absolute Persistent Module BIOS agent v2
OpenXT validation required
SafeGuard and Response, powered by VMware Carbon Black and Secureworks
Next Generation Antivirus (NGAV)
Endpoint Detection and Response (EDR)
Threat Detection and Response (TDR)
Managed Endpoint Detection and Response
Incident Management Retainer
Emergency Incident Response
SafeData
Support Services
1-year hardware warranty with mail-in service after remote diagnosis
2-year hardware warranty with mail-in service after remote diagnosis
3-year hardware warranty with mail-in service after remote diagnosis
4-year hardware warranty with mail-in service after remote diagnosis
1 year hardware warranty with on-site/in-home service after remote diagnosis
2-year hardware warranty with on-site/in-home service after remote diagnosis
3-year hardware warranty with on-site/in-home service after remote diagnosis
4-year hardware warranty with on-site/in-home service after remote diagnosis
1-year ProSupport with Next Business Day on-site service
2-year ProSupport with Next Business Day on-site service
3-year ProSupport with Next Business Day on-site service
4-year ProSupport with Next Business Day on-site service
1-year ProSupport Plus with Next Business Day on-site service
2-year ProSupport Plus with Next Business Day on-site service
3-year ProSupport Plus with Next Business Day on-site service
4-year ProSupport Plus with Next Business Day on-site service
Accidental Damage Service
1 year Accidental Damage Service
2 years Accidental Damage Service
3 years Accidental Damage Service
4 years Accidental Damage Service
Keyboard
Carbon, Arabic, non-backlit keyboard with 10-key numeric keypad
Carbon, Belgian, non-backlit keyboard with 10-key numeric keypad
Carbon, Bulgarian, non-backlit keyboard with 10-key numeric keypad
Carbon, Canada Bilingual MUI, non-backlit keyboard with 10-key numeric keypad
Carbon, Czech & Slovakian (MUI), non-backlit keyboard with 10-key numeric keypad
Carbon, English International, non-backlit keyboard with 10-key numeric keypad
Carbon, English UK, non-backlit keyboard with 10-key numeric keypad
Carbon, English US, non-backlit keyboard with 10-key numeric keypad
Carbon, French European, non-backlit keyboard with 10-key numeric keypad
Carbon, German, non-backlit keyboard with 10-key numeric keypad
Carbon, Greek, non-backlit keyboard with 10-key numeric keypad
Carbon, Hebrew, non-backlit keyboard with 10-key numeric keypad
Carbon, Hungarian, non-backlit keyboard with 10-key numeric keypad
Carbon, Italian, non-backlit keyboard with 10-key numeric keypad
Carbon, Japanese, non-backlit keyboard with 10-key numeric keypad
Carbon, Korean, non-backlit keyboard with 10-key numeric keypad
Carbon, Nordic MUI, non-backlit keyboard with 10-key numeric keypad
Carbon, Portuguese Brazil, non-backlit keyboard with 10-key numeric keypad
Carbon, Russian, non-backlit keyboard with 10-key numeric keypad
Carbon, Slovenian, non-backlit keyboard with 10-key numeric keypad
Carbon, Spanish Castillian, non-backlit keyboard with 10-key numeric keypad
Carbon, Spanish Latin America, non-backlit keyboard with 10-key numeric keypad
Carbon, Swiss European MUI, non-backlit keyboard with 10-key numeric keypad
Carbon, Thai, non-backlit keyboard with 10-key numeric keypad
Carbon, Turkish, non-backlit keyboard with 10-key numeric keypad
Carbon, Ukrainian, non-backlit keyboard with 10-key numeric keypad
Carbon, Arabic, backlit keyboard with 10-key numeric keypad
Carbon, Canada Bilingual MUI, backlit keyboard with 10-key numeric keypad
Carbon, Czech & Slovakian (MUI), backlit keyboard with 10-key numeric keypad
Carbon, English International, backlit keyboard with 10-key numeric keypad
Carbon, English UK, backlit keyboard with 10-key numeric keypad
Carbon, English US, backlit keyboard with 10-key numeric keypad
Carbon, French European, backlit keyboard with 10-key numeric keypad
Carbon, German, backlit keyboard with 10-key numeric keypad
Carbon, Japanese, backlit keyboard with 10-key numeric keypad
Carbon, Korean, backlit keyboard with 10-key numeric keypad
Carbon, Portuguese Brazil, backlit keyboard with 10-key numeric keypad
Carbon, Russian, backlit keyboard with 10-key numeric keypad
Carbon, Swiss European MUI, backlit keyboard with 10-key numeric keypad
Carbon, Thai, backlit keyboard with 10-key numeric keypad
Ports
1 USB 3.2 Gen 1 Type-C® port
1 USB 3.2 Gen 1 port
1 USB 2.0 Type-A port
1 headset (headphone and microphone combo) port
1 HDMI 1.4 port
HDMI 1.4 (Maximum resolution supported over HDMI is 1920x1080 @60Hz. No 4K/2K output)
1 RJ45 Ethernet port (flip-down)
1 4.5 mm x 2.9 mm DC-in port
Note: Maximum resolution supported over HDMI port is 1920x1200 @60 Hz
Slots
1 SD Card reader
1 Wedge-shaped lock slot
1 Power jack
Camera
Carbon Black/ Titan Grey (Plastic) : 720p at 30 fps HD RGB caamera single-integrated microphone
Titan Grey (Aluminium): 1080p at 30 fps FHD RGB camera Dual-array microphones
Audio and Speakers
Stereo speakers with Dialog, 2 W x 2 = 4 W total
Wireless
Realtek RTL8821CE, 1 x 1 MIMO, up to 433 Mbps, 2.40 Ghz/ 5 GHz, Wi-Fi 5 (WiFi 802.11a/b/g/n/ac ), Bluetooth® 5.0
MediaTek MT7921, 2 x 2 MIMO, up to 1200 Mbps, 2.40 Ghz/ 5 GHz, Wi-Fi 6 (WiFi 802.11ax), Bluetooth® 5.2
Primary Battery
4-cell, 54 Whr, "smart" lithium-ion
3-cell, 41 Whr, "smart" lithium-ion