More screen. More productivity.
Get more done on this new 16" laptop. Features the latest 12th Gen Intel® Core™ processors and more screen space with a 16:10 aspect ratio display.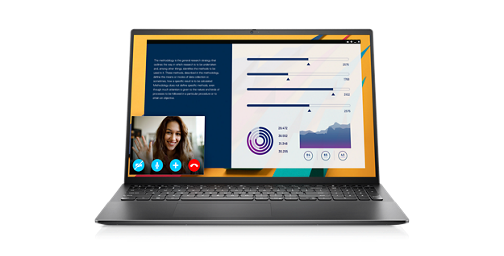 Vostro 5620 16 Inch Laptop (Intel)
Get more done on this new 16" laptop. Features the latest 12th Gen Intel® Core™ processors and more screen space with a 16:10 aspect ratio display.
Vostro
Operating System
Available with Windows 11 or Windows 10.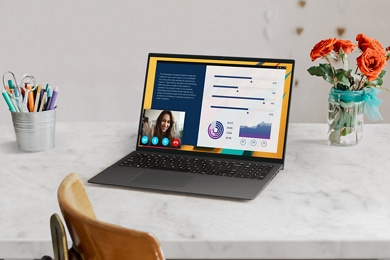 Big screen. Little worry.
A 16:10 aspect ratio in a 16-inch form factor means even more screen space for reviewing spreadsheets, purchase orders and perfecting presentations, all in a slim, lightweight design.

Mistakes happen. That's why this full size keyboard is spill resistant. And, this laptop passed 15 military certification tests (MIL-810H)* to help ensure it can handle the day-to-day wear and tear.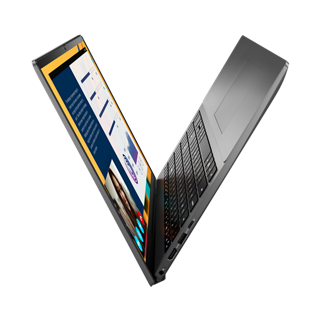 Better performance. More productivity.
Thanks to 12th Gen Intel® Core™ Processors, this laptop runs at peak performance to get you through the day.

With dual heat pipes your device stays nice, cool and performing at its best. Meanwhile, adaptive thermals optimize power according to your device's location, whether it's on a stable surface like a desk or an unstable surface like your lap. Using advanced algorithms and accelerometers, your device intelligently adapts its power and thermal profiles to the situation to keep your device running smoothly.

Stay focused with DC Dimming, which reduces flicker for a comfortable viewing experience. Plus, this laptop with TÜV Rheinland certified* Dell ComfortView software technology helps reduce harmful blue light emissions to optimize eye comfort over extended screen time.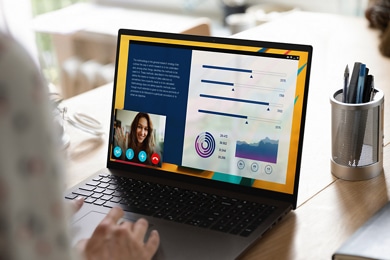 Conference with clarity
Impressions matter. Sound as clear as a phone call with built in dual mic and AI that reduces background noise. When you're on camera, the new FHD webcam equipped with Wide Dynamic Range and Temporal Noise Reduction helps you look your best.

Don't miss a moment from the meeting. Waves Maxx Audio tuned speakers and microphones optimize audio so you can hear and be heard with clarity, while Smartbyte prioritizes video traffic for a smoother conferencing experience.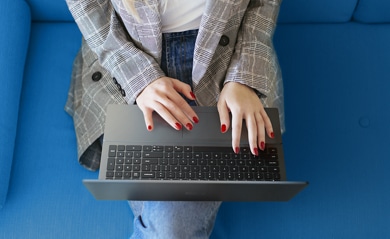 Stay secure
The Trusted Platform Module 2.0 is a commercial-grade security chip installed on the motherboard that creates and stores passwords and encryption keys. It verifies that the computer has not been tampered with before booting up and protects your data against external software attacks.

Get added peace-of-mind with the fingerprint reader that allows you to securely log in with a touch, while a mechanical shutter on the camera protects your privacy and prevents accidental embarrassments.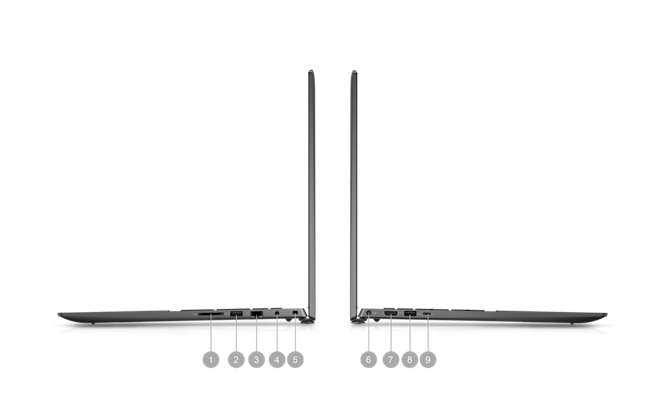 Ports & Slots
6. Power jack
7. HDMI 1.4**
8. USB 3.2 Gen 1 Type A
9. USB 3.2 Gen 2 Type-C™ (DP/PowerDelivery)

**HDMI 1.4 (Maximum resolution supported over HDMI is 1920x1080 @60Hz. No 4K/2K output)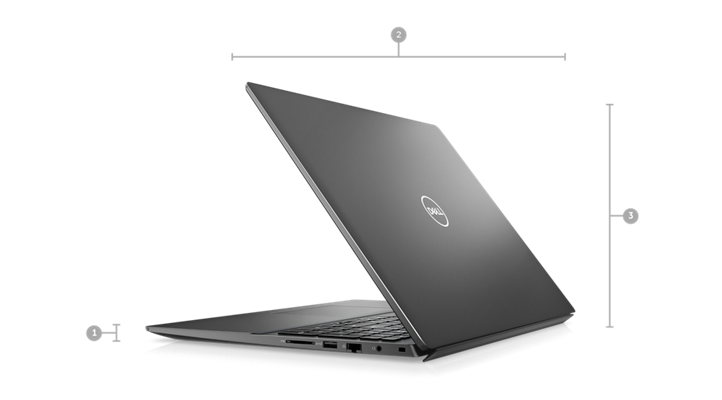 Dimensions & Weight
1. Height: 0.62" – 0.72" (15.67mm – 18.30mm)
2. Width: 14.05" (356.78mm)
3. Depth: 9.92" (251.9mm)
Accessories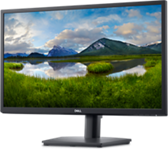 Dell 24 Monitor | E2422HS
Enhance your daily workflow with this space saving 23.8" FHD monitor that comes with a wide viewing angle, height adjustable stand and built-in speakers.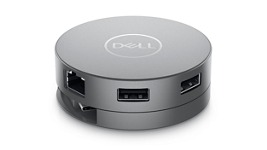 Dell USB-C Mobile Adapter | DA310
Small and portable 7-in-1 USB-C mobile adapter provides superb video and data connectivity and supports up to 90W power pass-through.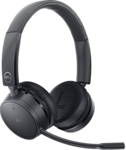 Dell Pro Wireless Headset | WL5022
Enjoy wireless freedom away from your PC with this Teams certified headset that offers convenient call controls. Switch seamlessly to your smartphone and enjoy crystal clear audio on the go.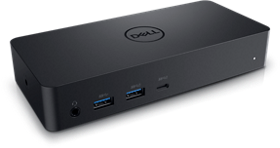 Dell Pro Hybrid Briefcase Backpack 15 | PO1521HB
Earth-friendly, and with EVA foam cushioning built around the laptop vault keep your computing devices protected in case of impact. 3-way carry options that easily convert to backpack, shoulder bag and briefcase and comes with a luggage pass-through that lets you stack and roll through airports and travel with ease.
We've got your business covered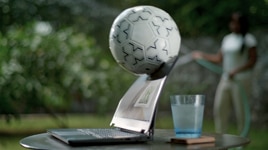 Accidental Damage Service
Accidents happen. Protect your PC from drops, spills and other disasters. Accidental Damage* offers you efficient repair or replacement service that reduces worry and gets you back to doing what you love, fast.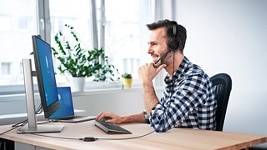 ProSupport
Get 24x7 proactive, automated support and onsite service when you need it with Dell ProSupport. Let our team give you back valuable time so you can take care of business.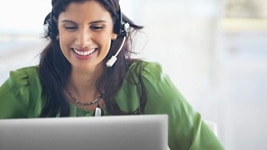 ProSupport Plus
Get anytime priority access to expert support with AI-driven predictive analytics and Accidental Damage Service to protect against drops, spills, surges and more.
Processor
12th Generation Intel® Core™ i3-1215U Processor (10 MB Cache, up to 4.4 GHz)
12th Generation Intel® Core™ i5-1235U Processor (12 MB Cache, up to 4.4 GHz)
12th Generation Intel® Core™ i5-1240P Processor (12 MB Cache, up to 4.4 GHz)
12th Generation Intel® Core™ i7-1255U Processor (12 MB Cache, up to 4.7 GHz)
12th Generation Intel® Core™ i7-1260P Processor (18 MB Cache, up to 4.7 GHz)
Operating System (Dell recommends Windows 10 Pro for business.)
Windows 11 Pro, 64-bit
Windows 11 Pro National Education, 64-bit
Windows 11 Home, 64-bit
Windows 11 Home in S-mode, 64-bit
Video Card
Discrete:
NVIDIA® GeForce® MX570, 2 GB GDDR6
NVIDIA® GeForce® MX450, 2 GB GDDR4

Integrated:
Intel® UHD Graphics
Intel® Iris® Xe Graphics
Display
16-inch, FHD+ 1920 x 1200, 60 Hz, anti-glare, non-touch, 45% NTSC, 250 nits, wide-viewing angle, ComfortView
16-inch, FHD+ 1920 x 1200, 60 Hz, anti-glare, non-touch, 100% sRGB, 300 nits, wide-viewing angle, ComfortView Plus
16-inch, 3K 3072 x 1920, 60 Hz, anti-glare, non-touch, 100% sRGB, 300 nits, wide-viewing angle, ComfortView Plus
4 GB, 1 x 4 GB, DDR4, 3200 MHz
8 GB, 2 x 4 GB, DDR4, 3200 MHz, dual-channel
8 GB, 1 x 8 GB, DDR4, 3200 MHz
12 GB, 1 x 4 GB + 1 x 8 GB, DDR4, 3200 MHz
16 GB, 2 x 8 GB, DDR4, 3200 MHz, dual-channel
16 GB, 1 x 16 GB, DDR4, 3200 MHz
24 GB, 1 x 16 GB + 1 x 8 GB, DDR4, 3200 MHz
32 GB, 2 x 16 GB, DDR4, 3200 MHz, dual-channel
Hard Drive
M.2 2280, 512 GB, PCIe NVMe Gen4 x4, SSD, Class 40
M.2 2280, 1 TB, PCIe NVMe Gen4 x4, SSD, Class 40
M.2 2280, 2 TB, PCIe NVMe Gen4 x4, SSD, Class 40
M.2 2230, 256 GB, PCIe NVMe Gen4 x4, SSD, Class 35
M.2 2230, 512 GB, PCIe NVMe Gen4 x4, SSD, Class 35
M.2 2230, 1 TB, PCIe NVMe Gen4 x4, SSD, Class 35
M.2 2230, 256 GB, PCIe NVMe Gen3 x4, SSD, Class 35
M.2 2230, 512 GB, PCIe NVMe Gen3 x4, SSD, Class 35
M.2 2230, 1 TB, PCIe NVMe Gen3 x4, SSD, Class 35
M.2 2280, 512 GB, PCIe NVMe Gen3 x4 QLC, SSD
M.2 2280, 1 TB, PCIe NVMe Gen3 x4 QLC, SSD
Microsoft Office
Microsoft Office
Microsoft Office (Japan)
Microsoft Office Home Business Premium (Japan)
Microsoft Office Personal Premium (Japan)
Microsoft Office Pro Premium (Japan)
Foxit® PhantomPDF™ 30-Day Trial
Foxit® PhantomPDF™ Business
Foxit® PhantomPDF™ Standard
Support Services
1-year Basic Warranty
2-year Basic Warranty
3-year Basic Warranty
4-year Basic Warranty
1-year ProSupport with Next Business Day Onsite Service
2-year ProSupport with Next Business Day Onsite Service
3-year ProSupport with Next Business Day Onsite Service
4-year ProSupport with Next Business Day Onsite Service
1-year ProSupport for Software
2-year ProSupport for Software
3-year ProSupport for Software
4-year ProSupport for Software
1-year ProSupport Flex for Client
2-year ProSupport Flex for Client
3-year ProSupport Flex for Client
4-year ProSupport Flex for Client
1-year ProSupport Channel Extended SKU's (Add 3 months)
2-year ProSupport Channel Extended SKU's (Add 3 months)
3-year ProSupport Channel Extended SKU's (Add 3 months)
4-year ProSupport Channel Extended SKU's (Add 3 months)
1-year ProSupport Plus for Client
2-year ProSupport Plus for Client
3-year ProSupport Plus for Client
4-year ProSupport Plus for Client
1-year Extended Battery Services (EBS) - FRU Batteries Only
2-year Extended Battery Services (EBS) - FRU Batteries Only
3-year Extended Battery Services (EBS) - FRU Batteries Only
4-year Extended Battery Services (EBS) - FRU Batteries Only
1-year Complete Care Service
2-year Complete Care Service
3-year Complete Care Service
4-year Complete Care Service
1-year Keep Your Hard Drive
2-year Keep Your Hard Drive
3-year Keep Your Hard Drive
4-year Keep Your Hard Drive
Keyboard
Carbon, Arabic, non-backlit keyboard
Carbon, Canada Bilingual MUI, non-backlit keyboard
Carbon, English International, non-backlit keyboard
Carbon, Japanese, non-backlit keyboard
Carbon, Korean, non-backlit keyboard
Carbon, Arabic, backlit keyboard
Carbon, Belgian, backlit keyboard
Carbon, Bulgarian, backlit keyboard
Carbon, Canada Bilingual MUI, backlit keyboard
Carbon, Chinese-T, backlit keyboard
Carbon, Czech and Slovakian MUI, backlit keyboard
Carbon, English International, backlit keyboard
Carbon, English UK, backlit keyboard
Carbon, English US, backlit keyboard
Carbon, French European, backlit keyboard
Carbon, German, backlit keyboard
Carbon, Greek, backlit keyboard
Carbon, Hebrew, backlit keyboard
Carbon, Hungarian, backlit keyboard
Carbon, Italian, backlit keyboard
Carbon, Japanese, backlit keyboard
Carbon, Korean, backlit keyboard
Carbon, Nordic MUI, backlit keyboard
Carbon, Portuguese Iberian, backlit keyboard
Carbon, Russian, backlit keyboard
Carbon, Slovenian, backlit keyboard
Carbon, Spanish Castillian, backlit keyboard
Carbon, Swiss European MUI, backlit keyboard
Carbon, Turkish, backlit keyboard
Carbon, Ukrainian, backlit keyboard
Ports
2 USB 3.2 Gen 1 ports
1 USB 3.2 Gen 2x2 Type-C® port with DisplayPort® and Power Delivery
1 Headset jack
1 HDMI 1.4 port
HDMI 1.4 (Maximum resolution supported over HDMI is 1920x1080 @60Hz. No 4K/2K output)
1 power-adapter port
1 RJ45 Ethernet port
Slots
1 SD-card slot
1 wedge-shaped lock slot
Dimensions & Weight
Height (rear): 0.71 in. (17.95 mm)
Height (peak): 0.72 in. (18.30 mm)
Height (front): 0.62 in. (15.67 mm)

Width: 14.05 in. (356.78 mm)
Depth: 9.92 in. (251.90 mm)
Weight (minimum): 4.21 lb (1.91 kg)
Camera
1080p at 30 fps FHD camera
Dual-array microphones
Audio and Speakers
Stereo speakers with Waves MaxxAudio® Pro, 2 W x 2
Chassis
Exterior Chassis Materials
Aluminium exterior shell

Color options:
Titan Gray

Touchpad
Titan Gray: Precision mylar-touchpad
Wireless
Realtek RTL8822CE, 2x2, MIMO, 2.40 GHz/5 GHz, Wi-Fi 5 (WiFi 802.11ac), Bluetooth 5.0
Intel AX201, 2x2, MIMO, 2.40 GHz/5 GHz, Wi-Fi 6 (WiFi 802.11ax), Bluetooth 5.2
Intel AX211, 2x2, MIMO, 2.40 GHz/5 GHz/6 GHz, Wi-Fi 6E (WiFi 802.11ax), Bluetooth 5.2
Primary Battery
4-cell, 54 Wh polymer
4-cell, 64 Wh polymer