Conquer. Expand. Dominate.
State-of-the-art graphics, superior gaming performance with Intel® Core™ i processors with 8 Virtual cores
هذا المنتج غير متوفر حاليًا. يرجى الاطلاع على توصيتنا بشأن أحد الأنظمة المماثلة أدناه.
Alienware Aurora R3 Desktop
Alienware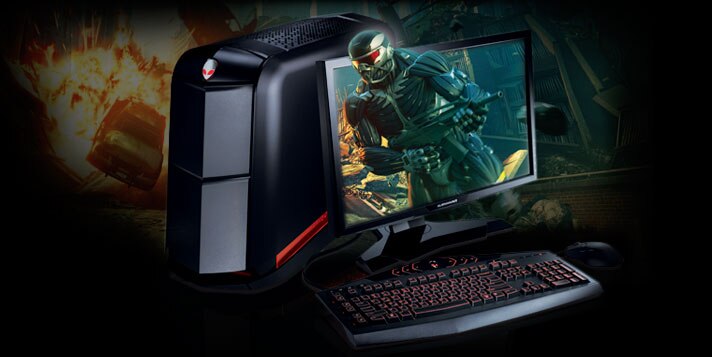 Bring your games to life
Experience superior gaming performance with the ultra-powerful Alienware® Aurora™ .
Intel Core i processors with 8 Virtual Cores and factory-overclocked* Turbo Boost 2.0 technology
Increase your performance (and your bragging rights) with the optional Intel
®
Core™ i7 2600K processor, unlocked and overclocked
*
to 4.1GHz.
High performance liquid-cooled CPU
Alienware's high performance CPU liquid cooling delivers up to 3 metric tons of liquid per minute for every square meter of CPU die!
Dominate with Dual-Graphics Options
Run this space-saving desktop with the latest dual-graphics technologies, and your enemies won't know what hit them. AMD™ CrossFireX™ and NVIDIA
®
SLI™ graphics options deliver high frame rates at HD resolutions while maxing out game settings.
Ultra performance and memory options
With options up to 16GB of memory
*
, advanced content creation is a breeze. Or select up to 8GB of 1866MHz memory
*
for lightning-fast data transfer and intense multitasking.
Optional hard drives featuring SATA 6GBs performance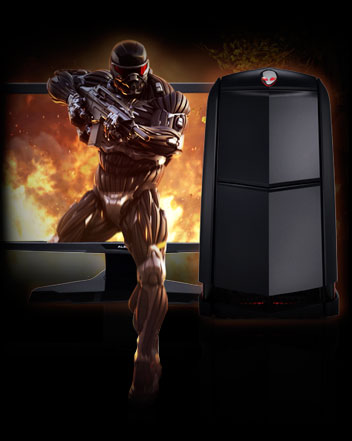 Immersive gaming
State-of-the-art graphics and optional 3D technology combine to create an immersive experience that puts you in the game.

High performance graphics options intended for hardcore HD gaming experiences exceeding 1080p resolutions on a single display and in 3D.

Lock and load an optional dual-card configuration and your visual experience can be tripled with up to three HD displays, increasing your field of view and putting you "in the middle of" the virtual world.

Features 7.1 THX-certified sound, which enables you to feel fully immersed in the battle. Sound so realistic that you might hear the enemy before you see them.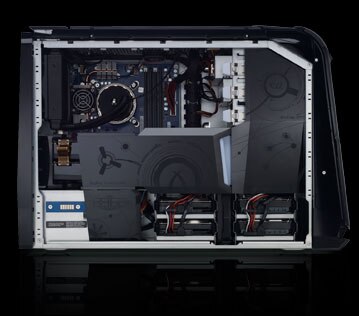 The most upgradable microATX Alienware desktop ever!
Alienware Aurora desktops keep you in the game with key chassis features

Intelligent component layout and cable management system

The layout of the motherboard, power supply, hard drives and optical drives, along with the placement of the system fans, encourage easy user upgrades and optimised airflow for high performance.

Easy upgrades — Look inside the Alienware Aurora and you'll see why it's easy to make this desktop your own. You can access many of the core components without any tools for fast upgrades and hassle-free service. (Or you can just show them off.)

Front panel access — Simply press down on the first louver to connect USB and front audio cables, without needing to reach to the back of the chassis. The ports are articulated to reduce front-door snag when cables are connected, so you can avoid unwanted tangling and costly mishaps.

Rear entry — Use the chassis's last louver, which is toward the rear of the system, as the handle for opening the case for upgrades and service. The rear of the chassis also includes lighting for added convenience when adding or removing cables.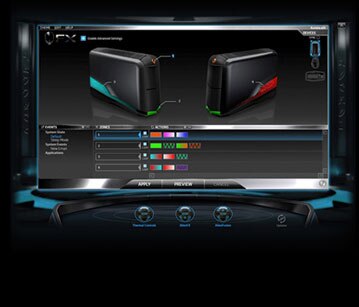 Your command center
Alienware® Command Center provides intuitive, user-friendly access to exclusive applications, including AlienFX® lighting effects, Alienware thermal controls and AlienFusion power management. Updates and new releases download directly into Command Center, creating an evolving tool for personalising your system.

AlienFX Lighting — Choose from an array of 20 colours — up to an amazing 160,000 accent lighting colour combinations — to customise the effects across four distinct zones.