Desktop gaming performance in a mobile form-factor.
Sorry, this item is not available anymore for purchase online. Please see our recommended replacement product.
Alienware M17x Laptop
Alienware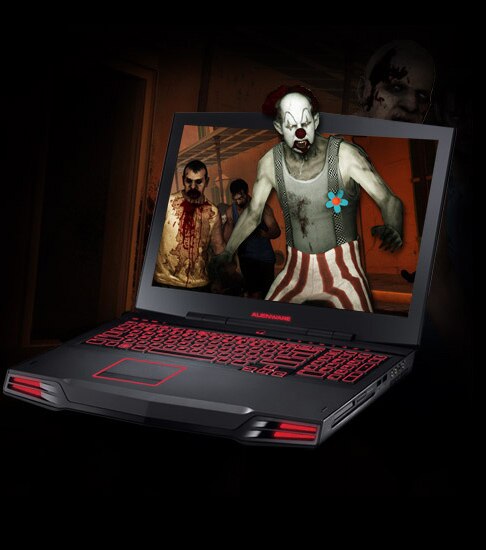 Dominate the Horde
When your opponents swarm down like locusts, the Alienware M17x laptop gives you the firepower for all-out extermination. The most powerful Intel® mobile processor available, ATI CrossFireX™ dual-graphics processing unit (GPU) graphics and Alienware's dramatic industrial design deliver the ultimate high-definition mobile gaming and entertainment experience. Strike fear in your enemies and taste sweet victory.

Speed Is Survival
Any hesitation means almost-certain death. Power through the most hard-core games and intense applications with the latest Intel® Core™ i7 and Core™ i5 processors featuring Intel® Turbo Boost Technology for dynamic, on-the-fly overclocking.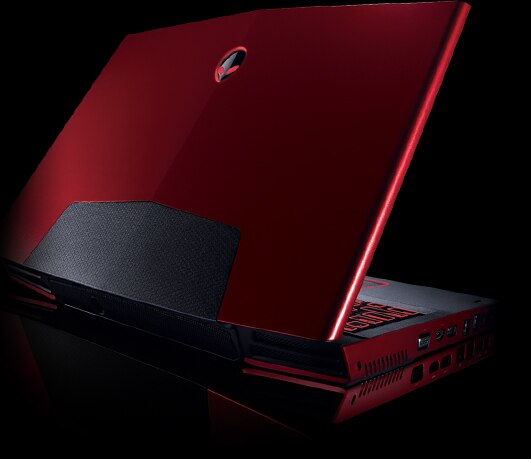 Graphics to Be Reckoned With
You're only as good as your GPU. If you want your games cranked up to max settings with ultra-fast frame rates, the Alienware M17x now offers up to a full one teraflop of sheer graphics power with ATI CrossFireX. Experience incredible scalability, performance and compatibility while obtaining desktop-quality imagery.

BinaryGFX — With Alienware's BinaryGFX technology, users have the ability to switch between discrete or integrated graphics.

Stealth Mode — While in Stealth Mode, discrete graphics cards are turned off and other components throttle down to achieve a 65-watt power limit.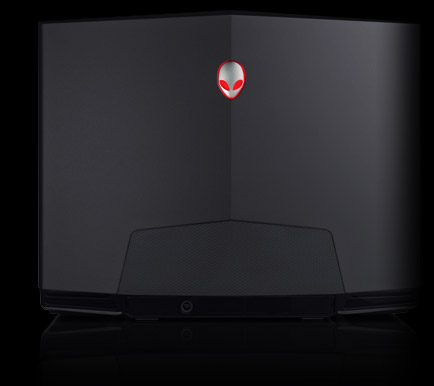 Your Command Center
Alienware Command Center provides intuitive, user-friendly access to exclusive applications and controls, including AlienFX® lighting effects software and AlienFusion power management system. Updates and new releases download directly into Command Center, creating a constantly evolving tool for modifying and personalizing your M17x.


AlienSense — This facial recognition software identifies numerous distinguishing features, utilizing the M17x's Webcam to read and verify biometric measurements that cannot be faked or stolen like a typed password.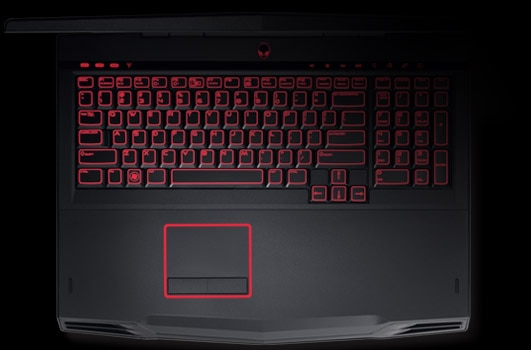 Powerfully Unique Design
Power isn't only on the inside of the Alienware M17x. Protect your world with Alienware's all-new, anodized aluminum case design with aggressive lines and in-your-face attitude that can manage your thermals and look good doing it. And you can personalise your machine with a choice of two colour options: Metallic Silver or Metallic Black.

QuickTouch system control pad — Run your fingers above the keyboard on your M17x and you won't feel a thing. Your laptop, however, will. The Alienware QuickTouch control pad uses touch-capacitive sensors to access and manage power and volume controls, Bluetooth® and wireless connectivity and Command Center and Stealth Mode launch functions. Illuminated by the dramatic AlienFX lighting control system, QuickTouch renders mechanical buttons and control knobs obsolete.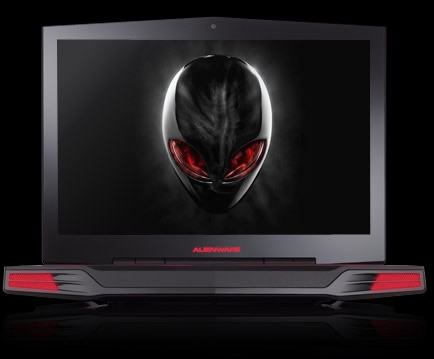 Stunning Display — See bolder colours on the 43 cm (17") widescreen LCD display. Featuring a dual CCFL back-lit LCD with higher brightness, the Alienware M17x will display more detailed, higher-quality imagery than single CCFL displays. And with an 8-ms response time, ghosting will be a thing of the past.

Webcam — The 2.0-megapixel webcam and digital microphone array lets you broadcast across the web, while wireless capabilities have you up and running anytime, anywhere.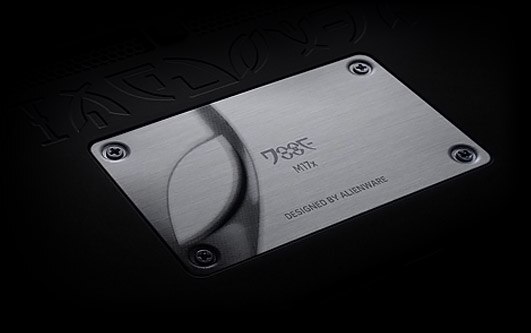 Anodized aluminum — Sophistication. Protection. Durability. Alienware M17x's case design combines a long life span with naturally textured beauty that can withstand normal wear and tear. Considering the amount of gaming power the M17x pumps out, a case that can manage thermals efficiently and has plenty of strength to protect everything inside is essential. The M17x's anodized aluminum case design boasts aggressive lines and an in-your-face attitude.


Processor
M17x Core i7

Intel® Core™ i5 520M 2.40GHz (2.93GHz Turbo Mode, 3MB cache)
Intel® Core™ i5 540M 2.53GHz (3.06GHz Turbo Mode, 3MB cache)
Intel® Core™ i5 620M 2.66GHz (3.33GHz Turbo Mode, 4MB cache)
Intel® Core™ i7 720QM 1.6GHz (2.8 GHz Turbo Mode, 6MB Cache)
Intel® Core™ i7 820QM 1.73GHz (3.06GHz Turbo Mode, 8MB Cache)
Intel® Core™ i7 920XM 2.0GHz (3.2GHz Turbo Mode, 8MB Cache)

M17x Core2Duo
 
Intel® Core™ 2 Duo P8600 (3MB Cache, 1066MHz FSB)
Intel® Core™ 2 Duo P8700 (3MB Cache, 1066MHz FSB)
Intel® Core™ 2 Duo T9600 (6MB Cache, 1066MHz FSB)
Intel® Core™ 2 Duo T9800 (6MB Cache, 1066MHz FSB)
Intel® Core™ 2 Quad Q9000, (6MB Cache, 1066MHz FSB)
Intel® Core™ 2 Quad Q9100 (12MB Cache, 1066MHz FSB)
Intel® Core™ 2 Extreme Quad QX9300 (12MB Cache, 1066MHz FSB)

Operating System (Dell Technologies recommends Windows 11 Pro for business.)
M17x Core i7 / M17x Core2Duo

Windows® 7 Home Premium 64-Bit

Windows® 7 Professional 64-Bit

Windows® 7 Ultimate 64-Bit


Display
M17x Core i7

17-inch WideXGA+ 1440 x 900 - Beyond HD (900p) - Dual CCFL

17-inch WideUXGA 1920 x 1200 - Beyond HD (1200p) - Dual CCFL

17-inch WideUXGA 1920 x 1200 - Beyond HD (1200p) - RGB LED

M17x Core2Duo

17-inch WideXGA+ 1440 x 900 - (900p) LCD

17-inch WideUXGA 1920 x 1200 - (1200p) LCD

Color
M17x Core i7

Anodized Aluminum - Lunar Silver

Anodized Aluminum – Space Black

Anodized Aluminum – Nebula Red

M17x Core2Duo

Anodized Aluminum - Space Black

Anodized Aluminum – Lunar Silver


Ports
M17x Core i7

4 Hi-speed USB 2.0 ports
1 eSATA/USB 2.0 Combo (2-in-1 port) with PowerShare
8-in-1 Media Card Reader
IEEE 1394a (4-pin) port
ExpressCard Slot
DisplayPort, HDMI, VGA - Video Output
Front Speakers Audio Out Connector / Headphone Jack
Center Speaker and Subwoofer Audio Out Connector / Headphone Jack
Rear Surround Audio Out Connector
Audio In / Microphone Jack
Two Built-In Front Speakers

M17x Core2Duo

4 Hi-speed USB 2.0 ports
1 eSATA/USB 2.0 Combo (2-in-1 port) with PowerShare
IEEE 1394a (4-pin) port
ExpressCard Slot
DisplayPort, HDMI, VGA - Video Output
Front Speakers Audio Out Connector / Headphone Jack
Center Speaker and Subwoofer Audio Out Connector / Headphone Jack
Rear Surround Audio Out Connector
Audio In / Microphone Jack
Two Built-In Front Speakers

Optical Drive
Slot-Loading Dual Layer DVD Burner
Slot-Loading Dual Layer Blu-ray Combo
Slot-Loading Dual Layer Blu-ray Burner
Audio and Speakers
Internal High-Definition 5.1 Surround Sound Audio