The next step in Ethernet technology
Large scale chassis-based switch delivering 1/10GbE aggregation and core switching for virtualized data centers and cloud networks.
Sorry, this item is not available anymore for purchase online. Please see our recommended replacement product.
Dell Networking E1200i Switches
Force10
Virtualized core switching and routing
The Dell Networking E Series delivers the high density required for virtualized data centers and cloud networks with two-key models:
E600i is a 16RU chassis featuring up to 7 blade I/O (Input/Output) slots coupled with a backplane driving up to 1.75 Tbps bandwidth
E1200i is a 24RU chassis featuring up to 14 blade I/O slots coupled with a backplane driving up to 3.5 Tbps bandwidth
Enable a new way of designing switching and routing infrastructures with Dell Networking E1200i platforms. The E1200i architecture, patented backplane and application-specific integrated circuit (ASIC) technology are designed to increase network availability, agility and efficiency while reducing power and cooling costs. The E1200i supports mission-critical applications across converged fabrics in data center, telecommunication provider, service provider, enterprise and HPCC networks.
Dell Networking E1200i platform coupled with FTOS makes a cost-effective and flexible deployment option complete with comprehensive management, automation and resource provisioning capabilities.
Total cost of ownership (TCO)
Lower TCO through true non-blocking, line-rate throughput that removes performance bottlenecks from the network — all packet sizes, all the time
High-density fabrics enable simpler network topologies that reduce both network capital and operational costs

Up to 100 Gbps of data capacity per slot today (125 Gbps/slot raw capacity)
Up to 560 total 10GbE ports in one half-rack chassis using the high-density 40-port line card
Switching fabric capacity of up to 3.5 Tbps, and packet forwarding capacity of more than 2 Bpps using hardware based distributed forwarding engines
Low power per line-rate port consumption with an eco-efficient power and cooling design that saves energy

Scale for tomorrow's network with converged fabric

IPv4 unicast and multicast routing for advanced services networks
IPv6-ready for native and dual-stack next-generation IP networks
100 Gbps/slot data capacity
Predictable and consistent latency at all frame sizes with high-touch features enabled
Flexibility
Tunable, scalable high-capacity link aggregation group (LAG) with 64 links per group and 32 LAGs per system or 8 links per group and 255 LAGs per system uses advanced hashing algorithms to balance traffic evenly across links in backbone or aggregation applications
Buffering and virtual-output queues eliminate head-of-line blocking and minimize queuing delay to guarantee packet delivery
Configurable CAM profiles enable custom space allocation in hardware forwarding and classification tables to support flexibility and scalability as network requirements change
High availability, serviceability and manageability
Dell FTOS software, built on NetBSD® and a Unix®-like kernel and running on-the-route processor modules (RPM) and line cards, enables new advances in control-plane scalability and system reliability
High-performance RPM uses distributed control-plane processing on three CPUs and provides 1+1 control-plane redundancy with hitless forwarding
Redundant switch fabric modules (SFM) with graceful and deterministic failure recovery
High-availability hardware and software architecture with OIR (hot swap) of all components
Patented passive copper backplane
Power and cooling redundancy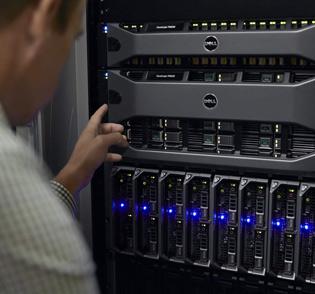 Global Services and Support
Dell offers a wide range of professional services to simplify the assessment, design, implementation, management and maintenance of your IT environment to help you transition from platform to platform.

Dell Support Services
Dell ProSupport offers a suite of support services that enable you to choose support models based on how you use technology and where you want to allocate resources. We recommend Dell ProSupport Plus with SupportAssist for mission-critical systems or Dell ProSupport for premium hardware and software support for your PowerEdge solution. For hyper-scale data centers, we also offer ProSupport Flex for Data Center.

Dell Enterprise Deployment Services
ProDeploy Enterprise Suite* offers a full range of deployment services and professional certifications to help you get more out of your technology starting on day one. Choose ProDeploy Plus for the most complete deployment offer available in the market, ProDeploy for expert configuration and installations, or Basic Deployment for worry-free hardware installations.
Dell Training Services
Dell Education Services aims to complement your relationship with Dell as a trusted partner by offering Education Services for our own products, for industry leading infrastructure solutions and for the ongoing development of your organization. It is a global organization with local representation, classrooms and web-based training available worldwide.

Contact your Dell representative today for more information or click here.