Flash at the price of disk.
Gain up to 2x price advantage over competitive hybrid-flash solutions and up to 5x price advantage over other all-flash solutions.
Sorry, this item is not available anymore for purchase online. Please see our recommended replacement product.
Dell Compellent Flash Optimized Solutions
Dell Compellent
Connectivity
SC8000 Front-end connectivity
Fibre Channel (4Gb, 8Gb, 16Gb), iSCSI (1Gb, 10Gb), FCoE (10Gb) Simultaneous interface support

SC8000 Maximum front-end ports
16 (Fibre Channel), 10 (1Gb iSCSI), 10 (10Gb iSCSI), 10 (FCoE) per controller
NOTE: SC8000 controller can support up to 16 FC front-end ports with 4-port low-profile SAS back-end IO option.

SC8000 Back-end connectivity
SAS (6Gb, 3Gb), Fibre Channel (2Gb, 4Gb, 8Gb)

SC8000 Maximum back-end ports
16 (FC), 20 (SAS) per controller
NOTE: No SATA ports, FC and SATA enclosures are connected to 8Gb Fibre Channel IO card.
Environmental Operating Conditions
SC8000 controller
Power: Dual, redundant 750W 80 Plus® Platinum-certified power supplies
Maximum Power: 425W
Max Heat dissipation: 1,450 BTU/hr
Operating temperature: 50 - 95°F (10 - 35°C)
Non-operating temperature: -40 - 149°F (-40 - 65°C) Operating humidity ranges (non-condensing): 20% to 80%
Non-operating humidity (non-condensing): 5% to 95%
Inlet type: NEMA 5-15/CS22.2, n°42
Fan: 6 internal hot-pluggable fans
Storage
SAS SSD (supported on the SC220)
400GB SAS (write-intensive SLC SSD)
1.6TB GB SAS ( read-intensive MLC SSD)

SAS HDD (supported on the SC220)
1TB 7.2K RPM
Chassis
SC8000 controller
Rack size: 2U
Height: 87.3 mm (3.44 inch)
Width: 482.4 mm (18.98 inch) with rack latches; 444 mm (17.08 inch) without rack latches
Depth: 755.8 mm (29.75 inch) with bezel
Weight: 19.73 kg (43.5 lbs)

SC220 enclosure
Height: 87.3 mm (3.44 inch)
Width: 482.4 mm (18.98 inch)
Depth: 541 mm (21.30 inch)
Weight: 23.31 kg (51 lb) (maximum configuration)
8.61 kg (19 lb) (empty)
Wattage: 700W (Power Supply Rating) hot swappable 80 Plus® Silver certified power supplies, 475W maximum draw
Heat Dissipation: 2,389 BTU/hr (at 700W) and 1,621 BTU/hr Max (at 475W)
Voltage: 100-240 VAC, auto sensing
Frequency: 50/60 Hz
Amperage: 8.6 A at 100 V, 4.3 A at 240 V

Rack support
ReadyRails™ II static rails for tool-less mounting in 4-post racks with square or unthreaded round holes or tooled mounting in 4-post threaded-hole racks

Technical Highlights

SC8000 Product operating system
Storage Center 6.4 or later

SC8000 OS support
Microsoft® Windows Server®, Oracle® Solaris, HP®-UX,Oracle Linux, IBM® AIX®, Novell® NetWare, SLES, Apple, HPTru64, VMware® Citrix XenServer, RedHat

SC8000 Processor
2 x 2.5 GHz six-core (Sandy Bridge) Intel™ processors per controller

SC8000 Memory (read cache)
16GB* to 64GB total available cache per controller, with a maximum 128GB per dual controller system (a dual controller configuration is required to support full high availability and failover capabilities in production environments)

SC8000 Storage capacity
Each system supports up to 960 SAS drives. The maximum usable capacity supported by a system varies based on configuration.. Each 2.5" SAS enclosure holds up to 24 SAS drives.

SC8000 RAID
Supports RAID 0, 5, 6, RAID 10 and RAID 10 DM (dual mirror). Any combination of RAID levels can exist on a single Storage Center. Multiple RAID levels can exist on the same storage tier within an array.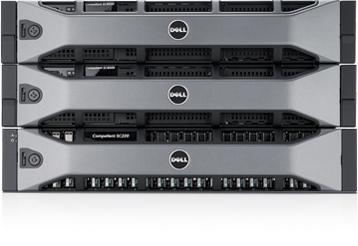 Flash-optimized solutions
Dell Compellent Flash-Optimized Solutions provide all-flash or hybrid-flash storage with the SC220 enclosure and enhanced Storage Center 6.4 firmware. Flash-Optimized Solutions are designed to provide very-high-performance, low-latency storage to:
Boost performance for enterprise applications, such as Oracle and SQL
Accelerate OLTP, ERP systems and other I/O-intensive workloads
Improve throughput and latency for virtual desktop environments
Help lower data center power consumption and cooling requirements
Help reduce rack space by up to 84% and reduce latency by up to 90%*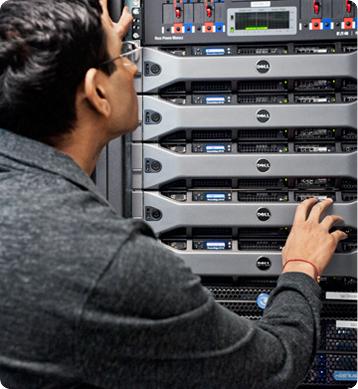 Storage Center 6.4
Enhanced SC6.4 firmware provides exceptional capabilities designed to separate the Dell Compellent Flash-Optimized solutions from other all-flash and hybrid-flash solutions.

It is the first storage solution in its class to tier sub-LUN data across traditional rotating drives, write-optimized single-level cell (SLC) SSDs, and read-optimized multi-level cell (MLC) SSDs*.
With the ability to tier across write-intensive SLC SSDs and lower-cost, high-capacity, read-intensive MLC SSDs in a single solution, Dell Compellent Flash-Optimized solutions can reduce costs up to 80 percent compared to other Flash-Optimized Solutions*.
Dell Compellent Flash-Optimized solutions offer up to an approximate 2x price advantage over hybrid-flash solutions and up to an approximate 5x price advantage over competitive all-flash solutions*.

Global services and support
Dell Services can help reduce IT complexity, lower costs and eliminate inefficiencies by making IT and business solutions work harder for you. The Dell Services team delivers distinctive capabilities, including Copilot support and optimization as well as full data migration solutions to facilitate consolidation from multiple file systems. Dell takes a holistic view of your needs and designs solutions for your environment and business objectives, and uses established delivery methods, local talent and in-depth domain knowledge to help lower your total cost of ownership.