Ideas need great Workstations.
Dual-socket tower Workstation perfect for powering through graphics or CPU intensive application workloads. Featuring the latest dual Intel® Xeon® processors.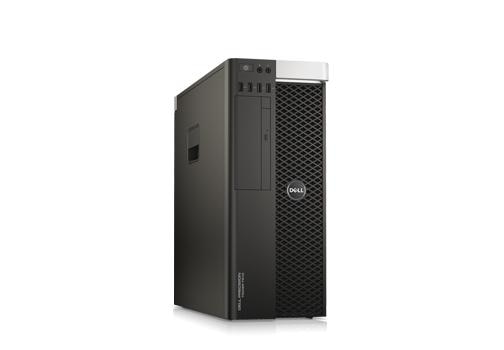 Chipset
Video Card
Support for two PCI Express® x16 Gen 2 or Gen 3 cards up to 300W total for graphics 825W PSU (restrictions)

High end 3D cards:
NVIDIA® Quadro® K6000
NVIDIA® Quadro® K5200

Mid-range 3D cards:
AMD FirePro™ W7100
AMD FirePro™ W5100
NVIDIA Quadro K4200
NVIDIA Quadro K2200

Entry 3D cards:
AMD FirePro W4100
AMD FirePro W2100
NVIDIA Quadro K620
NVIDIA Quadro K420(Post RTS)

Professional 2D cards: (not ISV certified)
NVIDIA Quadro NVS 510
NVIDIA Quadro NVS 315
NVIDIA Quadro NVS 310

GPU GPGPU MCC Compute:

NVIDIA Tesla® K20C Computing Processor (GPGPU)
Intel 3120A Coprocessor (available via S & P in select regions)

Optical Drive
Slim-line tray load options: DVD-ROM; DVD+/-RW
Ports
Front
1 USB 3.0
3 USB 2.0


Internal
1 USB 2.0
1 2x5 USB 2.0 header
4 SATA/SAS 6Gb/s
2 SATA 6GB/s for optical drives

Rear
3 USB 2.0
3 USB 3.0
2 PS2,
Serial
RJ45 intel Gigabit Ethernet
Security
Trusted Platform Module (TPM 1.2); Intrusion switch; Setup/BIOS Password; I/O Interface Security; Kensington® lock slot, Padlock ring, Internal bezel lock; lockable power supply; Dell Data Protection (DDP): DDP | Security Tools for authentication; DDP | Protected Workspace for malware; DDP | Encryption for data protection
Dimensions
HxWxD: 16.30 x 6.79 x 18.54"; 414.0 x 172.5 x 470.9mm
Slots
5 Full-length Slots
1Half length
2 PCIe x16 Gen 3
PCIe x16 Gen 3 wired x8 (Half-length)
PCIe x4 Gen 2
PCIe x1 gen2
PCI 32 bit/33MHz

Regulatory
&nbsp

Product Support
From drivers and manuals to diagnostic tools and replacement parts, Dell Product Support has you covered.
Get Started
&nbsp