Gabinete para rack PowerEdge 2420 de 24U
Lo sentimos, pero ya no es posible adquirir este artículo en el sitio web. Por favor vea nuestro producto de reemplazo recomendado.
El sólido y versátil gabinete para rack Dell™ PowerEdge™ 2420 de 24U presenta importantes y nuevas opciones de unidad de alimentación, refrigeración y cableado.
Incluye:
Más opciones de distribución de alimentación que las generaciones anteriores de racks de Dell
Excelente flujo de aire: puertas un 80% perforadas
Opciones de enrutamiento de cables adicionales
PowerEdge 2420
PowerEdge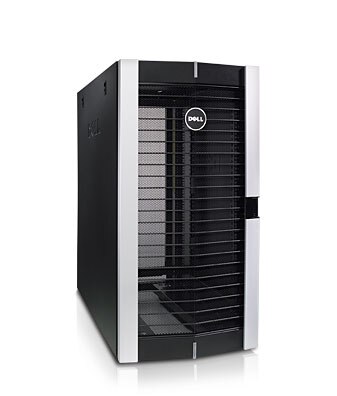 Exceedingly strong and secure
With a static load rating of 1,500 lbs and a standard 600 mm wide x 1070 mm deep form factor, the Dell PowerEdge 2420 rack enclosure can provide the necessary capacity to hold a variety of data center equipment in a compact configuration.

Stabilizer feet, included with the rack, attach to the front and sides of each 2420 rack enclosure for increased stability. Interconnect kits are available to link adjacent rack enclosures

Lockable side panels and front and rear doors provide security for data centers, remote offices, wiring closets, factory floors and other server environments.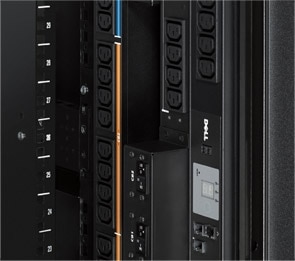 Important PDU mounting features
In addition to U-space power distribution unit (PDU) mounting, the PowerEdge 2420 rack enclosure has specially designed trays inside the rear doors to easily mount vertical PDUs, without using any tools, so they won't interfere with air circulation.

Dell vertical-mount PDUs are available in a number of sizes and can be combined within a rack. The trays in the standard 2420 rack can hold up to four half-height units.

A bundle of cable management options
The standard form factor for the PowerEdge 2420 rack enclosure accommodates servers with deep chassis dimensions while allowing space for cable management. The large open base and removable side panels provide more options for cable access.

Removable tail bars at the top and bottom of the back frame simplify power and cable routing. The bars can be reattached after the cables are in place.
Made to stay cool
The 2420 rack is designed to facilitate better airflow. The front and rear doors are 80 percent perforated, and flexible air dams help keep hot air from moving from the back to the front, alleviating a problem common in many racks. Available blanking panels can further manage airflow for unused U-space in the rack.

For hot-aisle/cold-aisle thermally efficient data center topologies, the 2420 fits on two standard floor tiles.
Infrastructure for the efficient enterprise
For data center efficiency, Dell offers a range of accessories to help you further improve power management, enhance airflow and ease component mounting. Additional options include an equipment shelf and a 1U KMM (keyboard, monitor, mouse) console.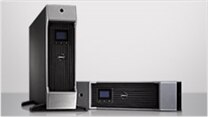 Power management An extensive portfolio of Dell PDUs and uninterruptible power supplies (UPSs) can be mixed and matched to meet your exact requirements.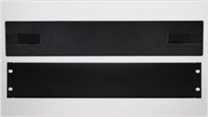 Blanking panels These can be used to help ensure proper airflow in the rack and enhance cooling efficiency. Plastic panels snap in place, while steel panels are attached with screws.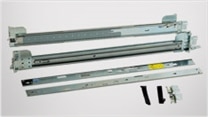 Toolless installation Servers and other components can be installed quickly and easily with the Dell ReadyRails™ mounting interface for sliding and static rail kits.
Complement your Dell rack enclosure with a selection of rack accessories, including cable management, cooling/airflow management and other products.

 

Cable management

 

Dell provides several options for cable management that can be used separately or together, depending on your specific needs.

 

The vertical cable manager (VCM) can be installed in the rear power distribution unit (PDU) tray of the Dell rack (or many third-party racks that use the same button-mount keyhole spacing), occupying the width of a single vertical PDU. The VCM kit also has alternate mounting holes and ships with screws to allow installation along the rear EIA-standard posts in the 750 mm wide Dell rack enclosures.

 

The VCM has two 18U sections, which allows you to easily place it in various locations within the PDU tray, wherever you need it, even in a 24U rack. The VCM finger spacing correlates to the rack U-spacing, and the metal cover snaps into place on the fingers to contain and conceal your cables.

 

The horizontal crossover panels are compliant to the EIA-310 specification and are available in two heights, 1U and 2U. They have several types of attachment point options, including mounting locations for metal cable rings, hook-and-loop straps with a twist connector and other accessories that use the rectangular twist connectors, such as claw hooks. The accessories can be mounted to either side of the crossover panel, which can also be used in any third-party EIA-310 compliant rack.

 

The metal cable rings can be installed in the PDU trays in the Dell rack or attached to the horizontal crossover panels. Six of these rings are provided with the hardware kit shipped in each Dell rack, and the rings provide additional cable management support within the rack.

 

A separate kit of 10 hook-and-loop straps with twist connectors provides a quick and easy way to secure cables snugly against the sides of the rack. These straps can also be connected to the horizontal crossover panels.

 

Cooling/airflow management

 

Dell offers closeout filler panels, also called blanking panels, in a variety of sizes and materials to fit in the Dell PowerEdge racks. Closeout filler panels are attached to the front of unused rack space and are designed to improve air flow to the installed equipment and reduce hot air recirculation to the front of the rack. Using closeout filler panels helps implement data center best practices that can lead to an important common goal: creating the coldest possible intake temperature with the highest possible volume of chilled air plus the warmest possible exhaust temperature.

 

Plastic closeout filler panels are available in 1U and 2U sizes and provide quick and tool-less snap-in installation for square-hole racks.

 

Steel closeout filler panels provide support for more types of racks, with tooled installation for square, round or threaded holes. Multiple sizes are available in 1U, 2U, 3U or 6U increments to optimize your coverage. For threaded-hole racks, hardware with #10–32 threads is provided.

| | | |
| --- | --- | --- |
|  Panel Options | Plastic  | Steel |
|  Single-pack |  1U, 2U |  1U, 2U, 3U, 6U |
|  10-pack |  1U, 2U |  1U, 2U |
|  100-pack |  1U |  - |
|  Square-hole |  Yes |  Yes |
|  Round-hole |  - |  Yes |
|  Threaded-hole |  - |  Yes |

Additional accessories

The 1U fixed-equipment shelf provides multiple options for rail attachment in a variety of 4- and 2-post racks, supporting a loaded weight capacity of 200 pounds (90.7 kg). The heavy-duty steel shelf also includes slots to facilitate cable management and two hook-and-loop straps to secure cables.

Interconnect kits (also referred to as baying or ganging kits) allow you to connect two Dell racks of the same height.

Grounding kits provide a set of wires and fasteners to bond the rack's removable components to the frame for a common ground. Dell rack enclosures offer a bonding point (or grounding stud) on each of the doors, sides and other removable components, and all bonding points on the enclosure should be connected to the rack frame. The wires provided with grounding kits are sized and labeled to fit with specific components — refer to the instructions for proper connection.