Encourage flexible learning styles with the Venue 11 Pro. Students can use it as a tablet, laptop or add an optional dock for full PC productivity.
Sélectionner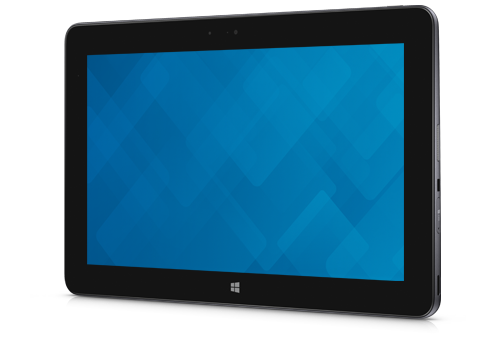 Dell Venue 11 Pro Tablet
Dell
With Windows 8.1 — for a smooth, versatile PC experience.

Versatile learning
Inspire learners of every style. Students can switch easily between desktop, laptop and tablet modes for a more flexible and versatile learning experience. The Venue 11 Pro helps educators and students reach their goals in the classroom and beyond.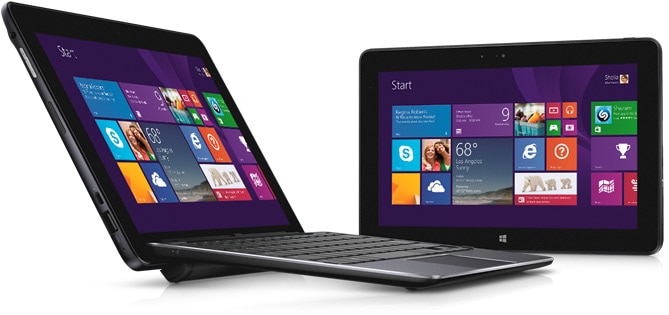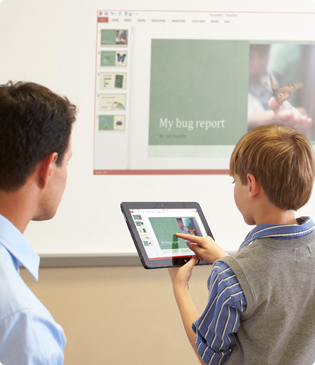 Access. Share. Connect.
Engineered to impress: The high-resolution 10.8" Full HD (1080p) display and wide viewing angles allow for classroom collaboration or multiple viewers to share presentations and projects.

All-access from anywhere: PocketCloud 2.0 gives you access to classroom content and education applications from a PC, smartphone or tablet so you can update and share your files from anywhere.

Simplified collaboration: Wirelessly stream HD videos to enhance a lesson or project from your tablet to the big screen with built-in wireless technology. All you need is a compatible media adapter (sold separately) and an HDMI-enabled display.

Tap to pair, tap to share: Writing a report, creating lessons or collaborating with a group is easier when you can share photos and connect to popular Windows apps like mail, SkyDrive, news websites and more — all wirelessly. And the Venue 11 Pro tablet is built with near field communication (NFC) capabilities that makes it easy to pair with other NFC-enabled devices, like headphones, speakers and other PCs.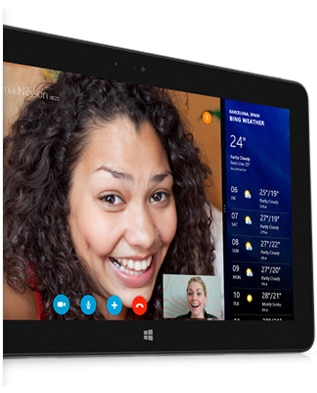 Enable collaboration and creation
Classroom management made easier: The Venue 11 Pro includes powerful software that gives educators a wide-range of tools to manage classrooms, engage students, share information and more.

Doceri – Allows seamless projection to various classroom displays, interactive whiteboard and screen cast recorder, and embedded tools that capture the lesson and measure student progress.
Annimationish – Device-installed software that walks students through the animation process to show what they've learned.
AssistX – Classroom management solution allowing teachers to maintain and control content delivered to multiple devices in a classroom.
Miracast – Project what's on a device's screen to an HD-enabled larger screen so all can see.
Lync and Skype capability – Options for video chatting and communication on campus or across the world.
Skydrive and Office 365 – Cloud-based Office software and storage options.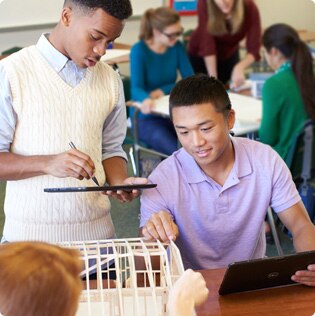 A tablet that works for you
Personalized learning: Take notes quickly and easily with 10-point touch typing or with the optional Dell Active Stylus.

Learn and guide from anywhere: Enhance learning opportunities with the 8MP (front)/2MP (rear) cameras, SRS premium audio and adaptive noise cancelling using 2 or 4 mics (depending on configuration) for video conferencing and soft phone.

Ready for a full day: Power through a full school day (8-10 hours*) and experience true untethered teaching and the freedom to learn anywhere without the need to re-charge or locate a power source. Add the optional Mobility Keyboard with embedded battery and go even longer between charges.
Performance you can count on
Do more and plug-in less: Powerful and efficient processors ranging from Quad Core Intel® Atom™ to the ultrapowerful Intel® Core™ i5 processors. 

Give learning a boost: Connect multiple monitors, plug straight into your network for faster speeds and transfer files faster with USB 3.0.

Multitask like you mean it: The innovative Windows 8.1 operating system powers your current, Windows 7 and Windows XP applications, so multitasking is a snap.

Quicker access: With up to 128MB* of expandable micro SD memory you'll get generous file storage and quick transfer times.
To protect and secure
Anytime, anywhere protection: Dell Data Protection|Encryption (DDP|E) offers nondisruptive endpoint encryption solutions designed to protect data wherever it goes. 

Built-in security: Trusted Platform Module (TPM) is a security hardware device that helps avoid attacks by hackers looking to capture passwords and encryption keys to sensitive data.

Restricted access: An optional biometric fingerprint reader and smart card reader provide multi-level authentication. 

Industry-endorsed: The Venue 11 Pro meets industry certified security standards including FIPS and HIPPA. 

Peace of mind: Protect your investment from drops or spills with available Accidental Damage Protection.
Recommended accessories and services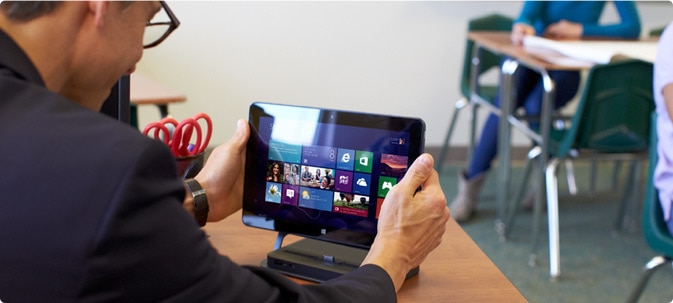 Accessoires essentiels pour votre tablette Venue 11 Pro
Complétez votre tablette Venue 11 Pro avec un clavier (mobile ou fin), une station d'accueil pour tablette ou un stylet actif Dell. Retrouvez ces superbes produits, et bien plus encore, au moment de votre règlement.
 
 
Clavier pour tablette Dell (mobile)
Pack complet avec un clavier de taille standard à touches caoutchoutées équipé d'un pavé tactile et d'une batterie intégrée supplémentaire rechargeable.
Clavier pour tablette Dell (fin)
Clavier de taille standard ultraléger équipé d'un connecteur magnétique et de touches confortables.
 
 
Station d'accueil pour tablette Dell
Connectez-vous rapidement à votre réseau, ainsi qu'à vos écrans, claviers, souris et autres appareils.
Stylet actif Dell
Utilisez des signatures, dessinez ou prenez des notes d'une précision extrême avec le stylet actif Dell.

Dell ProSupport
Choose Dell's premium support service, Dell ProSupport, for 24/7* direct telephone access to advanced-level technicians based in your region. Whether you have one office or hundreds around the world, protect your investments with this simple yet flexible approach.
Processeur
Processeur Intel® Atom™ Z3770 (2 Mo de mémoire cache, quatre cœurs et cadencé jusqu'à 2,4 GHz)
Processeur Intel® Pentium™ 3560Y (2 Mo de mémoire cache, double cœur et cadencé à 1,2 GHz)
Processeur Intel® Core™ i3 4020Y (3 Mo de mémoire cache, double cœur et cadencé à 1,5 GHz)
Processeur Intel® Core™ i5 4210Y (3 Mo de mémoire cache, double cœur et cadencé à 1,5 GHz)
Processeur Intel® Core™ i5 4300Y (3 Mo de mémoire cache, double cœur et cadencé à 1,6 GHz)
Écran
Écran IPS FHD de 10,8" (1 920 x 1 080) avec technologie d'effleurement capacitif à 10 points

Carte graphique
Carte graphique Intel® Gen 7 ou Intel® GT2
2 Go de mémoire DDR3 à 1 333 MHz
4 ou 8 Go de mémoire DDR3 à 1 600 MHz
Ports
Ports et connecteurs
1 port USB 3.0 de taille standard 1 prise jack combinée casque/microphone, 1 port micro HDMI
Technologie NFC (Near Field Communication)
Dimensions et poids
Modèle 5130

Épaisseur : 10,2 mm
Largeur : 176,8 mm
Longueur : 297,7 mm

Poids
Poids de départ : 771,5 g (1,57 livre)


Modèles 7130/7139

Épaisseur : 12,2 mm
Largeur : 176,8 mm
Longueur : 297,7 mm

Poids
Poids de départ (7130) : 797 g (1,76 livre)
Poids de départ (7139) : 835 g (1,84 livre)
Son et haut-parleurs
Stereo Speakers with SRS premium audio and Adaptive noise cancellation Dual (5130).
Sans fil
Audio
Haut-parleurs stéréo avec audio SRS Premium Sound et technologie antibruit adaptative à deux (5130) ou quatre (7130/7139) microphones.

Réseau LAN sans fil
Carte Wi-Fi Dell Wireless 1537 double bande 802.11n 2x2
Carte Wi-Fi Intel® Wireless-AC 7260 double bande 802.11ac 2x2

Réseau WAN sans fil
Carte haut débit mobile Dell Wireless 5570E (3G/HSPA+) ou Dell Wireless 5808E* (LTE/HSPA/EVDO)