Transform your conference room.
Easy wireless collaboration is yours with OptiPlex 7040 Series Micro PCs with Intel® Unite™ software for real-time sharing, annotation and more.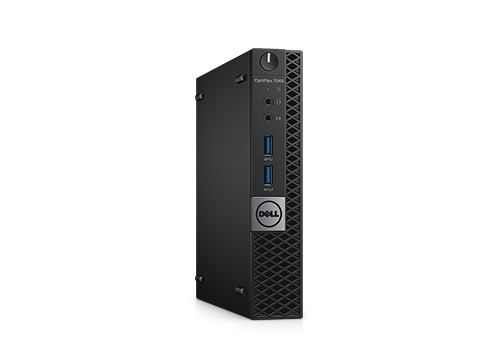 OptiPlex Micro Intel Desktop (7040)
OptiPlex
Processor
Intel® 4th generation Core™ i5 Quad Core (35W)
Operating System
Windows 10 Home
Windows 7 Professional (64 bit) (Includes Windows 10 Pro License)
2 DIMM slots
4GB DDR3 Memory
Power Supply
Standard 65W adaptor.
Minimum Efficiency > 87%, ENERGY STAR compliant.
Ports
6 USB 3.0 (2 front and 4 rear)
1 RJ-45
1 VGA
1 DisplayPort
1 GHS (front)
1 Mic-in (front re-taskable to headphone)
1 HDMI
Slots
1 M.2 (22x30mm)
1 M.2 (22x80mm)
Dimensions
Height: 17.7" (18.2 mm) x Width: 1.4" (3.6 mm) x Depth: 6.93" (17.6 mm)
Weight: 2.82 lbs (1.28 Kg)