Meet the Mini 10 (1010)
Sorry, this item is not available anymore for purchase online. Please see our recommended replacement product.
The Mini 10 is everything you want in a mobile companion and more. They may be small, but you'll be surprised by all the fun features packed inside.


Be productive with a keyboard 92% the size of a traditional laptop keyboard.
Enjoy a beautiful view with a seamless display surface* and 16:9 aspect ratio.
Stay connected* with advanced wireless options.
Navigate like a pro with optional built-in GPS.
Some netbooks offer Ubuntu operating systems that can be great for those who are tech savvy.
Learn about the differences between a netbook and a laptop.
Personalize a Mini 10 with a choice of seven vibrant colors OR choose from over 200+ artist designs with Design Studio.
Inspiron Mini 1010 Netbook
Inspiron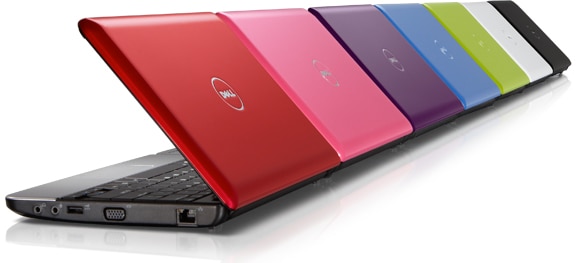 Jack of All Trades
The Inspiron Mini 10 netbooks is everything you want in a mobile companion and much more. Their highly portable, sharp design is complete with excellent wireless and entertainment features, making the Mini 10  exactly what you're looking for in a best friend. And with seven color options, you can customize your companion at a price that is more than satisfying.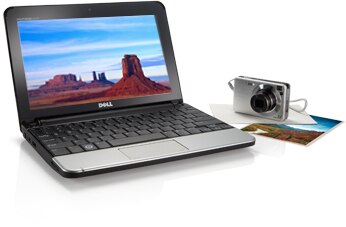 Mobile Entertainment
The Inspiron Mini 10 is designed to give you access to your favorite entertainment. When you are on the go, you can still be connected to email*, shopping and more.

Seamless Viewing
A bright 10.1-inch, seamless* wide-screen display surface with a 16:9 aspect ratio is designed to present Web sites without lots of left-right scrolling, as well as with a smoother line of sight.

A Cinematic Experience
Expand your screen by connecting to an external monitor or TV using the high-definition multimedia interface (HDMI) port*. Plus, you can now watch your DVDs on the optional external DVD drive.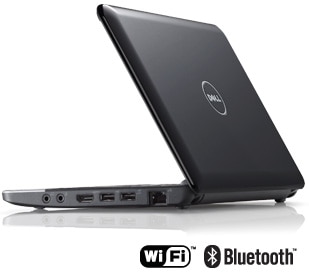 Social Connection
The Inspiron Mini 10 make it even easier to stay connected* to your world wherever you go. The new internal 802.11b/g WiFi connection brings you wireless technology as well as optional Bluetooth® 2.1. And the Inspiron Mini 10's small, virtually weightless design lets you travel light while keeping up with your blog, video chat, instant messenger and email so that you never lose touch with your family and friends.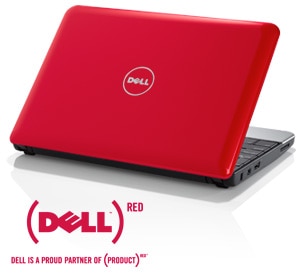 Vibrant Color
Personalize your Mini 10 with a choice of seven eye-catching colors. Choose from obsidian black, pearl white, promise pink, (PRODUCT) RED, ice blue, jade green and passion purple. Plus, you can now save lives when you buy a Mini (PRODUCT) RED™; a portion of the proceeds will go to The Global Fund to help eliminate AIDS in Africa. And with every purchase of a promise pink Mini 10 or Mini 10v, Dell will donate $5.00 to Susan G. Komen for the Cure®, the world's largest breast cancer organization.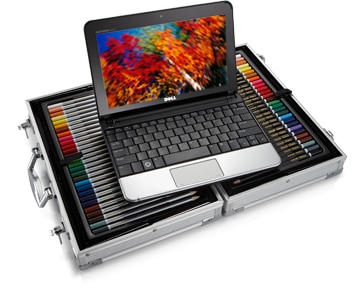 Smart Design
The Dell Inspiron Mini 10 was developed from the ground up to be the perfect companion, helping you stay connected* while on the go.

Storage
Store your music, photos and more on the go. While the Inspiron Mini 10 offer up multiple hard drive options and 2 GB of memory*, you can also keep your files online! We've partnered with Box.net* to provide 2 GB of free Internet storage for every Inspiron Mini 10 customer. Store, access, collaborate and share any type of file through a secure, simple and intuitive Web browser experience. Plus, you can purchase larger accounts to store more files.

Keyboard
The Mini 10's keyboards are so easy to use. At 92 percent the size of a traditional laptop keyboard, your fingers will be pleased with the Mini 10's keyboards. And with a multitouch track pad, you'll have an easy time navigating. Plus, it's spill-resistant, in case an accident happens.

Long Battery Life
No need to sacrifice weight for battery life. The Inspiron Mini 10 provide extended battery life while keeping the weight of the systems under 3 pounds*.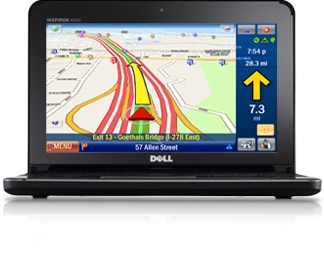 Mini 10's Fun Features
Take advantage of all the fun that the Mini 10 has to offer. The following features are available only on Mini 10.
HD capabilities – Enjoy your favorite movies on the optional 720p HD 10.1-inch seamless display surface.
Navigation – Know your way like the back of your hand using the optional GPS with optional internal wireless wide area network (WWAN) support.
Design Studio – Personalize your Mini 10 with cool designs from artist Tristan Eaton in Dell's Design Studio.
The new TV – Watch your favorite TV shows with the internal digital TV tuner.
Simple and Smart Services
Dell DataSafe Online
Our online backup service offers data protection by enabling customers to backup data to a safe, remote storage site using a broadband connection. Dell DataSafe™ Online is easy, flexible and secure. After setup, it can automatically back up data and help protect against software, hardware and catastrophic failure.
Dell Remote Access*
Enjoy what's on your home PC from almost anywhere. With Remote Access Basic, you can easily access photos, music, movies and more on your home system using another Internet-connected computer. No more waiting until you get home to get the files you need!
Dell Support Center
Our centrally located, easy-to-use application provides personalized support resources. It is conveniently located on your PC's desktop with quick links to service, support and system resources. Dell helps keep your system up-to-date and running efficiently through automated fixes for common configuration issues.