Save your energy.

Dell Power Manager
is an application that allows end users to maximize their system's battery life by configuring how the battery should be maintained based on their personal preferences.
Depending on your hardware configuration,
Dell Power Manager
 also supports alert notifications that are related to power adapter, battery, docking, and USB Type-C device/protocol incompatibility.
Battery Information – Display health information for up to six installed batteries, depending on system capabilities, and edit battery settings or create a custom battery setting.
Advanced Charge Mode – Control battery charging to prolong battery life.
Peak Shift – Reduce power consumption by automatically switching the system to battery power during certain times of the day, even when the system is plugged into a direct power source.
Thermal Management – Control processor and cooling fan settings to manage performance, system surface temperature, and fan noise.
Battery Extender – Conserve battery charge by affecting CPU power level, screen brightness and keyboard illumination levels, and by muting audio.
                                                                             Download Dell Power Manager from the Drivers and Downloads website

Minimum Device Requirements:

Dell Power Manager is supported on Dell Inspiron laptops, Vostro laptops and XPS laptops running Windows 11 or Windows 10, and requires Microsoft .NET Framework 4.6.1 to be installed on the system.


Dell Power Manager interface: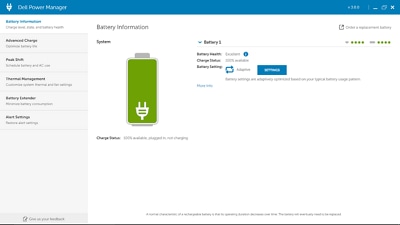 Additional documentation and knowledge base articles:

        Dell Power Manager User Guide