Software made easier
Dell Digital Delivery is an easy and new way to buy software when you purchase a PC. You can automatically download and install available software titles on select systems. All that it takes is an Internet connection and a few minutes — so you can enjoy the customization Dell stands for, without the wait, and get right back to work.


Automatic installation — There is no need to manage login credentials, visit websites, wait for emails, find license information or use DVDs. Once you are connected to the Internet, Dell Digital Delivery does the rest.
Restore capability — Whether you are reinstalling an application or doing a full system restoration, Dell Digital Delivery keeps track of your purchases and automates the process, so there's no need to find the right CD or DVD if you should need to reinstall in the future.
Private and secure — Dell Digital Delivery works by linking information about your computer's hardware to a Dell software license database over a secure, encrypted channel. Your personal information is never made public or shared with third parties, consistent with Dell's privacy policy.
Environmentally conscious — Dell Digital Delivery helps you reduce paper and plastic waste since most software has plenty of packaging but no longer includes printed manuals. Plus, you can avoid a trip to the store.
The Dell Digital Delivery application is preinstalled on most Dell systems. If you need to re-install the application, select your product from 
Drivers and Downloads
. Select category "
Application
" to find the 
Dell/Alienware Digital Delivery Application
.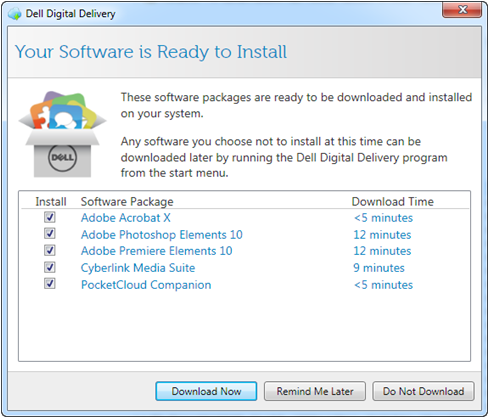 How does it work

Dell Digital Delivery enables you to purchase select software titles at the same time you order your computer. When you receive your computer, the software is automatically downloaded and installed from the Internet.
An Internet connection is required for Dell Digital Delivery to download your software.

Here is how it works:
 
Choose select software titles with your new computer order on Dell.com
When you receive your system and turn it on, you are guided through setup, including connecting to the Internet. A broadband Internet connection is recommended.
The Dell Digital Delivery installer application runs automatically and the software you purchased will be downloaded and installed by Dell.
You will not receive media (CDs or DVDs) or printed documentation for software purchased using Dell Digital Delivery, as an online restore capability is provided with your purchase.


How To and General information
System Requirements

Supported systems:

Alienware
Inspiron
Vostro
XPS
Latitude
OptiPlex
Dell Precision

Minimum supported system requirements:

Microsoft Windows 7, Windows 8.1, Windows 10
1GHz processor or faster
At least 512 megabytes (MB) of RAM
At least 512 megabytes (MB) of available space on the hard disk
Screen resolution of 800x600
Screen colors — 256 colors
Internet access
Customer Privacy

Private and secure
Dell Digital Delivery works by linking information about your computer's hardware to a Dell software license database over a secure, encrypted channel. Your personal information is never made public or shared with parties, consistent with third parties, consistent with Dell's privacy policy.
Customer privacy is of the utmost concern to Dell.
Dell will not collect any computer use information outside of the Dell support tools, such as Internet use or personal files. Moreover, we will not sell any information we collect in connection with the Dell support tools or otherwise disclose the information for commercial purposes.
Dell's Privacy Policy applies to information collected by Dell support tools. To see Dell's Privacy Policy, click here.
Video

Our comprehensive videos offer step-by-step support and information to resolve your query.
More videos can be found in our
Video Library
. Videos are in English. Translated subtitles available for some languages.