Enterprise-ready, ultra-compact 1-socket rack server
Enjoy ultimate flexibility with the compact PowerEdge™ R210 II. Deployable in almost any environment, R210 II has the power you need to run your business and the scalability to help it grow. Share, manage and protect your data, all with one system.
Sorry, this item is not available anymore for purchase online. Please see our recommended replacement product.
PowerEdge R210 II Rack Server
PowerEdge

Serious Business
Optimize your business with the PowerEdge R210 II. Easy to manage and fully scalable, with the performance and features to run applications and facilitate data sharing and protection, the R210 II is ideal for small businesses and remote offices alike.
Business Value
The PowerEdge R210 II offers a range of options that deliver the value, processor performance and scalability to meet your business needs.
Technology that delivers value with performance and the essential features to operate your small businesses efficiently.

A full selection of Intel® Xeon® processor to meet your performance needs. Choose from the Intel® Xeon® processor E3-1200 v2 Family, Intel® Pentium® processor G600 and G800 series or Intel® Celeron® processor G400 and G500 series.
Easy to Manage
The Dell™ PowerEdge™ R210 II lets you focus on running your business. The optional advanced embedded management engine, Dell™ Lifecycle Controller, automates common management tasks and enables zero-media, low-touch deployment that is efficient, secure, and user-friendly.


The optional Dell™ Lifecycle Controller is integrated on the server and can simplify administrator tasks by performing a complete set of provisioning functions such as system deployment, system updates, hardware configuration and diagnostics from a single intuitive interface called Unified Server Configurator in a pre-OS environment. This eliminates the need to use and maintain multiple pieces of disparate CD/DVD media.

With Dell™ Lifecycle Controller server deployment automation, the R210 II is up and running fast. Also part of the Dell™ OpenManage™ portfolio is the Dell™ Management Console, which is included with every Dell™ server and provides IT administrators with a consolidated console view of their IT infrastructure.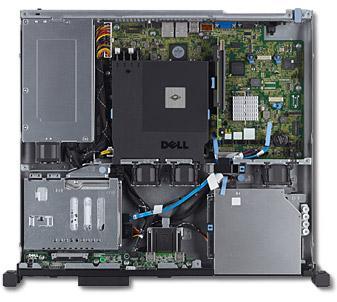 Flexible, Secure Technology
The Dell™ PowerEdge™ R210 II has built-in redundant hard drives, encryption, security and data protection options, lower wattage power supplies and ease of deployment.
Protect data with hardware- and software-enabled encryption.
Secure business information with hard drive RAID to make copies of data automatically.
Processor
Intel® Xeon® processor E3-1200 product family
Intel® Xeon® processor E3-1200 V2 product family
Intel® Pentium® G600 and G800 series
Intel® Celeron® G400 and G500 series
Operating System
Microsoft® Windows Server® 2012
Microsoft Windows® Small Business Server 2011
Microsoft Windows Server 2008 R2 Foundation SP1
Microsoft Windows Server 2008 SP2, x86/x64 (x64 includes Hyper-V®)
Microsoft Windows Server 2008 R2 SP1, x64 (includes Hyper-V v2)
Microsoft Windows HPC Server 2008
Novell® SUSE® Linux Enterprise Server
Red Hat® Enterprise Linux®
Virtualization options:
Citrix® XenServer®
Microsoft Hyper-V, a server role in Microsoft Windows Server operating systems
VMware® vSphere® and ESXi™
Red Hat Enterprise Virtualization®
Up to 32GB (4 DIMM slots) 1GB/2GB/4GB/8GB DDR3 up to 1600MT/s
Storage
Cabled hard drive options:
2.5" SATA SSD, SAS (10K)
3.5" SAS (15K), nearline SAS (7.2K), SATA (5.4K, 7.2K)

Maximum Internal Storage:
Up to 6TB*
Management
BMC, IPMI 2.0 compliant
Dell OpenManage™
Unified Server Configurator
Lifecycle Controller enabled via optional: iDRAC6 Express, iDRAC6 Enterprise and vFlash
Chassis
42.4 H x 434.0 W x 394.3 D (mm)

 

1.66" H x 17.09" W x 15.52" D (in)

 

Rack Support
ReadyRails™ static rails for tool-less mounting in 4-post racks with square or unthreaded round holes or tooled mounting in 4-post threaded and 2-post (Telco) racks
Dell offers a wide range of professional services to simplify the assessment, design, implementation, management and maintenance of your IT environment and to help you transition from platform to platform.

Dell ProSupport
Dell ProSupport offers a suite of support services that enable you to choose support models based on how you use technology and where you want to allocate resources. We recommend Dell ProSupport Plus withSupportAssist for mission-critical systems or Dell ProSupport for premium hardware and software support for your PowerEdge solution. For hyper-scale data centers, we also offer ProSupport Flex for Data Center. Contact your Dell representative today for more information*.

Dell Enterprise Deployment Services
ProDeploy Enterprise Suite* offers a full range of deployment services and professional certifications to help you get more out of your technology starting on day one. Choose ProDeploy Plus for the most complete deployment offer available in the market, ProDeploy for expert configuration and installations, or Basic Deployment for worry-free hardware installations.

Dell Training Services
Dell Education Services offers PowerEdge Server training courses designed to help you achieve more with your hardware investment. The curriculum is designed in conjunction with the server development team, as well as Dell's technical support team, to ensure that the training delivers the information and practical, hands-on skills you and your team need to confidently deploy, manage and maintain your Dell Server solution. To learn more or register for a class today, click here.
Dell OpenManage Systems Management portfolio

The Dell OpenManage systems management portfolio, including Dell PowerEdge server embedded management feature integrated Dell Remote Access Controller (iDRAC) with Lifecycle Controller, helps IT Administrators efficiently manage Dell servers in physical, virtual, local and remote environments, operating in band or out of band, with or without a systems management software agent. Irrespective of the operating system or hypervisor you deploy, iDRAC with Lifecycle Controller automates the most essential and frequently performed server management tasks to help your IT resources become more productive and your IT environment more cost-effective and well-maintained. Dell OpenManage also integrates and connects to leading third-party systems management solutions you may already own, so you can maintain your single point of control and capitalize on your existing investment.

Solutions and Systems Management

Dell Desktop Virtualization Solutions

You face an expanding set of challenges for provisioning, managing and supporting end-user computing across your enterprise. Your IT team is not growing, but support requirements are more complex as you plan how best to migrate and update client systems, and secure new "smart" mobile devices.

With Dell DVS you can create a centralized end-user computing environment that streamlines desktop management and reduces maintenance burden on your IT staff. Now you can focus on important projects to improve IT services. Dell DVS solutions are completely integrated and tested solutions that are powered by advanced Dell PowerEdge rack and blade servers.

Dell's purpose-built DVS solutions combine the performance, memory capacity and embedded hypervisor options in Dell PowerEdge servers with desktop virtualization software in optimized configurations. DVS solutions simplify deployments and accelerate your time-to-value. Dell DVS solutions deliver:

Storage Options

With Dell Compellent, Dell EqualLogic and Dell PowerVault, we have created a comprehensive and innovative portfolio of storage products, all of which are easy to deploy, manage and grow. Whether you use network attached storage (NAS), direct attached storage (DAS), internet SCSI (iSCSI) or Fibre Channel (FC), Dell has a product that can meet your business needs and reduce the cost and complexity of storage.


The Value of Dell Storage:

Dell's open, standards-based solutions let customers of all sizes integrate new technologies without sacrificing performance or their existing IT investments.
 
 
Direct-Attached Storage:

The Dell PowerVault MD storage family offers easy and economical expansion for Dell PowerEdge servers enabling high availability and scalability for demanding business applications.
 
 
 
Disk-to-Disk Backup

Due to expanding volumes of data that must be backed up and protected along with shrinking backup windows, many IT departments have moved to or added disk-based backups.
 
 
 
Network-Attached Storage

NAS is a specialized storage server with its own IP address that is made available to multiple clients and servers on a local area network (LAN) or wide area network (WAN). 
 
 
 
Object-Based Storage

The Dell DX Object Storage Platform is designed to intelligently access, store, protect and distribute fixed digital content.
 
 
 
Storage Area Network

A storage area network (SAN) is a network of shared storage devices, such as disk storage arrays and tape automation
 
 
 
Tape Backup

Considered the first and last line of defense against data loss, tape and removable disks can be used for long-term data storage and backup.
 
 
 
Unified Storage

Unified Storage is a term that describes the ability to manage both file- and block-level data.