10GbE and FCoE Transit Switch for PowerEdge M1000e
Easily migrate to 10GbE stack switches for improved scalability or add FCoE functionality to your data center with the Dell Networking M8024-k switch.

Manage Layer 3 switching using up to 24 integrated ports, with your choice of media and one FlexIO module, all while protecting your legacy Gigabit Ethernet (GbE) infrastructure.
For high availability, stack up to six wire-speed switches, each with redundant power but all six managed as a single unit.
Use as a Fibre Channel over Ethernet (FCoE) transit switch attached to an external converged data center network and extend an available FCoE fabric through FIP snooping.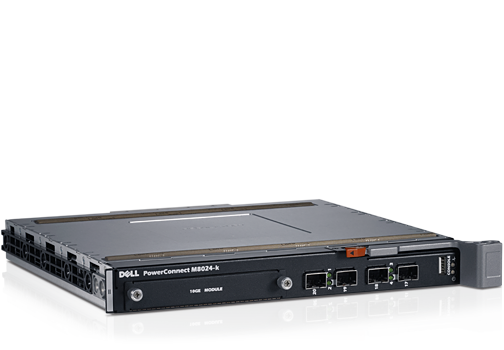 Dell Networking M8024-k Switch
PowerConnect

Improved 10Gb Ethernet connectivity for M-Series blades
Simplify 10GbE blade deployment and management with the Dell Networking M8024-k. Provide 10GbE connectivity for up to 16 M-Series blade servers equipped with the latest KR-based 10Gb network daughter cards (NDCs) or mezzanine cards.

Not ready for 10GbE? Don't worry. The M8024-k also supports GbE connections, to both the server and the local area network (LAN), helping ensure that you will be ready to quickly adopt 10GbE when the time comes. This kind of flexibility, along with the improved 10GbE bandwidth and performance, helps you meet the changing demands of data centers that embrace virtualization and other I/O (input/output)-intensive technologies.

The Dell Networking M8024-k is also an FCoE transit switch that can be attached to an external converged data center network to extend an available FCoE fabric. With the 4.2 firmware upgrade, the M8024-k uses FCoE Initialization Protocol (FIP) to perform functions of FC_BB_E device discovery, initialization and maintenance.

The FIP snooping feature enables the M8024-k to link Dell™ M-Series blades to an external top-of-rack or end-of-row FCoE forwarding switch and provides FCoE connectivity to the servers. This feature, along with Internet SCSI optimization, iSCSI TLV, and DCBx discovery and monitoring, enables seamless 10GbE performance in an end-to-end data center solution.

Connect with the benefits of virtualization

Meet the high-bandwidth demands of multi-core CPUs and server virtualization with up to 24 10GbE ports in the Dell Networking M8024-k. When combined with PowerEdge™ M710HD blades that feature 10Gb network daughter cards, the M8024-k provides end-to-end 10Gb Fabric A connectivity, leaving room for growth or additional technologies in Fabrics B and C.

Supporting connectivity to M-Series KR-based 10Gb network interface cards (NICs) and converged network adapters (CNAs), the M8024-k opens the door to cutting-edge networking features, such as NIC partitioning (NPAR), single-root I/O virtualization (SR-IOV) and iSCSI.

Flex and grow with FlexIO and scalable stacking

Build for the future with 16 internal 1/10GbE ports, four integrated external 1/10GbE enhanced small-form-factor pluggable (SFP+) ports and a FlexIO bay for easy growth as your business expands. With FlexIO, modular uplinks can be added or swapped as needed:
4-port SFP+ FlexIO Module
2-port 10GBASE-T FlexIO Module
3-port CX-4 FlexIO Module
In addition, single IP stack management enables simple scalability. With the 4.2 firmware release, up to six wire-speed switches can be connected together and administered as a single large port-count switch through web, command-line interface (CLI) or SNMP management interfaces on the master switch.
Get started quickly with Simple Connect for LAN
Deploy and manage 10Gb-based blade configurations simply and with minimal network administration using the default Simple Switch mode of operation. The Simple Switch option features port aggregation and auto configuration when connecting to any external LAN.

Alternatively, when operating in full switch mode, enjoy a shortened learning curve and seamless integration of the M8024-k into existing Cisco® or any other LAN that uses industry-standard CLI (IS-CLI). These capabilities — combined with enterprise-class quality of service (QoS), security and management features — help to ensure that the M8024-k meets your in-chassis Ethernet switching needs today and in the future.

Both modes of operation pave the way for deploying and managing M-Series blades simply and efficiently using 10Gb Ethernet — the ideal solution for improving data center utilization, helping to save both time and money.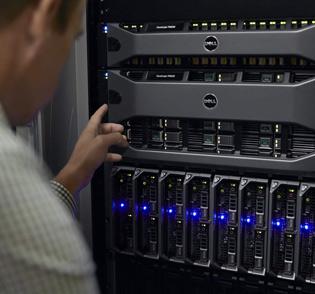 Global Services and Support
Dell offers a wide range of professional services to simplify the assessment, design, implementation, management and maintenance of your IT environment to help you transition from platform to platform.

Dell Support Services
Dell ProSupport offers a suite of support services that enable you to choose support models based on how you use technology and where you want to allocate resources. We recommend Dell ProSupport Plus with SupportAssist for mission-critical systems or Dell ProSupport for premium hardware and software support for your PowerEdge solution. For hyper-scale data centers, we also offer ProSupport Flex for Data Center.

Dell Enterprise Deployment Services
ProDeploy Enterprise Suite* offers a full range of deployment services and professional certifications to help you get more out of your technology starting on day one. Choose ProDeploy Plus for the most complete deployment offer available in the market, ProDeploy for expert configuration and installations, or Basic Deployment for worry-free hardware installations.
Dell Training Services
Dell Education Services aims to complement your relationship with Dell as a trusted partner by offering Education Services for our own products, for industry leading infrastructure solutions and for the ongoing development of your organization. It is a global organization with local representation, classrooms and web-based training available worldwide.

Contact your Dell representative today for more information or click here.