This post is more than 5 years old
Dell M.2 FAQ regarding AHCI vs RAID ON, Storage Drivers, M.2 Lanes, Performance and more
Good day Dell Community,

Over time I've received a lot of questions about M.2 drives so I wanted to share some of what I have learned. I will explain in a kind of question/answer format:
---
Question:
What is Dell's scope of support for the Samsung and Toshiba/OZC NVME drivers posted on these Manufacturers' websites?
Toshiba/OCZ: https://ocz.com/us/download/ (To get the NVME driver select OCZ RD400/400A in the drop down)
Samsung: http://www.samsung.com/semiconductor/minisite/ssd/download/tools.html
Note: Samsung's explanation of what their NVME driver actually does is on page 22 of the following document: http://www.samsung.com/semiconductor/minisite/ssd/downloads/document/Samsung_SSD_950_PRO_White_paper...
Keep in mind:
• There exists Dell branded OEM Samsung and Dell branded OEM Toshiba M.2 drives as well as non-Dell-branded Samsung and non-Dell-branded Toshiba retail drives
• The drivers in question linked above will load for both Dell OEM drives and retail drives alike
• The Samsung and Toshiba/OZC drivers in question can only be used when running in AHCI mode
• These drivers do not apply when running in RAID ON mode as the M.2 drives will be operating under IRST in RAID on mode
Answer:
Dell does not support the Samsung and Toshiba/OZC drivers for use in AHCI mode. Dell systems with Dell OEM Samsung or Dell OEM Toshiba drives running in AHCI mode will use a Windows inbox driver called stornvme. Stornvme is the driver Dell supports in AHCI mode. Use of the Samsung and Toshiba/OZC drivers will ultimately be decided at end user discretion.


---

Question:
What are some differences between AHCI and RAID ON modes?
Keep in mind:
• Dell systems ship from the factory with the SATA operation mode set to RAID ON
• There exists M.2 SATA and M.2 NVME ( PCIE ) drive types
• Some Dell system models will support both M.2 SATA and M.2 NVME ( PCIE ) drive types while other Dell system models will only support M.2 SATA drives
• If a Dell system's M.2 connector supports NVME there will usually be backwards compatibility with M.2 SATA drives
• The RAID ON controller and AHCI controller each have different hardware IDs and therefore each controller will require different INFs in order to point to other needed files and resources
-RAID ON drivers = IRST drivers with naming standard iaStorAC
-AHCI drivers = naming standard iaAHCIC
Dell's PreOS IRTS and AHCI drivers can both be found in the following package: http://www.dell.com/support/home/us/en/19/Drivers/DriversDetails?driverId=CRRKJ&fileId=368088204...
Extracted view:



Note: The above downloadable package also has an installer EXE in case you want to update to 15.2 on systems which have an OS already installed.
Answer:
A new host interface known as NVMe was launched together with Gen 7 (Intel CPU) platforms. This new host interface was built from the ground up for SSD. The host detects on boot up if the storage device is a SATA or PCIe device and then switches the software stack accordingly. Since the host cannot assume all storage devices implement the AHCI host interface the necessary controller is then pushed to the device itself and loaded at boot time. The illustration below describes this.
RAID ON mode: enables the port remapping hardware in the Intel CPU. The remapping hardware is necessary for the Intel RST driver to load the NVMe controller provided by the SSD against the Intel AHCI controller in the CPU. This is required for the Intel RST driver to enumerate NVMe SSD. Also enables support for RAID 0/1/5/10 ( RAID level availability varies by system model ).
AHCI Mode: In this mode NVMe SSDs are enumerated by StorNVMe which is the Windows inbox driver. Implying that in this mode the NVME drive does not work with the motherboard's AHCI controller, shown in the below illustration: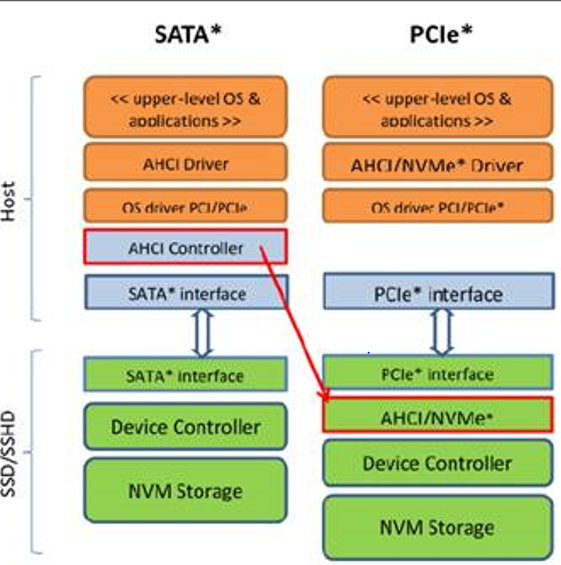 Below, I have outlined what the storage devices and drives look like in device manager for both M.2 SATA and M.2 PCIE drives, in each operating mode.
M.2 SATA drive when running in IRST RAID ON:

M.2 SATA drive when running in AHCI mode:



M.2 PCIE drive when running in IRST RAID ON:



M.2 PCIE drive when running in AHCI mode:


---
Question:
Is there any performance difference between running an NVME drive in RAID ON mode VS. AHCI mode?
Answer: Based on the explanation on differences between RAID ON and AHCI above, I believe the answer to this is 'no'. I've taken benchmarks below using CrystalDiskMark.
Benchmark Conditions:
• Precision 3510 with a Dell branded Samsung PM951 PCIE 4x drive
• Windows 10Px64 1703 (Creators edition)
• All system drivers updated through Dell Command Update
• One test in RAID ON running IRST 15.2 driver
• One test in AHCI running default stornvme driver
• One test in AHCI testing with Samsung NVME driver
• Power plugged in and all performance and power options at Windows defaults
RAID ON Test results with an NVME drive:


AHCI mode with Samsung's driver:
---

Question:
How can I tell how many lanes my M.2 PCIE drive is running on?
Keep in Mind:
• Some M.2 ports will support only 2 PCIE lanes of bandwidth while other M.2 ports can support 4 PCIE lanes of bandwidth
• The amount of M.2 PCIE lanes a system has available can depend on processor and/or motherboard
• 4 lane capable M.2 drives are typically backwards compatible with 2 lane ports but will suffer performance loss as a result of fewer lanes of bandwidth
Answer:
You can find out how many lanes a PCIE drive is running by using a program called HWiNFO
https://www.fosshub.com/HWiNFO.html
Note: Dell does not support this HWiNFO program. This is just a utility I've personally found/used and wanted to share.
---
Question:
When I go to the Dell website to purchase a PC I see 'drive classes' when selecting an M.2 drive. What does each class mean?
Keep in mind:
• The drive class standard as seen on the Dell website and below, is a storage device identification standard created by Dell
Answer:
Below is a chart of what each drive class means:

---

Question:
Why can't I set a hard drive password on my NVME drive?
Answer:
There are 2 types of M.2 drives. M.2 SATA and M.2 PCIE ( NVME ). HDD password availability for each type is as follows:
M.2 SATA drives are provided hard drive password support from system BIOS.
M.2 PCIE drives are not provided hard drive password support from BIOS. This is working as designed.
Note: M.2 PCIE drives can operate normally even when SATA operation in BIOS is disabled. Hard drive password support is also not provided to M.2 PCIE drives in this mode. (Figure 1)
---

Question:
Where can I find more information if I want to upgrade my Dell to M.2?
Answer:
The following post contains Dell M.2 / NVME Specifications And Upgrade Requirements For Latitude, XPS, Precision Mobile and Optiplex:
http://en.community.dell.com/support-forums/laptop/f/3518/t/19992358
Included in this document you'll find:
• needed part numbers in order to upgrade
• number of total internal drives supported for mentioned models
• how many M.2 PCIE lanes are available on mentioned models